It's up, up, and away with this adorable kite craft for preschoolers!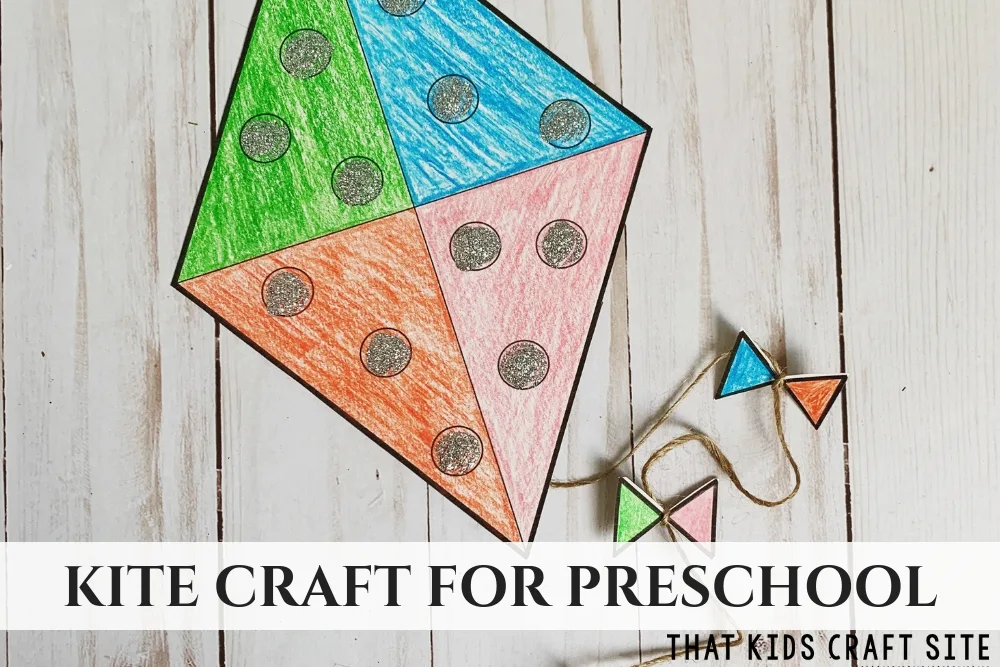 One of our favorite things to do in spring (other than make crafts, of course!) is to fly kites. There's just something magical about being able to make a kite float through the sky.
This year it's been particularly windy, so we're gearing up for a great kite flying season! This printable kite craft for preschool is a great way to get us in the spirit and decorate the room!
Printable Kite Craft
Making this kite craft was super simple. It's perfect for preschoolers – including toddlers if there's adult supervision.
All you need to make it is a few things you probably already have on hand. The printable template makes it easy to get the kite form just right.
We used colored pencils to shade in the kite's sections, but you could use markers or crayons as well. In fact, you could even use watercolors if you felt like painting!
While we did use glitter on the kite's dots, you could try coloring them in a different color instead. There's a lot of ways to make this kite craft something totally unique for your kiddos!
We attached a piece of simple crafting twine (it's much softer than regular jute and we had some leftover from when we made homemade Christmas gift tags), but if you don't have twine handy, just use a length of yarn or even ribbon.
The trickiest part of the whole craft was tying the small ribbon pieces to the kite's tail. Your littles may need assistance tying it. Use caution that you don't over-tighten it, because it will rip the piece right in half.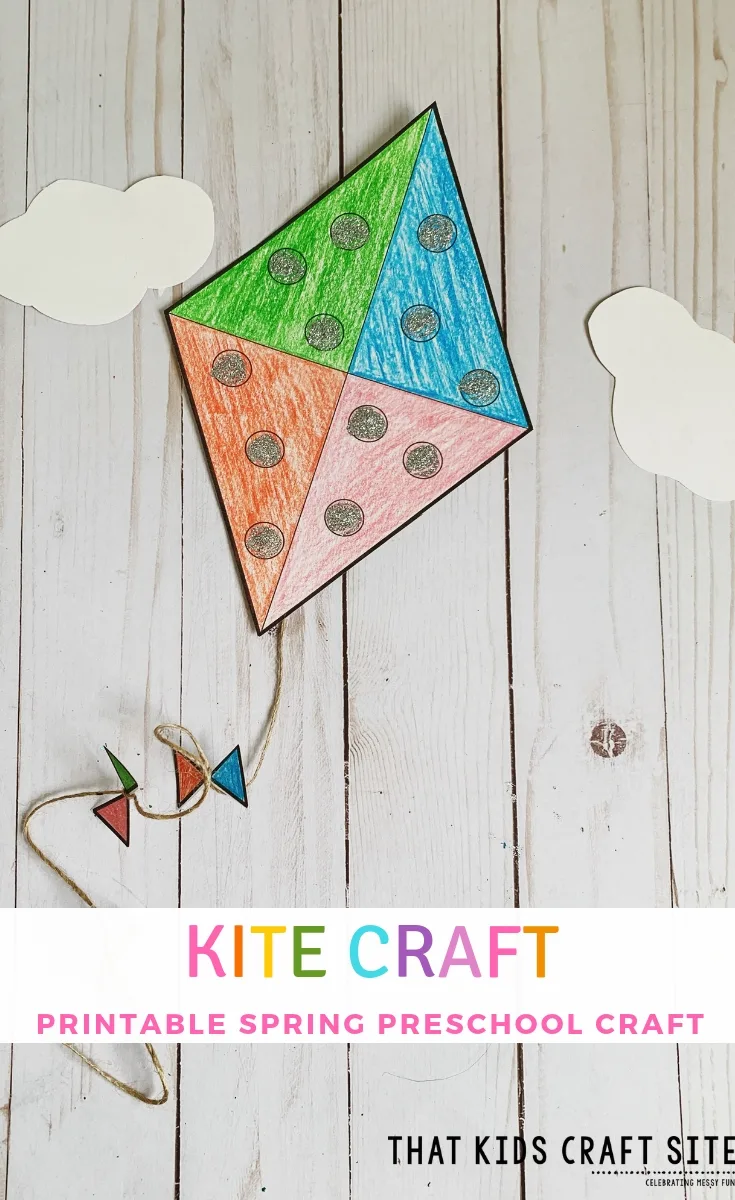 How to Use the Kite Craft for Preschool Learning
Crafts are always so much fun to make, but they're even better when you can combine them with a lesson. Here are some things you can use this easy kite craft with:
Make a kite craft when learning about wind and weather
Tie a key to the end of your kite when doing a lesson on Benjamin Franklin's discovery of electricity
Use the kites as part of a bulletin board labeled "Our Dreams are Taking Off!"
Create a kite when learning about the history of kites
and more!
No matter how or why you make your kite craft, your preschool kiddos are sure to love it! Let their imaginations soar!
Printable Directions for Making Your Kite Craft for Preschool
Show Us Your Kite Craft!
Did you make a kite craft? We'd love to see how it turned out! Snap a picture and tag us on Instagram @ThatKidsCraftSite! We can't wait to celebrate your success!
Done Making this Kids Craft? Try These Other Fun Spring Crafts!