Need Llama cookies? No prob-llama! Check out these adorable llama snacks!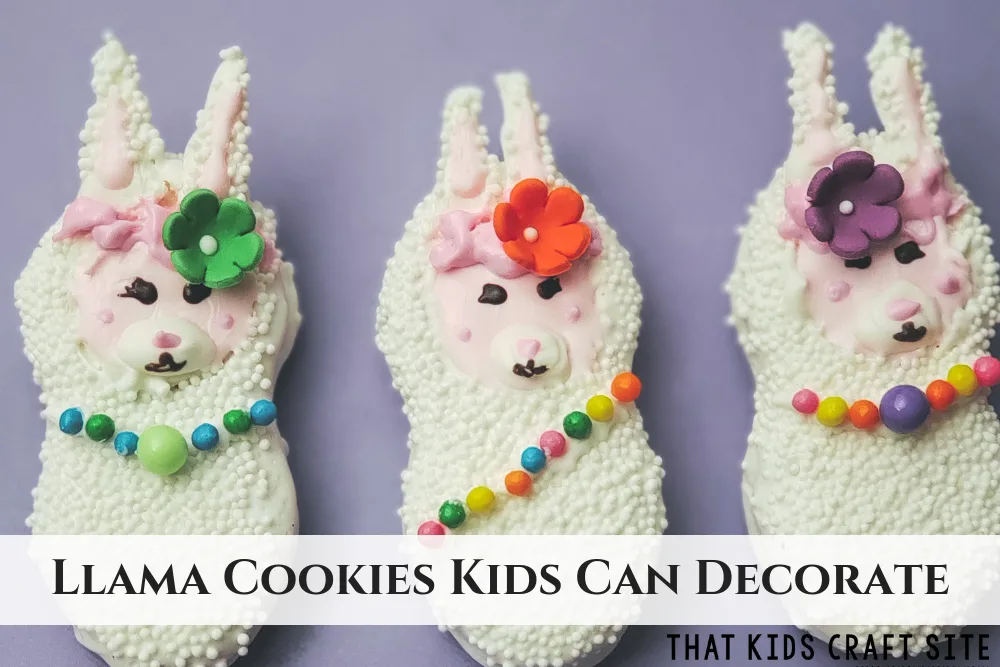 Llamas aren't always the cutest animals in person – plus, they have a spitting problem – but in drawings and pictures they're cute as a button.
Maybe that's why the popularity of all things llama has grown over the last few years.
From llama mugs to llama t-shirts, there's something llama-tastic for everyone!
But what do you do if you want to have a llama birthday party and need llama themed desserts?
You make llama cookies of course!
How to Decorate Llama Cookies
While these llama cookies can definitely be made by kids (with parental help), they are a bit complicated and require patience.
It makes them a great dessert recipe for older kids, tweens, and teens. Preschoolers may want to sit this one out.
Tips for Decorating Your Llama Cookies
Before you start decorating, here are a few llama cookie decorating tips that will make it a lot easier to decorate your dessert.
Have all of your ingredients ready ahead of time.
Draw a few practice lines with your icing bags before beginning.
Be patient.
Have a steady hand.
Aim for personality over perfection.
Make sure you have plenty of time; don't rush!
Ready? Let's make some yummy llama cookies!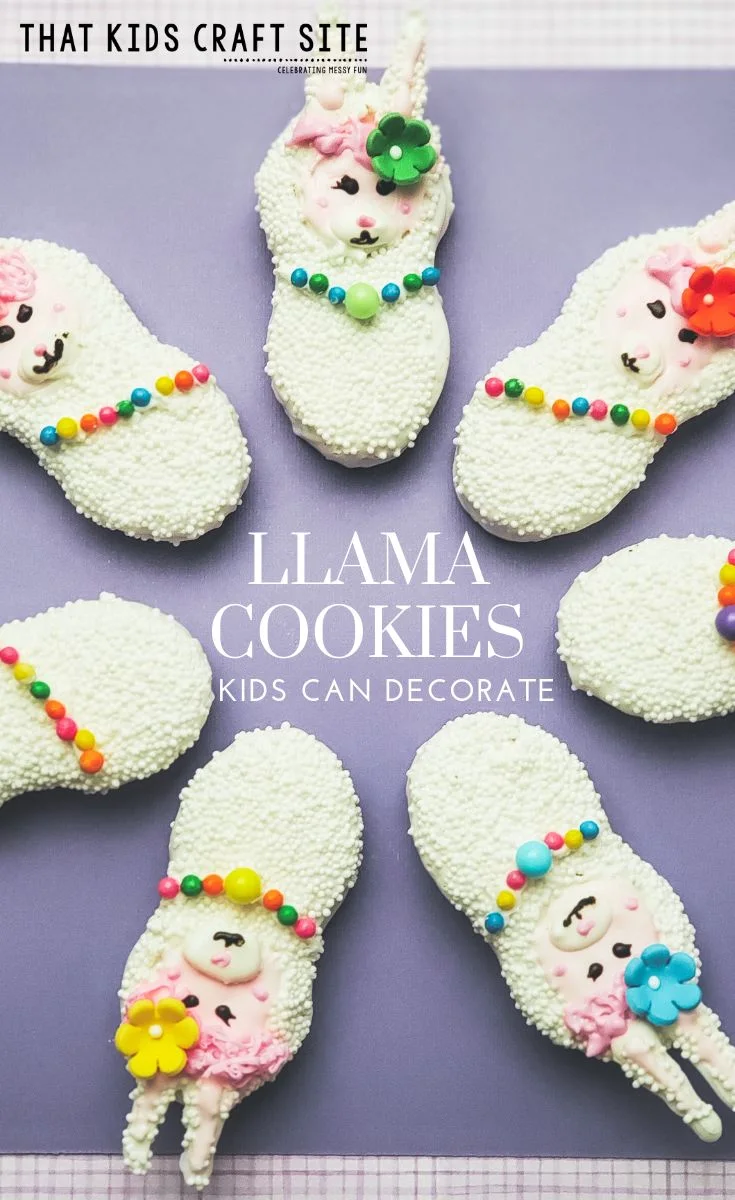 Llama Cookies Recipe
Makes 10
Ingredients:
• 10 nutter butter cookies
• 1 cup white melting chocolates
• 1⁄2 cup pink melting chocolates or pink chocolate coloring gel
• 1/8 cup dark pink melting chocolates
• 1/8th cup black melting chocolates
• 1⁄2 tsp coconut oil
• tiny white round sprinkles
• candy flowers, nonpareils, etc for decoration
Additional items:
• ramekins and pan for double boiler set up
• piping cones
• chocolate dipping wand or fork
• wire cooling rack
• parchment paper
• Small 1/2" circle cookie cutter or large end of decorating tip

Instructions:
Adult Portion of the Process
• Set up a double boiler with shallow pan and ramekins for each color
chocolate. Fill with water till halfway up side of ramekins *careful not to get water inside them as it will seize the chocolate. Turn heat to medium-low.
• Add chocolates and a tiny amount of coconut oil to each, stirring to combine as they melt.
• Using a fork, dip nutter butter cookies in white chocolate until
thoroughly coated. Hover above dish as chocolate drips off. Set on wire rack to harden.
• Pour melted chocolate into piping bags.
Portion of the Process That Kids Can Do
• Place circle cutter/decorating tip where the face will be and spoon tiny white sprinkles (place a dish under to catch the extra sprinkles) all around the llama while the white chocolate is still wet. Leave in place for a few moments as the chocolate sets.
• Fill in face area with pink chocolate from the piping bag.
• To create the ears, tear a strip of parchment paper. Work quickly to create the ears or use a spoon and toothpick to create the shapes using melted white chocolate. Sprinkle with tiny white round sprinkles.
*make extra and put in the refrigerator to harden.
• Add a strip of pink chocolate to the inner ears with a toothpick.
• With melted white chocolate, pipe in a round nose/mouth area.
• Add eyes and mouth by dipping a toothpick into the black chocolate.
• Attach the ears by dabbing toothpick in white chocolate and use as a glue.
• With a toothpick, add dots of dark pink for rosy cheeks, nose and to add
curly hair around the ears.
• Embellish with candy flowers and nonpareils, using the melted white
chocolate as glue.
• Set to dry and harden.
• Store in airtight container.
Show Us Your Llama Cookies
After you make your llama cookies, snap a photo and share it with us on Instagram @ThatKidsCraftsSite! We'd love to see how your llama-tastic treats turned out!
You'll Also Love These Kids' Crafts!