When my boys were little I made sure they learned to sew. The hardest part? Finding a sewing project for boys that they'd actually like to do! This adorable felt dinosaur is the perfect sewing project for boys because it's a great beginner sewing project based on an animal they love!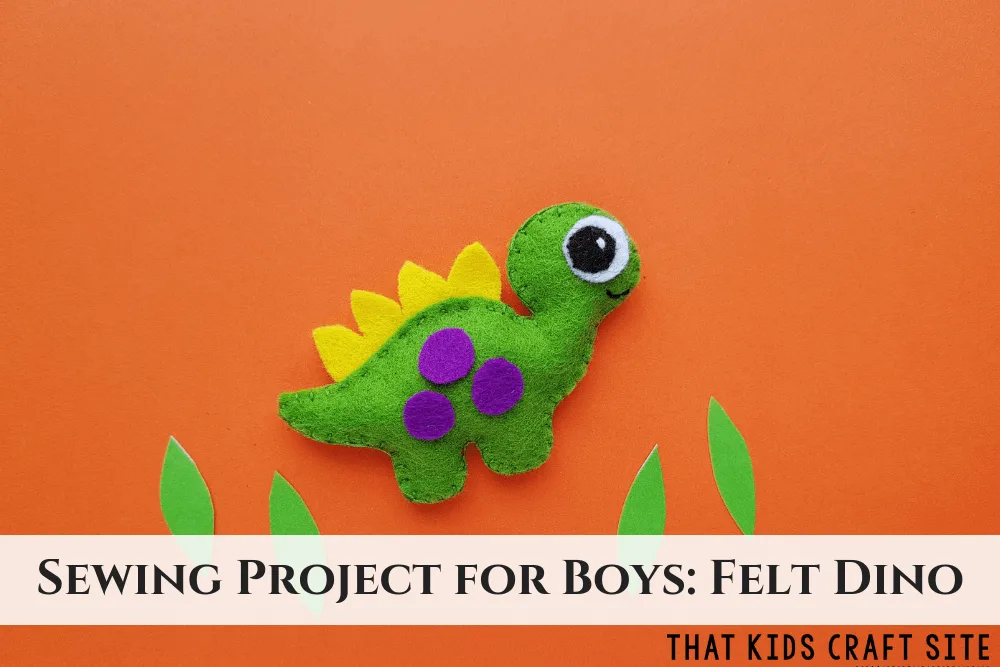 Sewing Project for Boys
One of the hardest things about getting my boys excited about learning how to sew was finding a pattern that they'd enjoy making. There are sooo many patterns for girls who are learning to sew, but for boys? Not so much.
When my boys were little their two favorite things were dinosaurs and anything related to transportation. So, this little plush felt dinosaur pattern is perfect for capturing the attention of boys who are like mine.
Felt Dinosaur Sewing Pattern
When you search for dinosaur sewing patterns you find everything from great big dinosaurs to little bitty ones. The felt dinosaur pattern that we used is perfectly pocket-sized and ready to be taken along on your son's next adventure.
For us, that size meant that it was enough sewing practice to actually be beneficial and educational, but not so much that the boys got bored. Remember, a sewing project for boys is just as much about holding their attention as it is about teaching them how to sew!
We've included the dinosaur sewing pattern for free below. Just click on the link under materials and you'll be able to download it to use with your own kids.
While we used green, yellow, and purple for our felt dinosaur, your boys can pick whatever colors they want. Longing for a red dinosaur with white spots? Go for it! Your felt stash is your limit!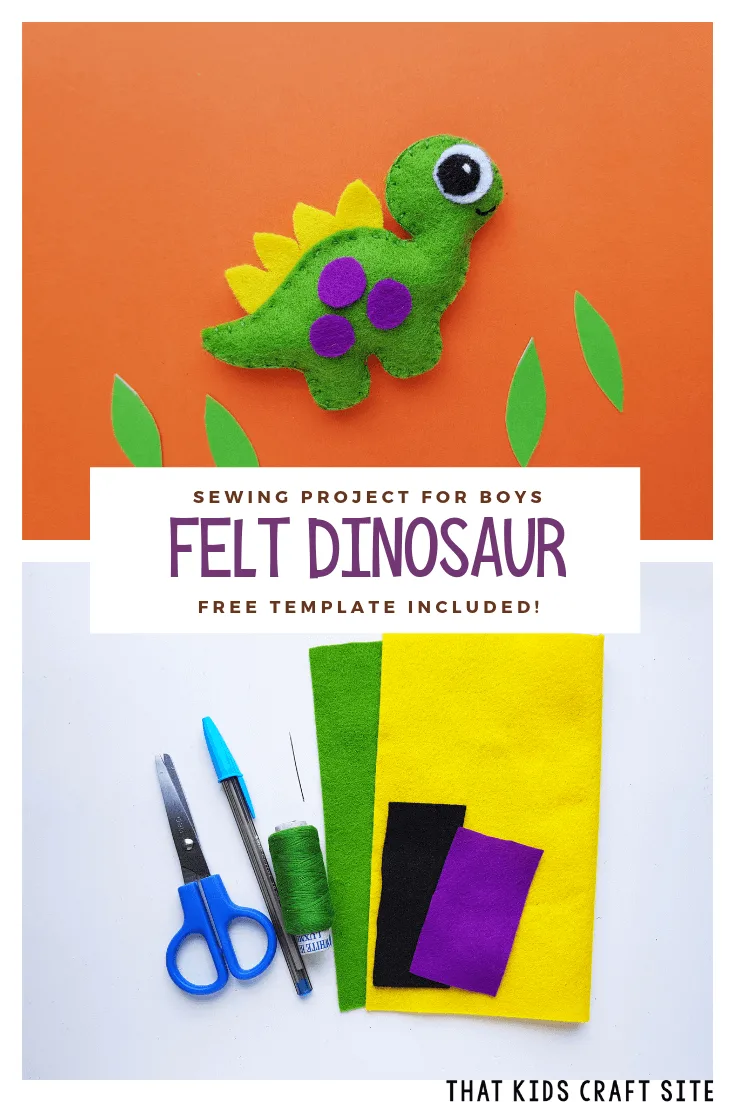 Just a Sewing Project for Boys?
Now before you get upset and email me to say that girls can make dinosaurs too, let me tell you that I agree 100%. In fact, my daughter loves sewing these cute felt dinosaurs just as much as her brothers.
She's even turned one of her felt dinosaurs into an ornament by sewing a loop of ribbon between the felt pieces when she was making it.
Boys and girls, young and old, can all make this felt dinosaur sewing craft!
Sewing Project for Boys: Felt Dinosaur Plush
Ages: 4+
Time: 30 minutes
Materials:
Felt fabric
Pencil or fabric marking pen
Scissors
Needle and thread
Cotton or scrap felt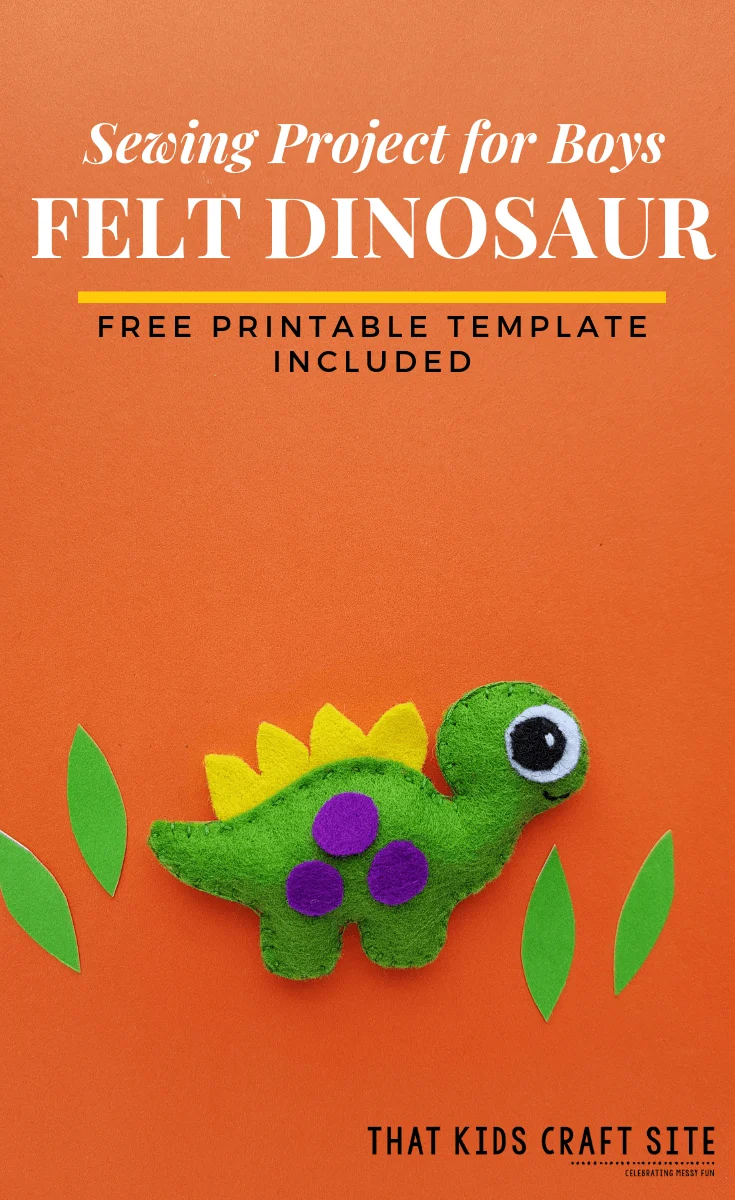 Directions:
Print out the dinosaur template. Cut out the pieces.
Select the felt fabrics for the dinosaur and trace the provided template patterns on them.
Cut out the traced patterns using scissors.
Prepare the white thread with a needle and stitch the white, small, round cut out (the eye) on the head part of the dinosaur.
Prepare the black thread with a needle and stitch the black, small, round cut out on the middle of the white round cut out.
Take the plain body pattern of the dinosaur and place the zigzag bordered cut out along the top side of the pattern – keeping the zigzag border facing outwards. Make sure to overlap both pieces by half a centimeter.
Place the eye stitched body pattern on top of the plain body. Prepare matching thread with a needle and start to stitch around the outside.
You can use cotton or scrap felt fabrics for stuffing.
Very important – After stitching each part (head, front body part, back body part, tail) make sure to stuff them one by one; otherwise you'll have difficulty stuffing the plush if you plan to stuff at the end through a small hole.
Continue to stitch and stuff until the whole felt dinosaur is stuffed.
Done stuffing? Close the open end by stitching. Tie a knot or two and cut off extra thread.
And there you have it! Your pocket-sized felt dinosaur is now ready to travel with you on your next adventure!
Show Us Your Sewing Project for Boys!
Did you make the felt dinosaur or another sewing project with boys? We'd love to see! Snap a picture and tag us on Instagram @ThatKidsCraftSite. We can't wait to celebrate your creativity!
After You're Done with This Craft, Try Making These…