Looking for a way to recycle those extra toilet paper rolls? Have an empty shoe box hanging around? Use them to make a toy car garage!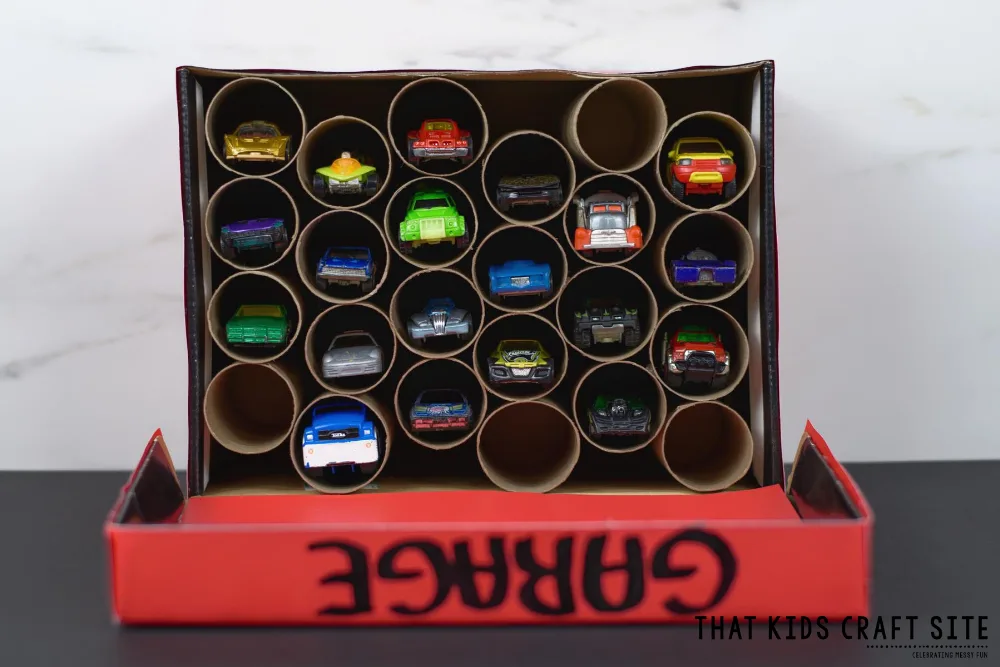 The earlier we teach our kiddos about recycling, the better. Crafting is a great way to share the importance of recycling while spending quality time together. It's a win-win!
Today we're sharing a fun and functional craft that will transform toilet paper rolls and a shoe box into a toy car garage that your child can use for storage as well as play!
TOY CAR GARAGE CRAFT FOR KIDS
We love using crafting to teach useful skills to our kids. Instead of tossing toilet paper or paper towel rolls into the trash, start saving them because we've got a great idea to share with you!
If you're a parent or teacher looking for a functional way to store those toy cars that are hanging around, this DIY toy car garage is a winner. Kids will love playing with it, and you'll love how it doubles as storage.
This craft makes a wonderful addition to a preschool or Kindergarten transportation study. It's also great for parents who want to find engaging activities that will encourage imaginative play. This is a fun, hands-on indoor activity that's sure to entertain your kiddos for hours on end!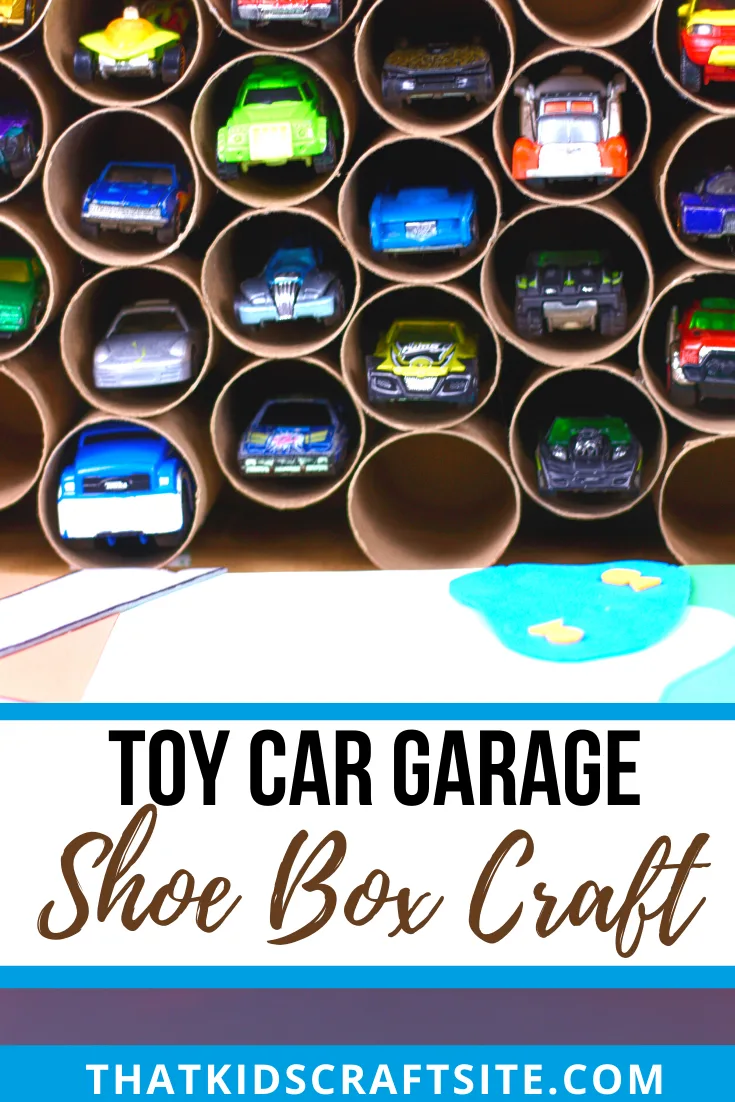 HOW TO MAKE A TOY CAR GARAGE
We had so much fun making this cool craft! These step-by-step directions are easy to follow, and children will love helping build the garage for their cars.
TOY CAR GARAGE TOILET PAPER ROLL CRAFT
What You'll Need:
Shoe Box (11" L x 8" W x 4¾" H)
Rigid cardboard piece (11" L x 7" W)
24 empty toilet paper rolls (you can also cut paper towel rolls to size)
Paperboard from dollar store, your color choice (We chose red, but don't be scared to let your child design something unconventional!)
Assorted colored crafting foam sheets
Large black marker
Scissors
Glue gun (and glue sticks)
Now it's time to gather the listed supplies and get to building that garage.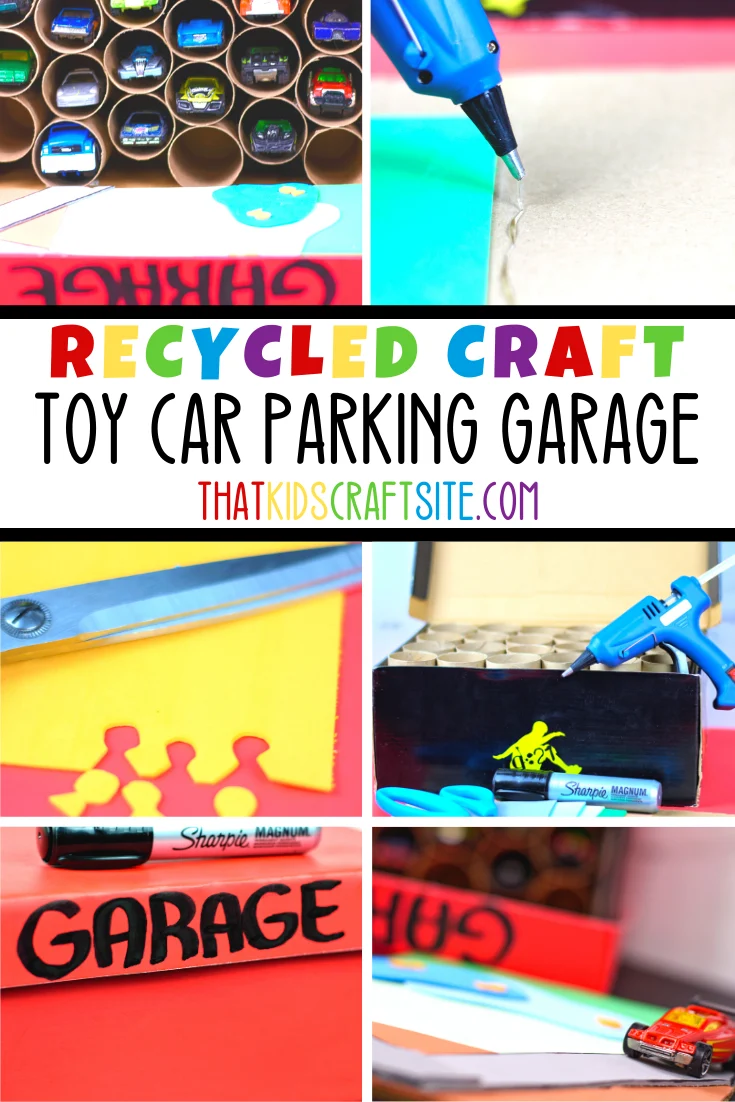 Instructions
Follow these step-by-step instructions and your garage will be ready to receive vehicles in no time!
Plug in your glue gun. (Be sure to turn it on if it has an on/off switch.)
Using your paperboard, cover your shoe box accordingly.
Cut out your craft foam shapes for your "play mat."
Grab your rigid cardboard piece and glue your chosen foam pieces to form your desired landscape. (We made a winding road, a pond, some grass, and mud.)
Position and glue each paper roll into its designated area.
Lastly, using your large black marker write "GARAGE" on the top flap. Or perhaps write your child's name instead. (i.e. "Isaac's Garage" or "Emma's Garage")
YOUR GARAGE IS NOW READY TO RECEIVE VEHICLES!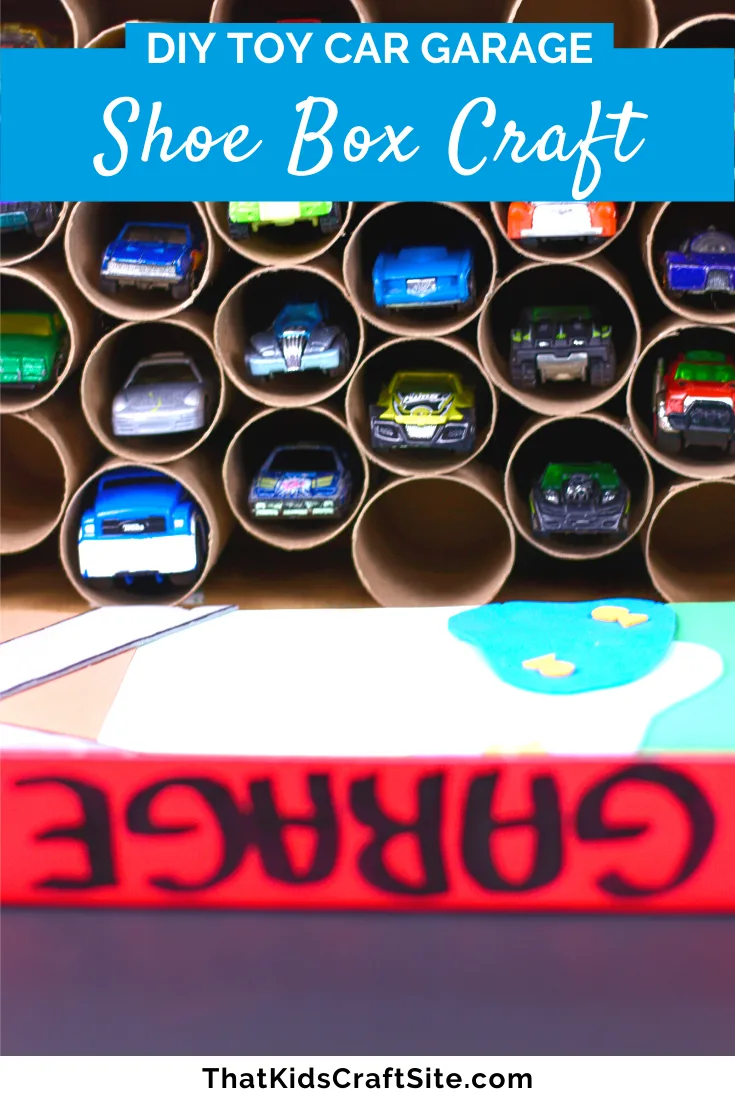 HOW TO USE YOUR TOY CAR GARAGE
Once the kids are done playing with their new toy car garage, they can close up the shoe box and neatly store it away with the vehicles still inside! My kids loved having a special place to keep their toy cars together where they were ready and waiting for them when it was time to play again.
If you enjoyed this toilet paper craft, save more rolls for future recycling projects. You can even take the same basic idea used for this garage and expand on it to create other projects. Maybe a storage for tiny dolls or doll clothes? You're only limited by your imagination!
You Might Also Like These Other Kids' Crafts