Fun transportation crafts and activities are perfect for any time of year! Whether you're doing a preschool unit study on transportation, or just want to engage little learners, transportations crafts are a great way to get kids excited about learning.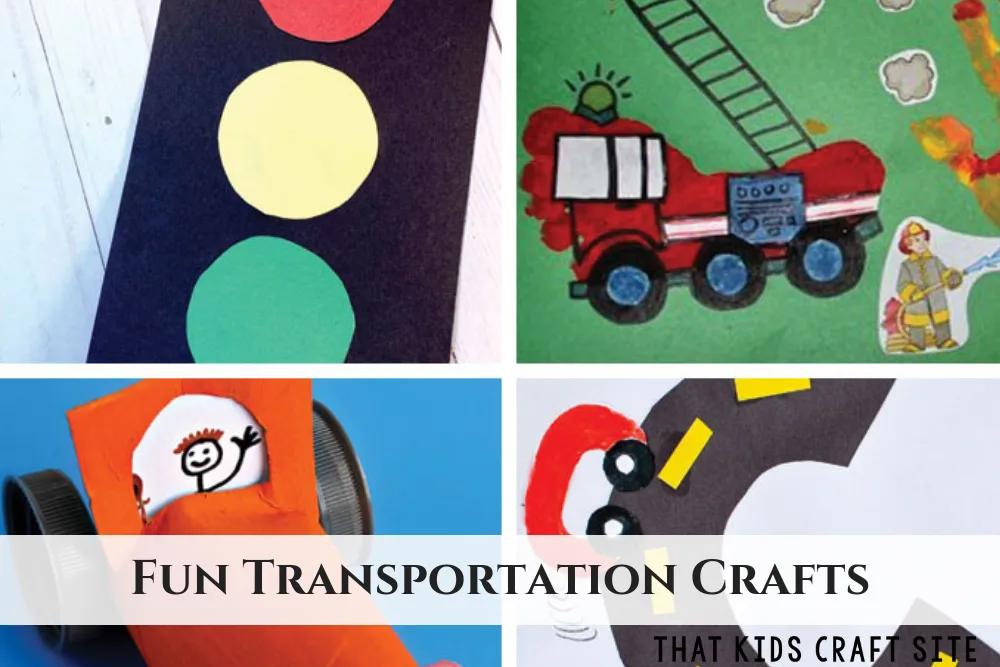 When I was teaching kindergarten and later when I had two boys who were fascinated with anything that moved, transportation crafts and activities were a staple in our learning.
Whether we were reading transportation preschool books or doing some fun transportation crafts, we were all about things that floated, drove, or rode on rails.
The fun transport crafts below are perfect for little ones who love things that go and they're a great way to introduce all types of concepts from reading to math to science and history! Have fun creating!
Fun Transportation Crafts and Activities
Before your mini-cars and trucks start zipping across the room, make a paper traffic light craft to keep traffic flowing smoothly!
Use paper plates and yarn to make traffic lights and cardboard boxes for bridges in this fun transportation craft!
Make a car garage out of toilet paper tubes! This fun recycled craft is a great way to store all of your child's favorite four-wheeled vehicles!
Car Crafts for Preschoolers
This adorable car printable makes it easy for little ones to make their own car craft! The best part? It can be customized with colors and designs to make it uniquely their own!
Kids love any craft that takes the shape of a vehicle – use a car craft to teach the shape and sound of letter C.
Use recycled toilet paper rolls to make some cute little cars! You don't need many supplies to make this quick fun transportation craft.
These paper plate car crafts are super easy and inexpensive to make! The best part? Your kids are sure to love them.
Make some super cute paper cars using sponge painting! This post includes a free car template that makes it so easy to complete.
This clothespin car craft idea is perfect for kids who love anything with wheels. It's completely customizable and it's super easy, inexpensive and fun for all ages!
Truck Crafts for Preschoolers
This is a great lesson in both transportation and recycling! Use old newspapers to make this adorable transport craft.
Send a nice thank you to your local firefighters with this hand and footprint painting on construction paper!
Put out some fires with this fun Fire Truck Collage. This easy firetruck craft for kids is made with simple craft supplies found around the house or classroom!
Make these easy and fun footprint monster trucks with dirt hill piles and orange cones.
Create a variety of settings with this amazing magnet craft! There are so many fun possibilities, and it would be a great craft for lessons on transportation.
Painting with trucks on scrapbook paper is a sure-fire way to get your kids to be creative!
This activity hits all the right buttons for preschoolers. They get to be creative and use their imagination. A great way to introduce and teach about shapes and colors for preschoolers!
Planes, Trains, and Boat Crafts for Preschoolers
When my daughter was learning how to spell her name we made this fun transportation craft! Turn any name into a train!
These three crafts will enhance any train or transportation lesson plan. They also could be used along with many preschool books involving trains for hands-on learning.
This is a good craft to use to introduce preschool children to the concept of halves.
Here is a simple and fun airplane craft that is easy for preschool and kindergarten children to make.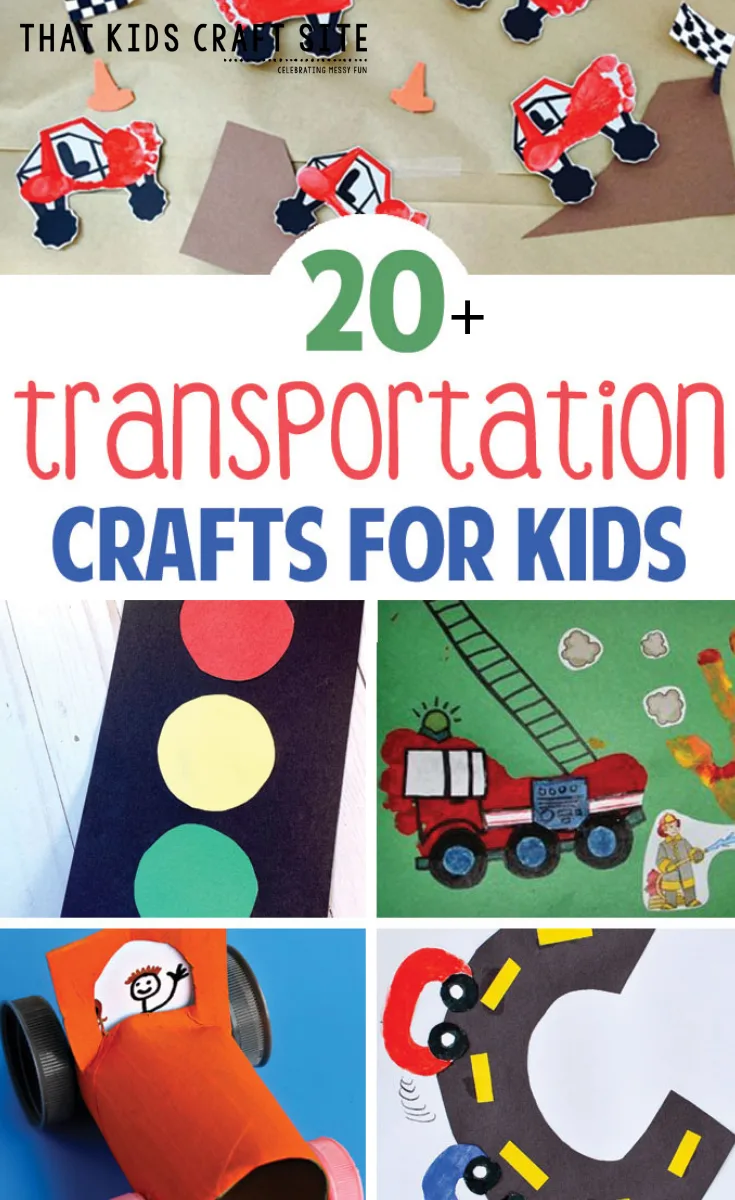 Fun Transportation Activities
Some fun preschool transportation themes including trains, craft stick airplanes, and cars and trucks!
Preschoolers love activities that include playing with all types of transportation theme items including vehicles such as cars, trucks, airplanes and more.
Transportation theme preschool printable pack contains vehicles that fly, that drive across the land or on rails and ones that sail over the seas; something for every vehicle loving fan.
These are some fun transportation crafts for preschoolers using toilet paper tubes to make them 3D!
Airplane, train, and race car crafts for kids to make when learning colors, words, or just for having fun!
This craft can go up on the wall with sponge painting on white paper for the sky and paper shapes to make a cute airplane.
Transportation shape collages combine art and math! Combining shapes to make a picture helps preschoolers learn.
No matter which fun transportation craft you make, your kids are sure to have a blast!
Show Us Your Fun Transportation Crafts!
Did you make one of the transportation crafts above? Show it to us by tagging That Kids Craft Site on Instagram! We'd love to celebrate your creativity!
You'll Also Love These Other Preschool Crafts!