Spread a little luck with this handmade coffee filter shamrock craft for preschool.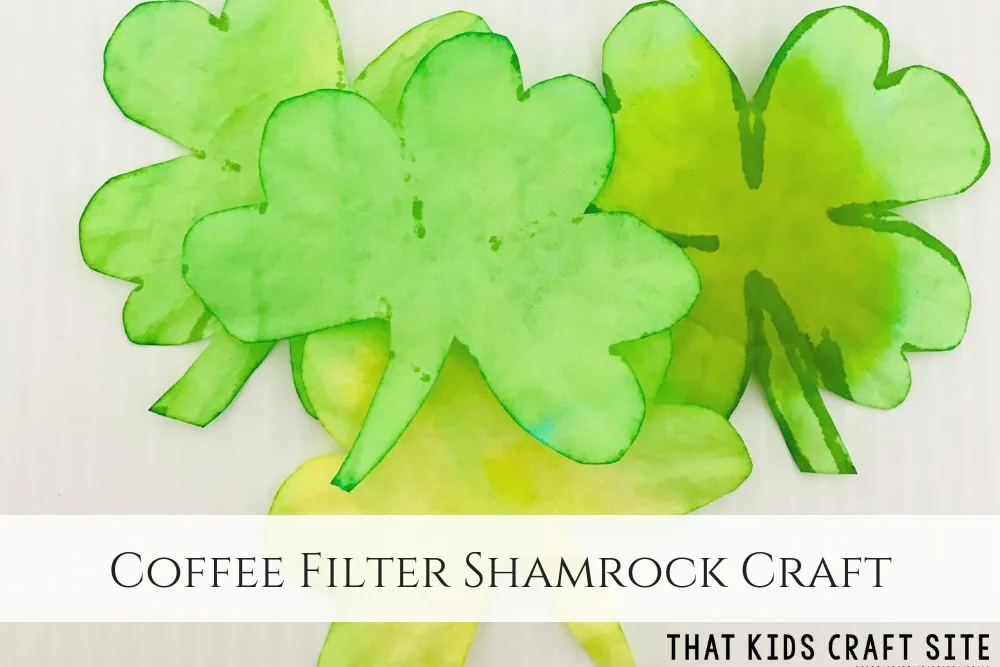 This article contains affiliate links to the products that will help you make this craft. Happy crafting!
Whether working in the classroom or having preschool at home, keeping kids busy with fun and educational activities is essential. With St. Patrick's Day right around the corner, we thought that this awesome shamrock craft activity would be a great holiday project for little learners.
Shamrock Craft Idea for Preschool
I really think we have struck gold with this one because both kids and adults are sure to love making this holiday good luck charm.
This St. Patty's Day shamrock craft is just messy enough to please the little ones and keep them entertained, while still being easy to clean up, making it a winner for all the grown-ups.
Because this work of art is super simple to make, toddlers can design and create this amazing holiday project as many times as they want. These shamrocks are just so fun that little ones could possibly be occupied for an extended period of time. This is also considered a win for the adults! Am I right? 😉
Make a Shamrock Craft
Using just a few materials, this craft is easy on the pocket, making this St. Patrick's Day project a delightful activity all around.
Gathering the necessary supplies to make this lucky shamrock was a snap as we had everything we needed on hand already.
The materials and supplies required to create this kid-friendly work of art are as follows: coffee filters, food coloring, scissors, bowl, marker, and water. That's it.
After the filters are colored, left to dry, and cut, they can be used as decorations in a variety of ways. For example, stick the shamrock to a window to make a festive sun catcher or make a bunch and thread them onto a string to make a banner.
What will you do with your lucky St. Patrick's Day shamrock craft?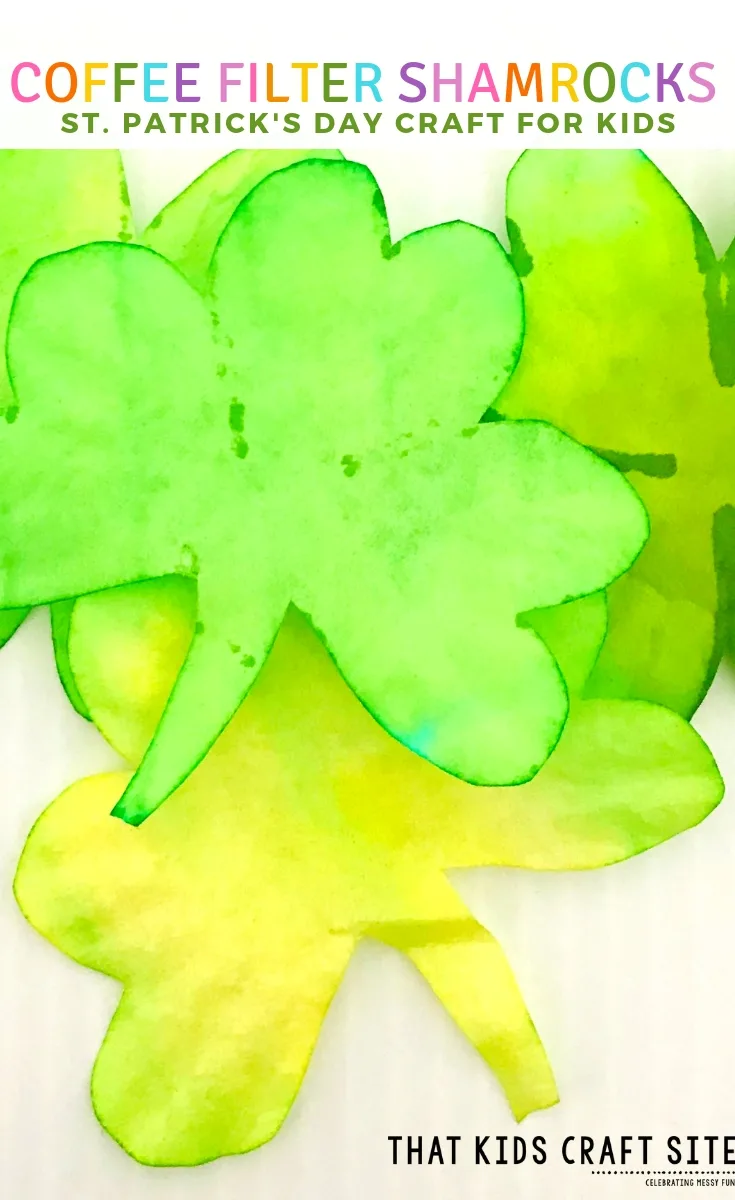 Coffee Filter Shamrock Craft
Ages: 2+ (with adult supervision)
Time: 30 minutes
Materials:
Coffee Filters
Scissors
Water
Shallow Bowl or Cup
Food Coloring
Baking rack (for drying)
Green Marker
Glue Stick or String (optional for hanging)
Instructions:
In a shallow bowl or cup, add a couple drops of green food coloring and top off with a bit of water.
Fold coffee filter into quarters and dip the point into the colored water. Open up the filter and lay on a baking rack to dry. The color will expand towards the outside of the filter as it dries.
Once the colored filters have dried, cut out shamrock or four-leaf clover shapes with your scissors. We did ours by hand, using a green marker to draw a shamrock by making hearts. You could always use this free printable shamrock template too if you're not feeling super confident in your drawing abilities!
And that's it! Hang up on a string for a banner or use a glue stick to adhere them to a window for holiday decorations!
Show Us Your Coffee Filter Shamrock Craft!
Did you make a coffee filter shamrock craft? We'd love to see how yours turned out! Snap a picture and tag us on Instagram @ThatKidsCraftSite We can't wait to celebrate your success!
More St. Patrick's Day Crafts for Kids That You Might Want to Try