Bring your essential oils with you with this lava stone diffuser bracelet craft for kids!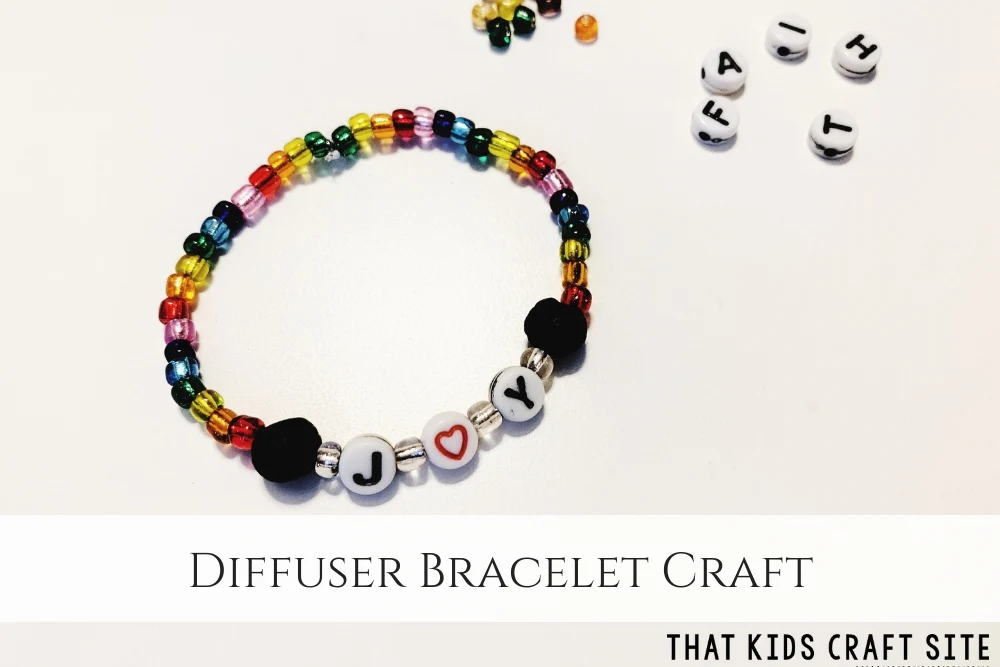 Affiliate links are included in this post to help you make the craft and find what you're looking for.
When we started using essential oils, we quickly realized that when we would leave the house, those essential oil benefits were oftentimes hard to take with us.
I mean, yeah, we could go around sniffing our wrists if we put a drop of lavender or peppermint on them, but it looks a bit weird.
Thankfully, we found diffuser bracelets that would let us put a drop of our favorite essential oil on them and then we were good to go.
The problem? Not many of them were for kids. Kids diffuser bracelets were hard to find!
So, we made our own!
Lava Stone Diffuser Bracelet
The key to making a diffuser bracelet is to use the right beads. In this case, lava stones make for excellent essential oil carrier materials.
For a while we didn't even try to make our own diffuser bracelets, because lava stones and beads sounded like they'd be expensive and hard to find.
Little did we know that our local craft store carried them by the strand in their bead section. Problem solved!
Lava stones are great because they're semi-porous so the oil absorbs into them rather than running off the top. If you've ever tried to put essential oil on a regular bracelet you know it's not going to absorb into normal, polished beads.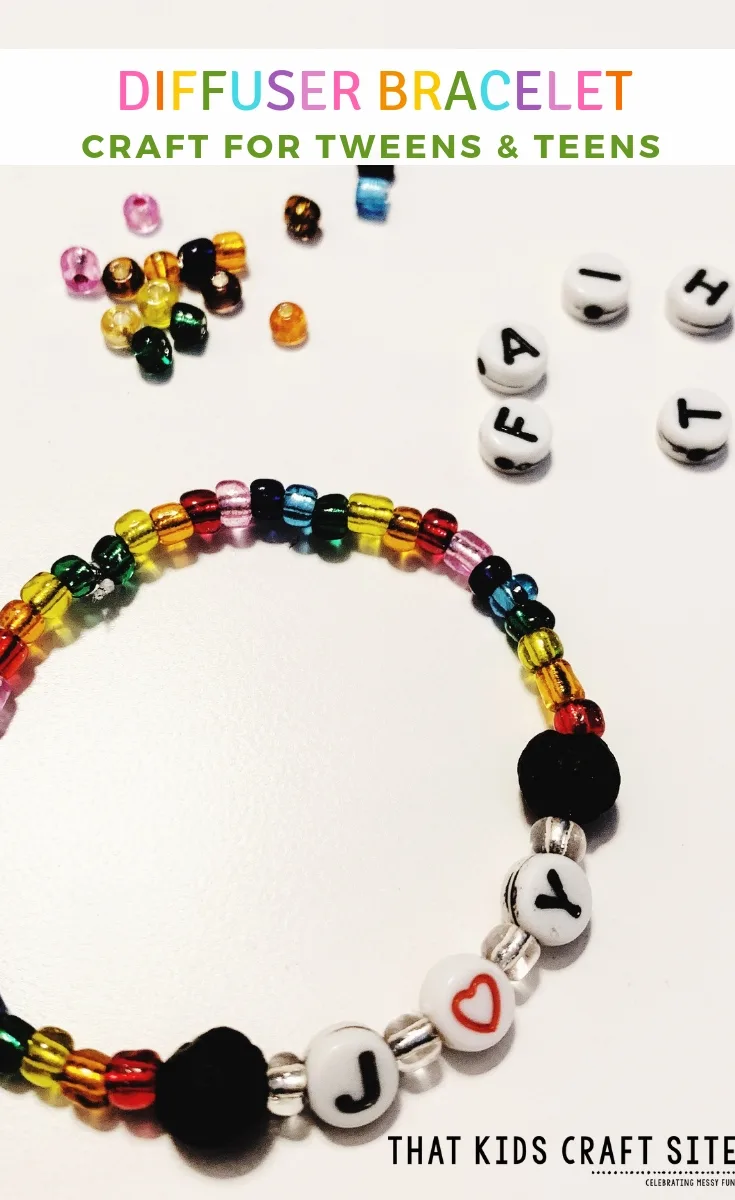 Lava beads are rough around the edges and look unrefined. That's what makes them perfect for diffuser bracelets!
You can also find lava beads in a bunch of different shapes and sizes. We've used slightly larger star-shaped lava beads for my daughter's bracelets before and they were great for when she went to school because the scent lasted all day long.
For this diffuser bracelet craft, we wanted something a bit smaller and more in line with the look of the other beads in the bracelet. We opted for small round lava beads in black.
Just know that you can use any type of lava bead that you want, but you definitely have to use lava stones to get the diffuser benefit.
How to Make a Rainbow JOY Diffuser Bracelet
Age: 10+
Time: 20 minutes
Materials:
Lava beads
Seed beads
Alphabet beads
Elastic cording
Scissors
Directions:
Measure a length of elastic cording to fit around your wrist. Then add two more inches.
To make a bracelet like we made, string on seed beads in a rainbow pattern.
Repeat one more time.
Add a lava bead.
Then string on a clear seed bead.
Add the letter J followed by a clear bead.
Repeat the process with an O (we used a heart bead in place of the O), and a Y.
Then add on two more rainbow patterns in seed beads.
Tie the ends of the cording together tightly and double knot.
Apply a drop of your favorite essential oil to each lava bead and allow to dry slightly before putting the bracelet on.
Enjoy the benefits of essential oils all day long and look super stylish in your new rainbow diffuser bracelet!
Keep in mind, you can make your diffuser bracelet in any pattern or design you want! They're also great for making your "word of the year" bracelet to remind you to pursue your dreams and be brave!
Have fun making them!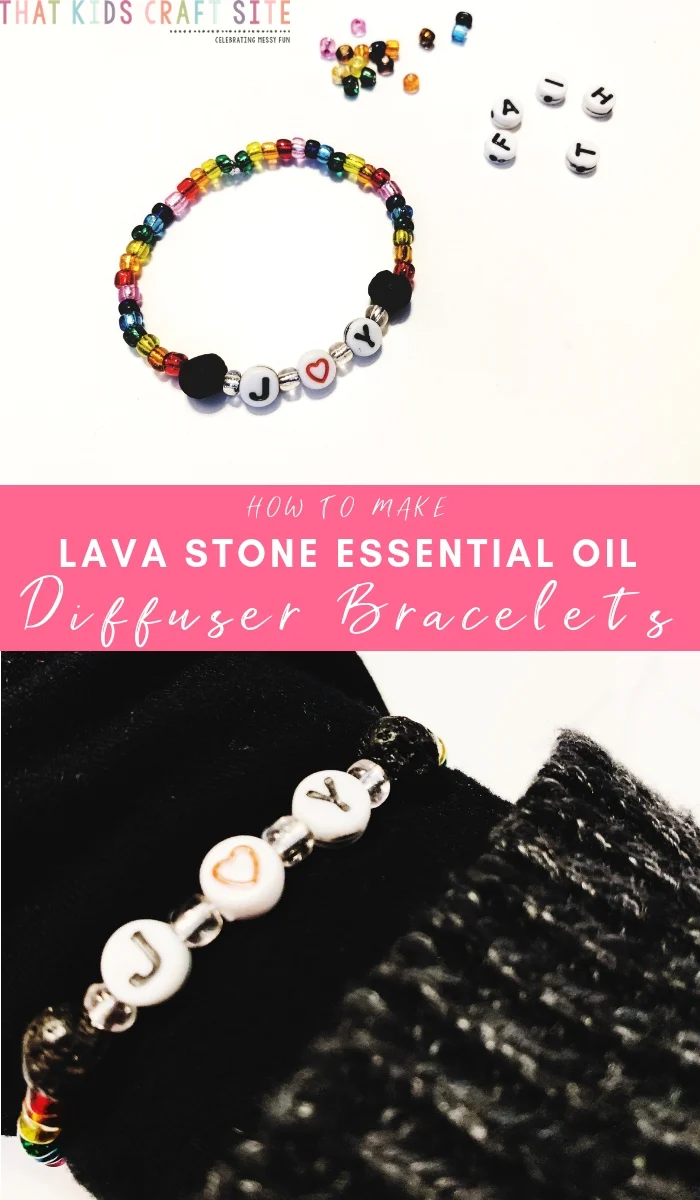 Show Us Your Diffuser Bracelet!
Did you make your own diffuser bracelet or maybe you made a kids diffuser bracelet for your child or younger sibling? Share it with us! We'd love to see it! Snap a picture and tag us on Instagram @ThatKidsCraftSite! We can't wait to celebrate your creativity!
After You Make Your Essential Oil Diffuser Bracelet, Try These Other Crafts!