The weather is hot, the boredom has set in, and you're desperate for kids activities that entertain! These July crafts for preschoolers will do the trick!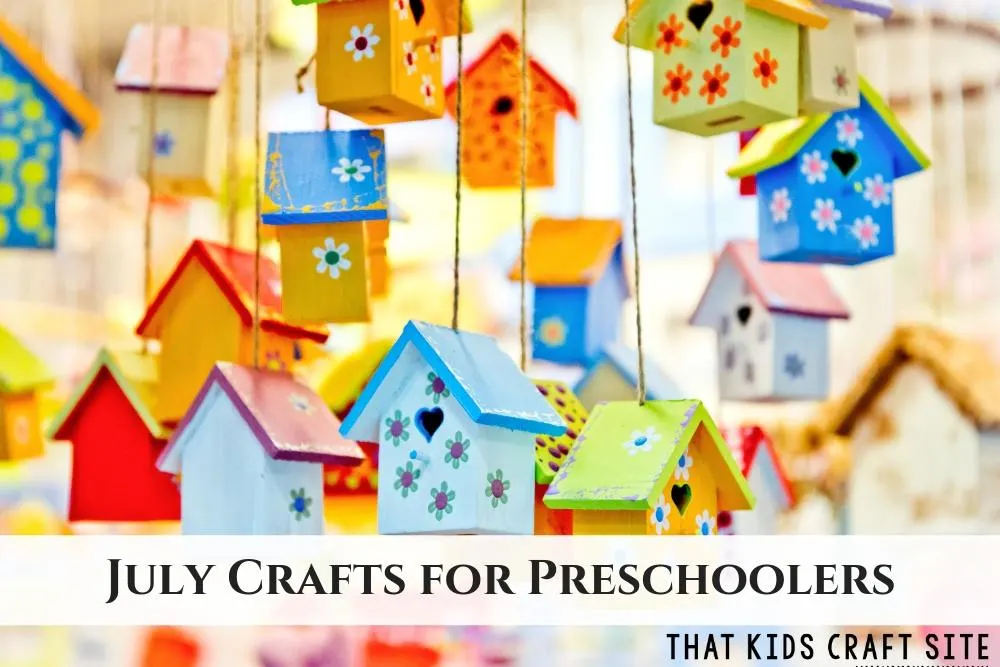 July is in the thick of summer, making it the perfect time for fun outdoors, celebrating the birth of the nation, and sun, sand, and water! All of these things can easily translate into great July preschool crafts!
Here are just a few of our favorite things to do with little ones to spark their creativity and have a little crafty fun throughout the month.
Preschool Crafts for July
Paper Plate Wind Spinner
This is a simple craft that can be adjusted for any theme or holiday! Have preschoolers color a plate in their favorite shades and designs (red, white, and blue for the 4th of July is fun!).
Cut the plate into a continuous spiral, then hang it up on the porch from the center of the spiral. Let it spin and blow in the wind!
Painted Rocks
Rock painting is a craze that is so easy for little ones to enjoy. Find or purchase some flat rocks and make sure they are free of dirt and other outdoor mess. Let little ones paint them with liquid paints.
Once they are dry, you can display them around the house or hide them around the neighborhood to bring a smile to people's faces. This is one of our favorite July crafts for preschoolers!
You Might Like: Painted Ladybug Rocks
Puff Paint Ice Cream Cones
Puff paint is made by mixing together a bit of Elmer's glue and some shaving cream and coloring it your favorite ice cream shades using food coloring. Draw or cut a triangle to represent the ice cream cone and attach it to a sheet of paper.
Use your puff paint to create ice cream cones that look almost good enough to eat!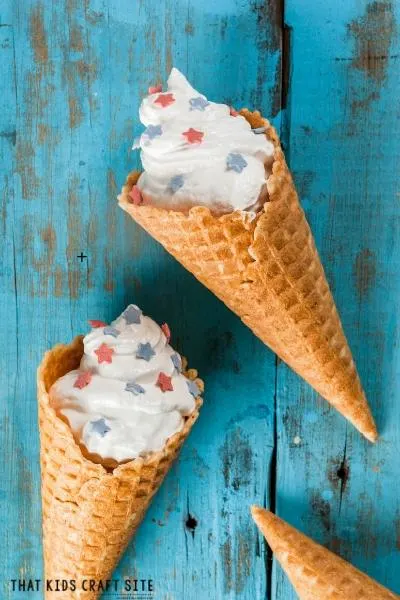 Bubble Painting
This is a fun outdoor craft for preschoolers! Add a few drops of food coloring to your favorite store bought or homemade bubble solution. Spread out large pieces of blank paper on the driveway or in the yard.
You can experiment with different sized objects as bubble blowers, such as straws and jar rings to make different sized bubbles in your pattern. Blow bubbles toward the paper and as they pop, they will create a fun and colorful piece of art!
Hanging Jellyfish
Let little ones decorate a disposable paper or plastic bowl with paints, crayons, or markers to make the body of their jellyfish. Help them to attach tentacles make from ribbon or string to hang from the underside of the bowl. Attach a loop at the top and let your jellyfish decorate the room!
You Might Also Like: Quilling Seahorse Craft for Kids
Star Stamped Tee Shirts
Cut stars of varying sizes from new sponges. Dampen them slightly and let kids go to work with fabric quality paint on a plain tee shirt. Use red and blue to make a tee that is perfect for the 4th of July holiday. Then, wear your creation proudly!
Paper Roll Binoculars
Let little ones decorate two equal sized pieces of paper towel roll or two bathroom tissue rolls in any way they would like – paints, crayons, or stickers all work well. Attach the rolls together with tape, then tie a length of string or yarn on one end to let them hang their binoculars around their neck. Head out on an adventure and see what you can see!
No matter what you do, have an amazing time this month creating all the things!
A Year of Preschool Crafts
Looking for Crafts for Other Months of the Year? Try These!
July Crafts for Preschoolers <– You are here!