June crafts are perfect to celebrate the start of summer or the end of the school year!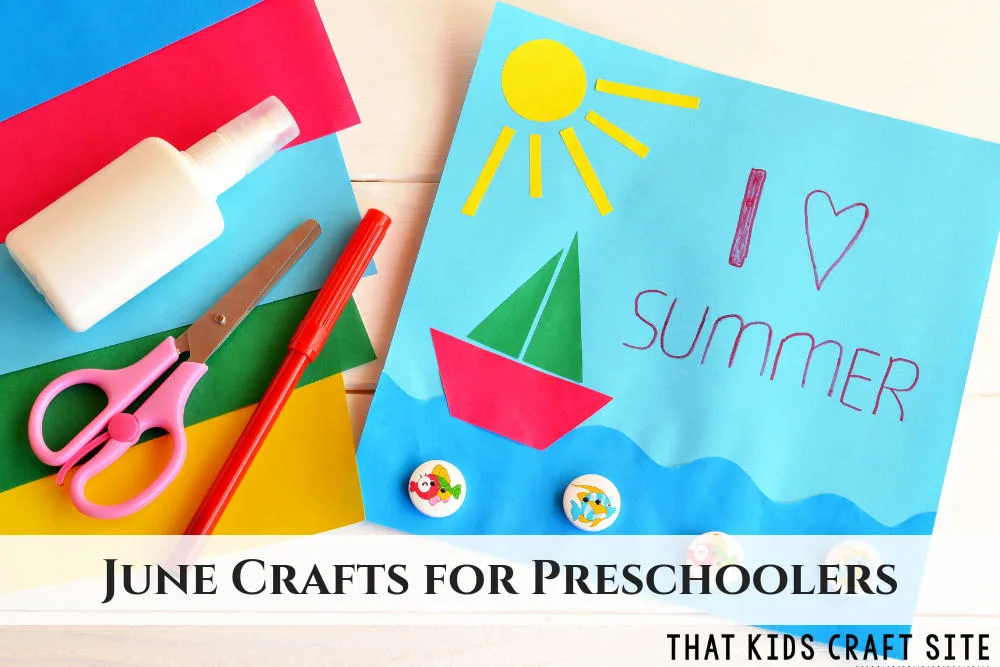 June brings Father's Day, the end of the school year, and the beginning of summer fun and vacations! This month's crafts collection is inspired by all of these things.
Get your preschoolers excited for all of the fun that the summer season will bring with these simple preschool crafts, or use them as inspiration for your own unique creations!
The crafts provide excellent preschool learning opportunities throughout the month (and summer season!)!
June Preschool Crafts
We've broken down the crafts into categories to help make it easier for you to plan your June crafts and activities. There are summer crafts, Father's Day crafts, and End of Year crafts for the last weeks of school. Hope it helps!
Summer Crafts for June
Footprint Flip Flops
Have little ones make their footprints with paint on a piece of paper or cardboard. Cut out the shape of a flip flop around the outside. Attach yarn, ribbon, or strips of paper to make the straps of the flip flop.
Decorate with stickers, glitter, plastic jewels, or other small supplies you have on hand. Such a fun symbol of summer and a perfect June craft!
Paper Plate Watermelon
This is a fun, simple craft to do on the day of a picnic or cookout! Since June is the perfect time to do those things, this is the ultimate June craft for kids!
Cut paper plates in half and color the outer edge green and the inside pink or red. Cut small pieces of black paper and glue on to represent the seeds.
Stacked Hearts Bee Craft
The bees are always buzzing around in the summer and we should show them some love for all the hard work they do!
Cut out hearts from black, yellow, and white construction paper.
Place two white hearts with their points touching to represent the wings. Then overlap black and yellow hearts to make the body of the bee.
Finish with a yellow heart on top of the stack and draw on a face. Add antennae from strips of paper or black pipe cleaners.
Summer or Vacation Countdown Chain
Whether you're waiting for summer vacation to start or just counting the days to the "official" start of summer, making a countdown chain is a fun way to mark the days.
Kids can decorate each strip of the chain with drawings or stickers to represent one of their favorite things about summer or what they are looking forward to about vacation. Hang it up and watch the days fly by!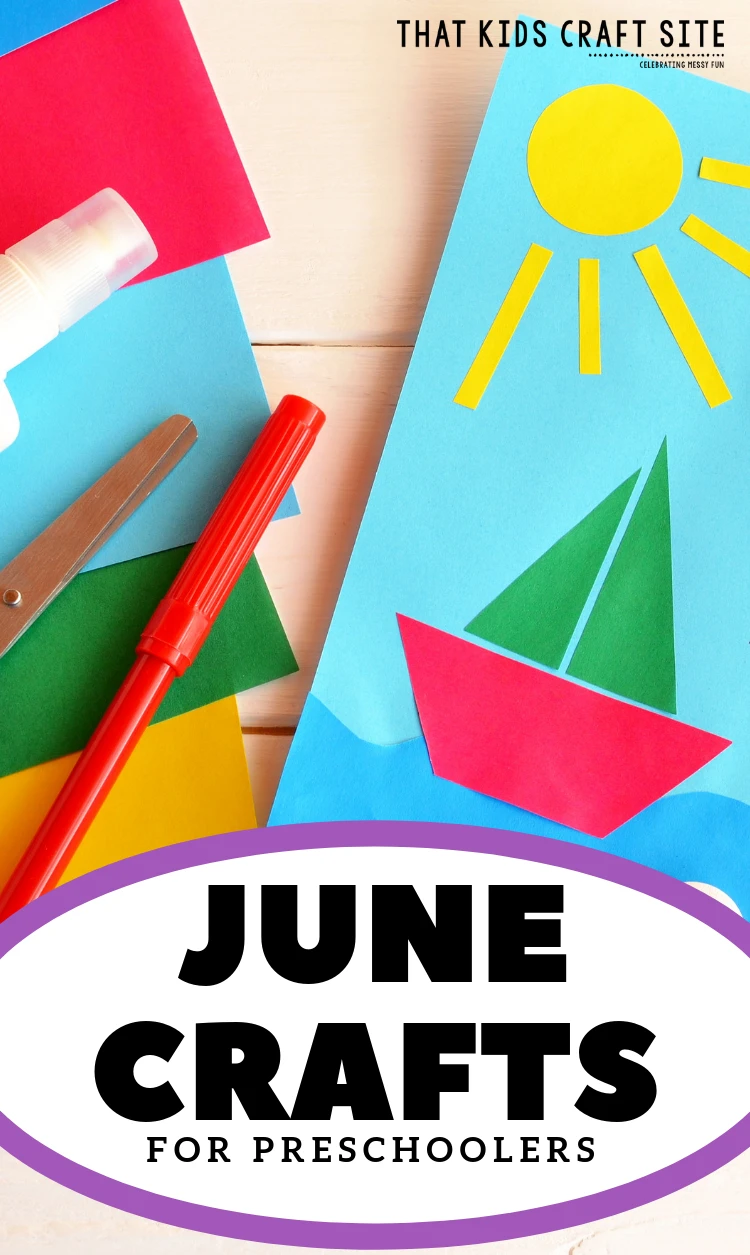 Father's Day Crafts for June
Father's Day Tie Craft
Cut a piece of paper in the shape of a tie, then allow preschoolers to decorate it with whatever materials they like to create a lovely new tie for their dad or grandpa for Father's Day.
You can give this as a bookmark or in place of a card, or tie a length of string at the top sides so they can wear this lovely creation.
Popsicle Stick Photo Frame
Creating a square popsicle stick photo frame is one of the sweetest Father's Day gifts.
While the hot glue required to attach the sticks together is best left to an adult, little ones will love decorating the popsicle sticks in their (or dad's) favorite colors and choosing what picture to attach to the frame.
Don't forget to add the child's name and the year for a wonderful memento!
End of School Year Crafts for June
Graduation Cap Craft
If the school year is ending for your preschooler, you can help them celebrate with a simple graduation cap craft that they can treasure.
Simply have them paint or color a paper bowl, then glue a square of construction paper to the top to complete the cap. You can even fray the end of a length of thick yarn to make a tassel for your cap!
What are some of your favorite summer crafts for kids? Share your ideas with us below!
Show Us Your June Crafts
Did you make one of the crafts above? We'd love to see it! Snap a picture and tag us on Instagram @ThatKidsCraftSite. We can't wait to celebrate your creativity!
Looking for Crafts for Other Months of the Year? Try These!