Father's Day is almost here! Get ready to celebrate dad with this handprint hammer Father's Day craft. It's easy to make and will capture dad's heart!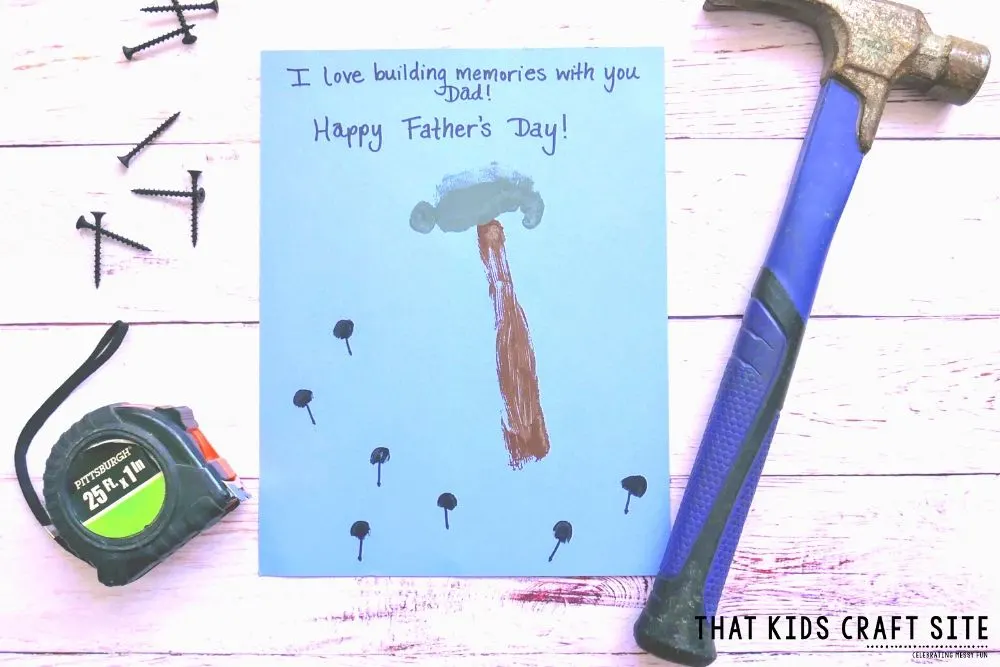 Handprint Father's Day Painting
This homemade painted card uses your little one's arm and hand to make the most adorable hammer of all.
It's perfect for home crafting, but if you're a preschool teacher, it would also be fun to do with your students in the classroom.
The wordingcan be customized to say whatever you would like, but some options are:
You really "nail" this whole father thing!
You "nailed" my heart!
I love building memories with you, Dad!
Happy Father's Day!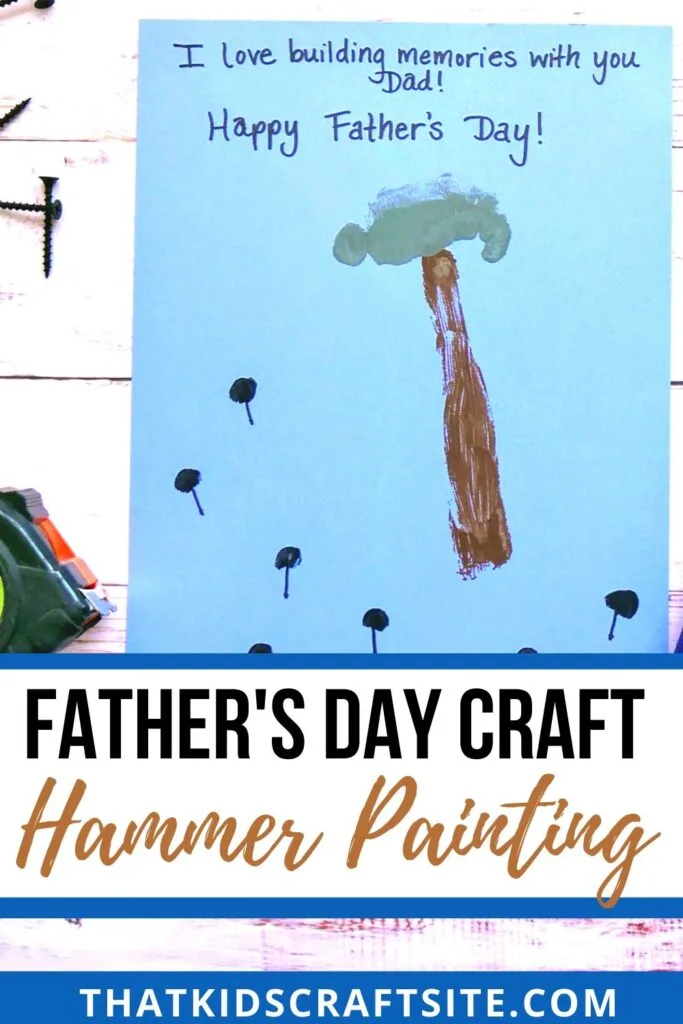 Making the Father's Day Craft
Let me be the first to give you a heads up that this craft? It's messy. It requires paint, and sticking arms in paint, and did I mention paint?
If you don't mind messy crafts, then by all means, carry on with your brave self!
If, however, messy crafts scare the daylights out of you, take a deep breath and let me walk you through how to keep your crafting area and your child cleaner.
You Might Also Like: No-Mess Printable Minecraft Father's Day Card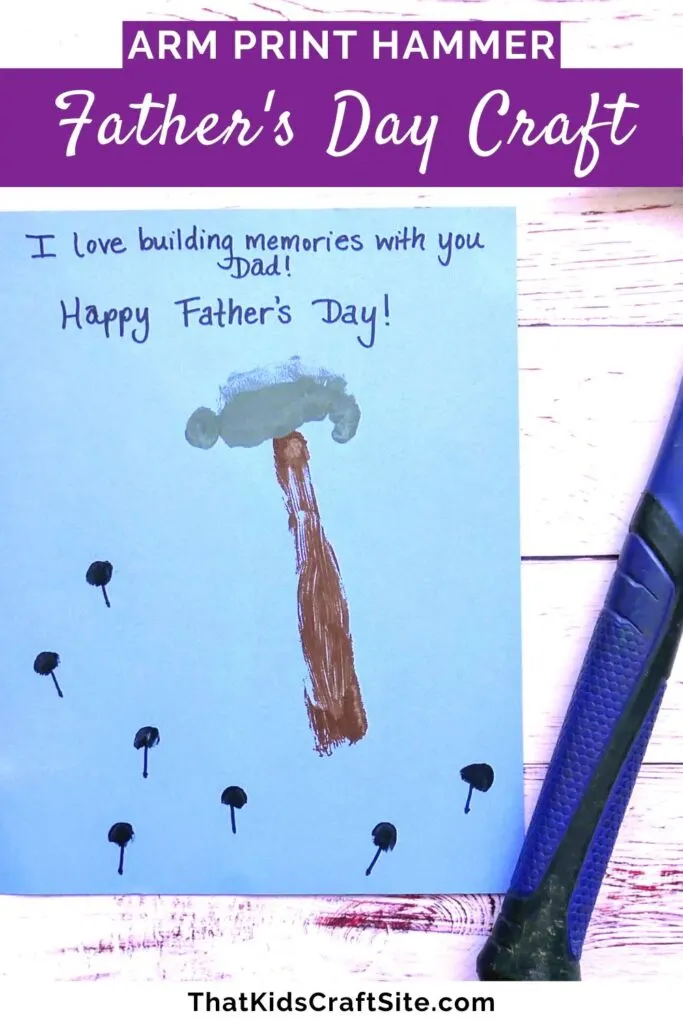 How to Control the Mess
Before you begin, make sure that the area where you'll be working is protected. So, cover the table with newspaper or a dollar store plastic table cloth. If you have neither, cut open a garbage bag and lay it flat on the table. Don't forget to tape it in place!
Put a plastic table cloth or newspaper on the floor as well. Remember to try to do this craft on floor that can be easily cleaned if a bit of paint splatters!
Have a roll of paper towels and baby wipes handy for wiping up any spills and for wiping off your child's arm afterwards.
You Might Also Like: Father's Day Cards for Kids
I like to keep a small trashcan next to the table where I'm doing messy crafts as well. That way, when I have to wipe something up as I inevitably do, I can throw the dirty paper towel right in the trashcan instead of trying to find somewhere to put it.
Make sure your child is wearing short sleeves and has his smock on. If you don't have a smock, make one out of a trash bag or break out one of dad's old dress shirts that he doesn't wear anymore and use that.
Preparation is key to keeping down the mess, so make sure you're ready!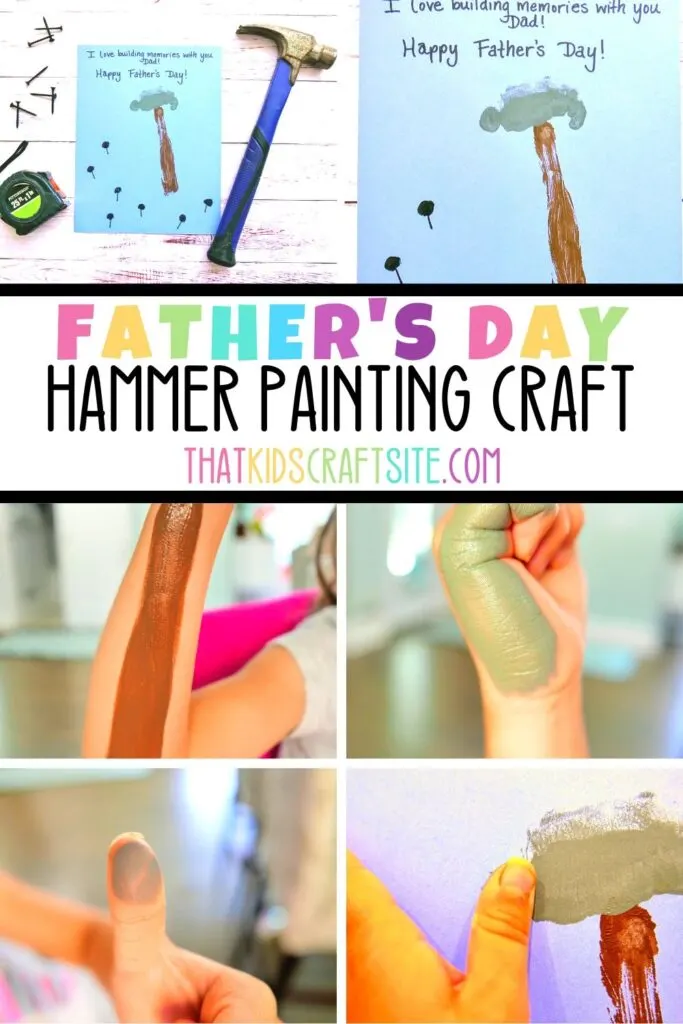 Father's Day Hammer Painting
Once your space is set up, it's time to get started! You'll need the following items:
Black, brown, and grey acrylic paint
Painters Tape or Masking Tape
3 Craft Paint Brushes (2 wide/large, 1 small)
Cardstock (any color)
Black Sharpie Marker
Paint Palette Tray (a paper plate could also be used)
Don't forget to have a pack of baby wipes on hand for washing off the paint as well!
After the supplies have been gathered, follow the step by step directions below. You can even print them out and take them with you if you're doing the craft in the classroom or with a small group.
The most important part? Have fun and don't stress if things get a little messy. Laugh it off and know that dad will appreciate your efforts when he sees his painting. =)
You Might Also Like: My Book of Dinosaurs
Father's Day Craft Directions
Show Us Your Craft!
Did you make the Father's Day Hammer Painting Craft? Snap a picture and tag us on Instagram @ThatKidsCraftSite! We'd love to celebrate your handiwork!