Looking for some finger painting ideas to jazz up your arts and crafts time with your preschoolers? These can help!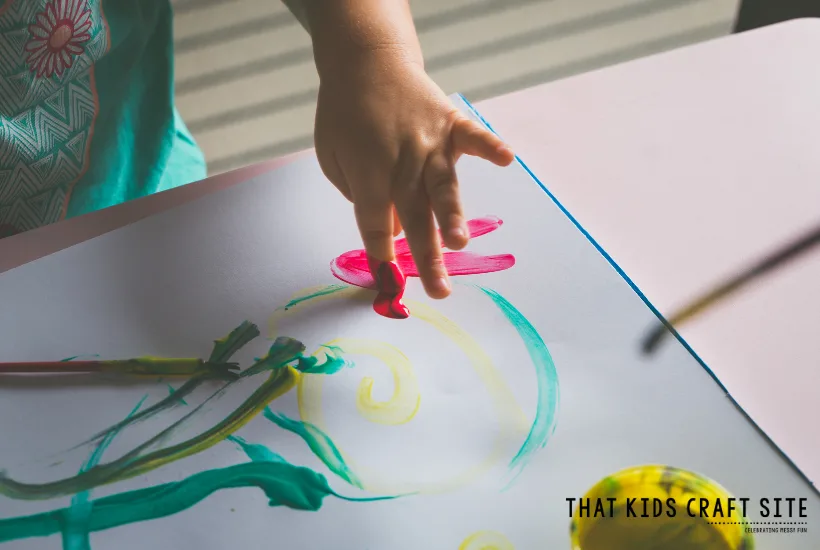 Finger Painting Fun for Kids
Finger painting is one of those activities that might seem a bit intimidating to get into, because well let's face it, it's messy! However, finger painting play can actually be really beneficial for a young learner. How so, you ask?
Well, finger painting gives children the opportunity to discover color, use their imagination, and strengthen their fine motor skills all at the same time. Sounds like a perfect activity to me!
And in fact, there are ways to keep the mess contained, so let's start there.
Less-Mess Finger Painting Strategies
Use a disposable tablecloth. Laying out a disposable tablecloth for children to paint on gives them a large open workspace to get messy and also makes clean up a breeze. When finger painting has finished, collect their masterpieces, roll up the tablecloth, and toss. Easy peasy! Pro Tip: Dollar stores typically have disposable tablecloths in abundance! Check the party aisle!
Finger painting in a bag. Creating finger paint works of art in a bag is another great less-mess option. Using a Ziploc, place a piece of poster board in it, add some different colored paints into the bag, and seal it up. Let the kids go to town squishing, drawing, and writing in the paints without making a mess. When they're done, remove their work of art, hang to dry, and toss the Ziploc bag with the mess inside. Brilliant!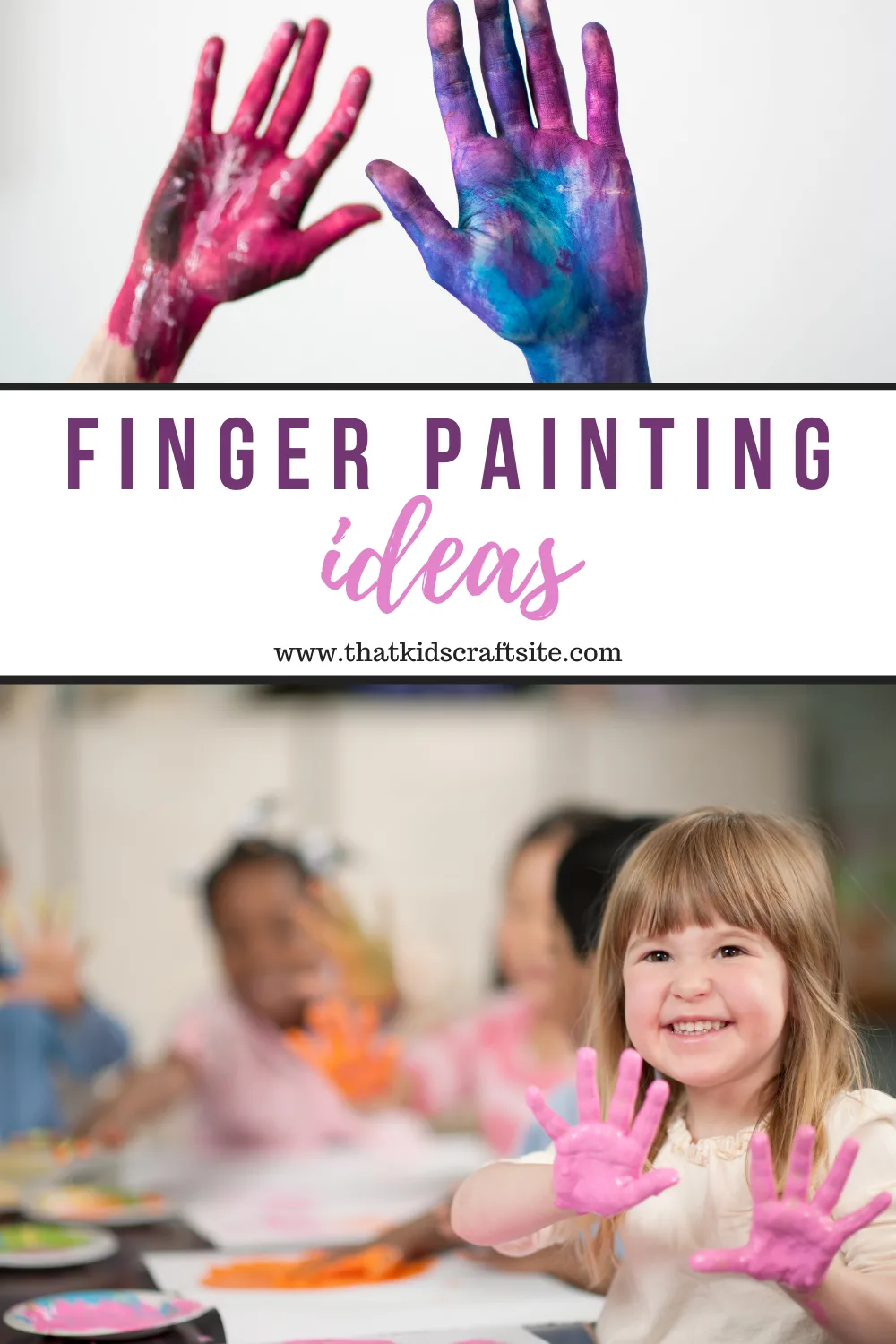 Finger Painting Supplies You Will Need
Now that you see it's possible for finger painting to be fun and not super messy, we have some awesome finger painting ideas for toddlers. First things first though, you will need supplies. Keeping it simple, you really only need finger paints and cardstock or poster board.
Our favorite finger paints are edible finger paints that you can make at home. They are quick and easy to whip up, and best of all you know what's in them in case your little ones want to do a sneaky taste test or two! Check out this awesome edible finger paint recipe to make your own.
Finger Painting Activity Ideas
Introduce unique surfaces to paint on. Finger painting doesn't have to just be on cardstock. It can be great on ceramics, plastic, bubble wrap, tinfoil, or cardboard. Be creative! Just about any surface can be used as a medium for painting.
Add a variety of textures to your finger paints. If you're using your own homemade edible finger paints, stick with that idea and toss in some other edible items into the mix to jazz up the texture. Use cooked rice, sprinkles, cereal, or even edible glitter to give paints a different look and feel!
Present a variety of painting tools for kids to use. Items such as brushes, sponges, q-tips, and cotton balls are all wonderful painting instruments. Yes, it is called finger painting but by offering the option to use something other than fingers, children will be inspired to make even more amazing works of art.
Make paint prints with fruits and vegetables. Cut edibles such as oranges, potatoes, and corn on the cob in half for little ones to dip in paint and press on paper to make one-of-a-kind colorful paint prints.
Finger paint with nature. Go on a nature walk and collect a variety of natural items to paint. Leaves, rocks, twigs, and more are all fantastic items that can be found outside in nature.
Introduce toys into the mix of finger painting. Roll a truck around the paint to create tracks or use LEGOs and blocks as stamps.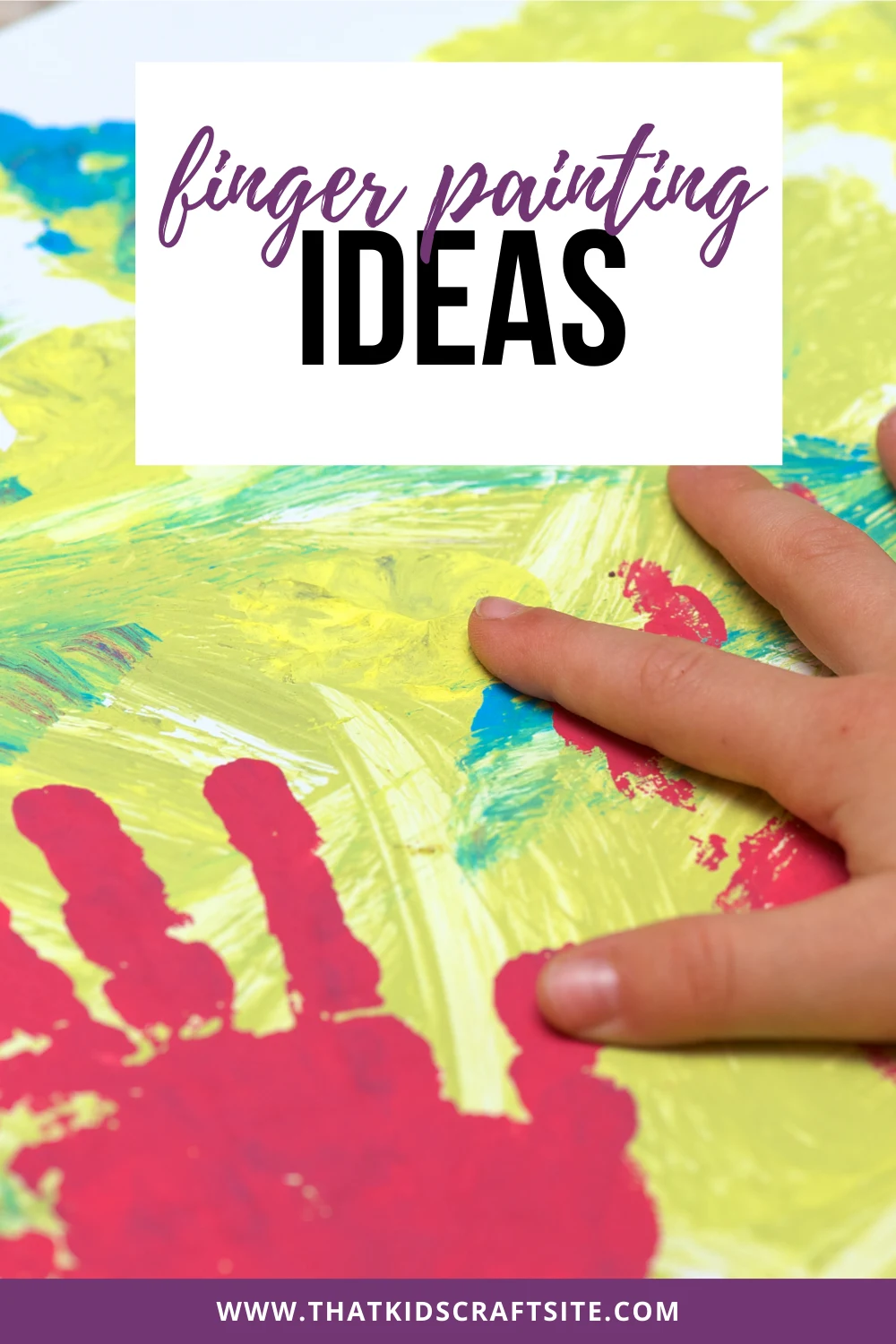 Finger Painting Ideas are Endless
There is so much more to finger painting than fingers and paints! It is a great sensory play activity that offers numerous learning opportunities. The possibilities are endless, really!
When it comes to finger painting with toddlers and preschoolers, the main objective is to just let little ones have fun, become inspired, and create masterpieces!
You Might Also Like: