Celebrate Earth Day on April 22 with a kid-friendly Earth Day craft!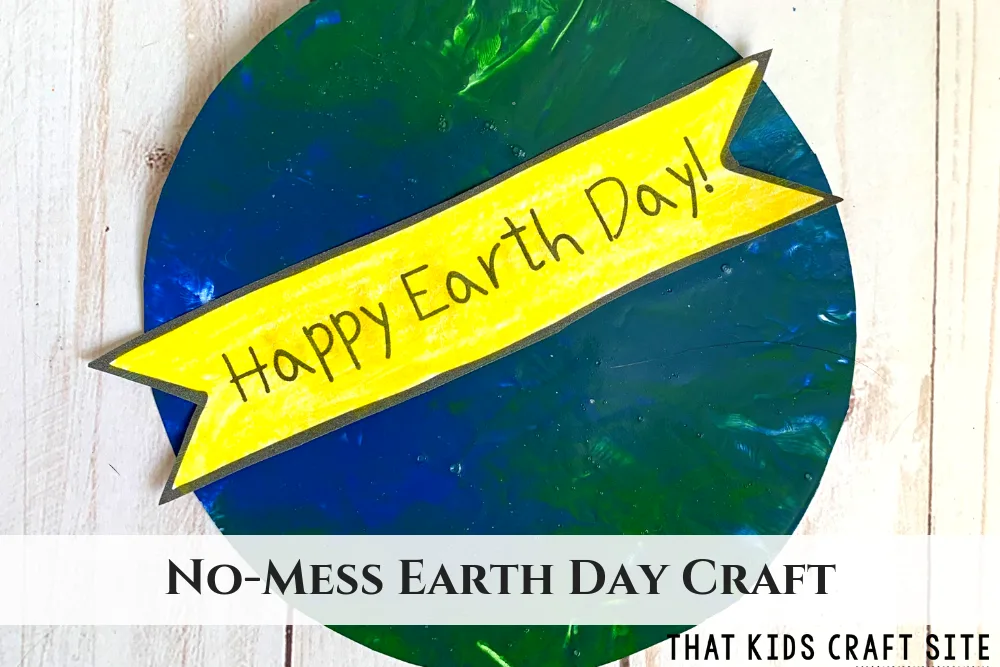 History of Earth Day
The first Earth Day was celebrated on April 22, 1970.
People across the nation gathered with hopes to increase awareness about the importance of maintaining a clean and healthy environment.
Little did they know this single day of campaigning would soon become a global event to make our planet a better place for everyone.
Today, people all over the world commemorate Earth Day every April 22 in a variety of ways.
From cleaning up our streams and rivers to planting beneficial flowers and trees to reading Earth Day books for preschool, there are so many different ways to observe Earth Day!
While these types of activities are great for older children, teens, and adults, what can our little learners do on this amazing day?
A kid-friendly Earth Day craft, of course!
Earth Day Craft for Preschool
Preschool age children love nothing more than a sensory painting craft that they can push, poke and smoosh with their tiny little hands.
This is the perfect Earth Day activity, as it allows early explorers to create beautiful works of art using eco-friendly products.
In addition, this sensory bag painting craft is mess free with little to no clean-up for the adults. Win and win!
How to Set Up the Sensory Bag Painting Craft
To start, put a few dollops of paint (blue and green, of course) on a paper plate, and insert it into a large re-sealable bag.
We like the bags with the zippered tops, but any type will do.
Once in the bag, young artists can create their Earth painting by pressing, squeezing, and squishing the colors all over the plate.
Encourage them to work their paint to the edges of the plate so that everything is covered.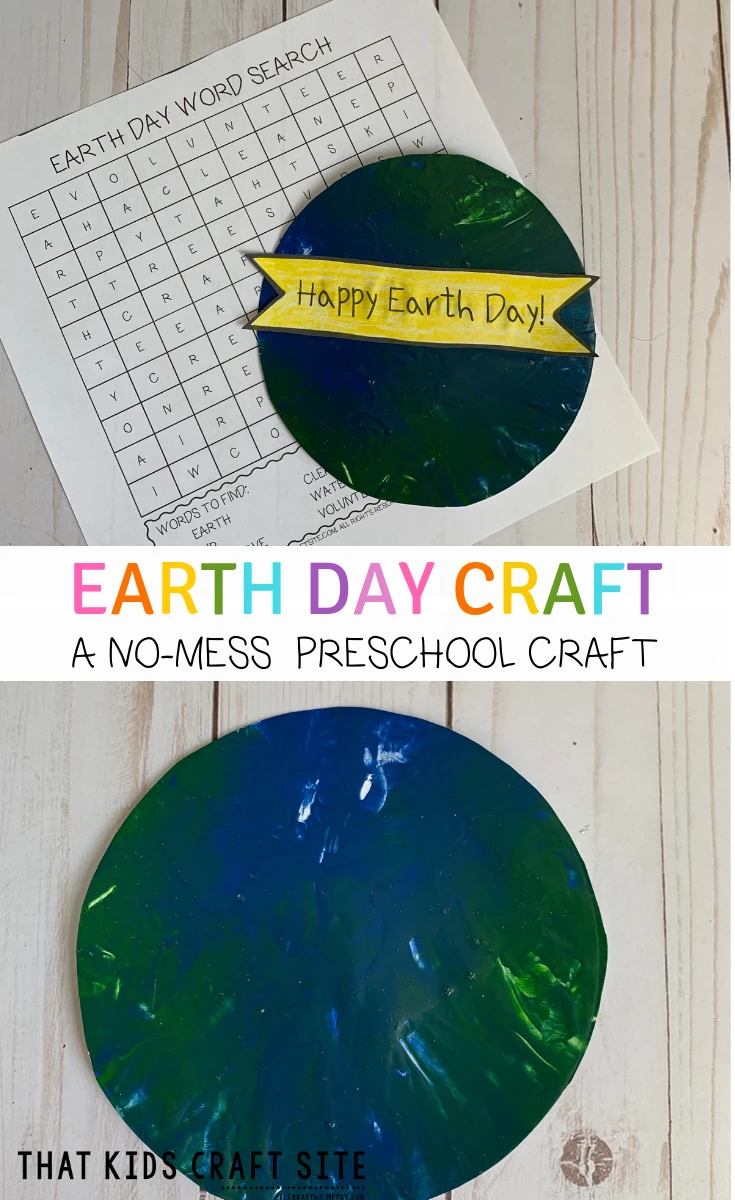 Affiliate links to the products associated with this craft are included to make it easier for you to find supplies.
When they have completed their Earth Day craft, carefully remove it from the bag and set out to dry. While the painting is drying, the reusable bag can be rinsed out for another mess free painting project.
Print out the free Happy Earth Day sign and word search printable.
Let kids choose how they want to color their sign and then have them cut it out.
While the painting is drying, kids can complete the Earth Day Word Search!
Once dried, cut out the center of the paper plate to make a circle resembling the Earth.
Glue the Happy Earth Day banner across the cut-out and display on a bulletin board or hang from the ceiling!
Enjoy!
No-Mess Earth Day Craft
Ages: 2+
Time: 30 minutes
Materials: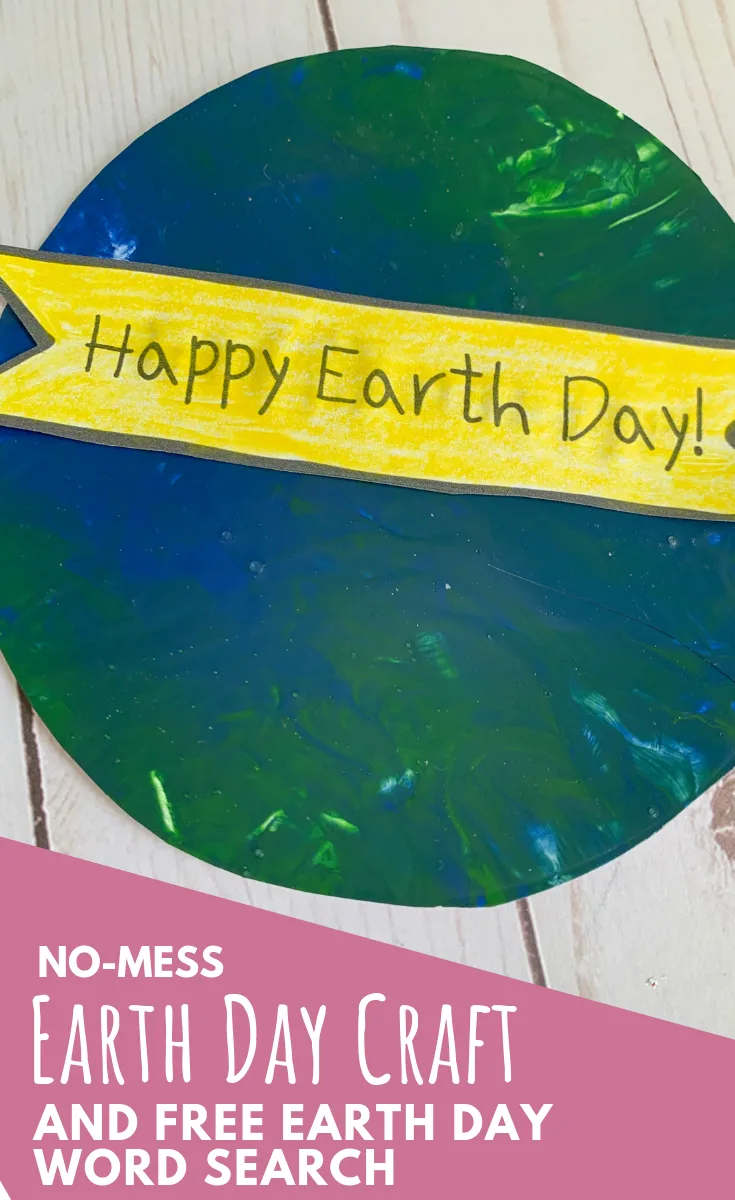 Instructions:
Add a few dollops of blue and green paint onto the paper plate. Toss on some glitter if you want to make it sparkle.
Insert plate into a bag and seal completely.
Let children create their Earth Day paintings through the bag by pressing and pushing the paint around the plate.
Once their painting is complete, remove the plate from bag to dry.
Rinse out the reusable bag for another activity.
Print out the free banner and word search.
Color the banner and cut out. Complete the word search while the plate continues to dry.
When completely dry, cut out the center of the paper plate to resemble the Earth.
Glue the banner to the Earth cut-out and display!
Show Us Your Earth Day Craft!
Did you make a no-mess Earth Day craft? We'd love to see it! Snap a picture and tag us on Instagram @ThatKidsCraftSite! We can't wait to celebrate your creativity!
After Making the Earth Day Craft, You Might Try Making These Fun Kids Crafts