Let's happily welcome the spring season with this super fun hyacinth flower craft for kids!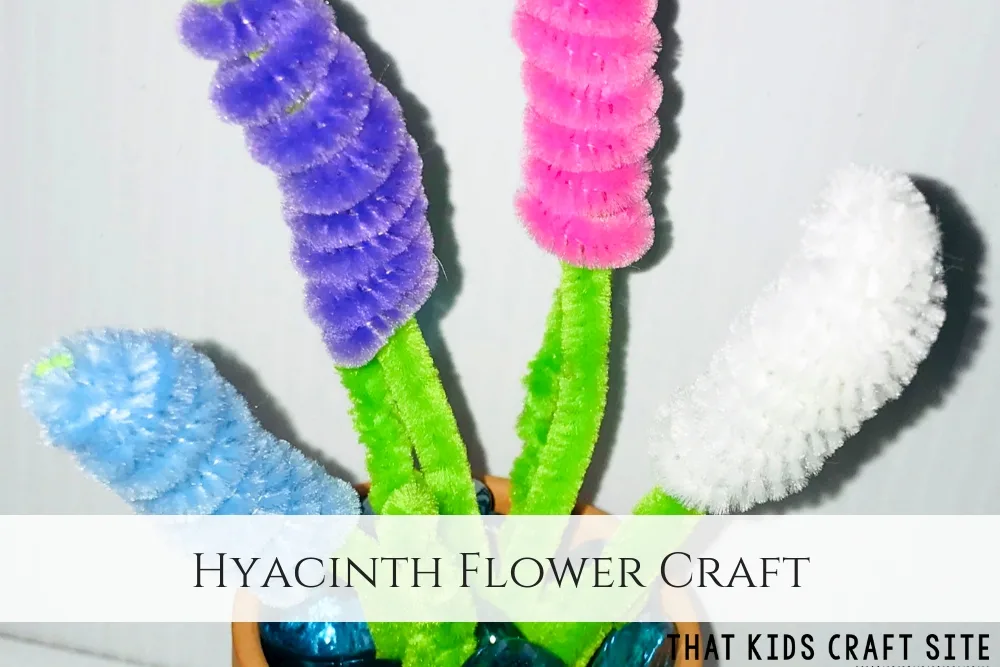 This is a simple project that requires only a few supplies, and best of all, children will love making these beautiful blossoms any day of the week!
To introduce this lovely springtime activity to little ones, we have put together a few facts about the hyacinth flower that can be shared with the kiddos!
Hyacinth Flower Facts
Hyacinth flowers are one of the first signs of spring!
March 7th is World Hyacinth Day.
The name Hyacinth means 'flower rain' in Greek.
Hyacinth blooms are very fragrant with each color having its own unique scent!
Purple is the most common color of a hyacinth flower.
Juice from a hyacinth bulb was once used as a glue to bind books together.
Each flower color has a different meaning. These meanings include: purple for forgiveness, yellow for jealousy, white for loveliness or beauty, and blue for sincerity.
Now, let's go over how we put this fun and simple flower craft together.
Flower Craft for Kids
For this hyacinth flower craft for kids, we made the entire flower, stems and all, from a handful of pipe cleaners.
We used green pipe cleaners bent in half for the stalks.
To create the flowering part of the hyacinth, we used a blue, a white, a pink and a purple pipe cleaner to embrace the common colors in which hyacinths can be found.
We then "planted" our pipe cleaner hyacinths in a small 2" ceramic flowerpot. Acting as the "soil" to hold the flowers in the pot, we used decorative blue glass gems.
This lovely hyacinth flower craft for kids is an incredible way to bring the beauty of spring inside. In addition, these beautiful blossoms in a pot would be a thoughtful gift for any occasion including birthdays, holidays, or just because!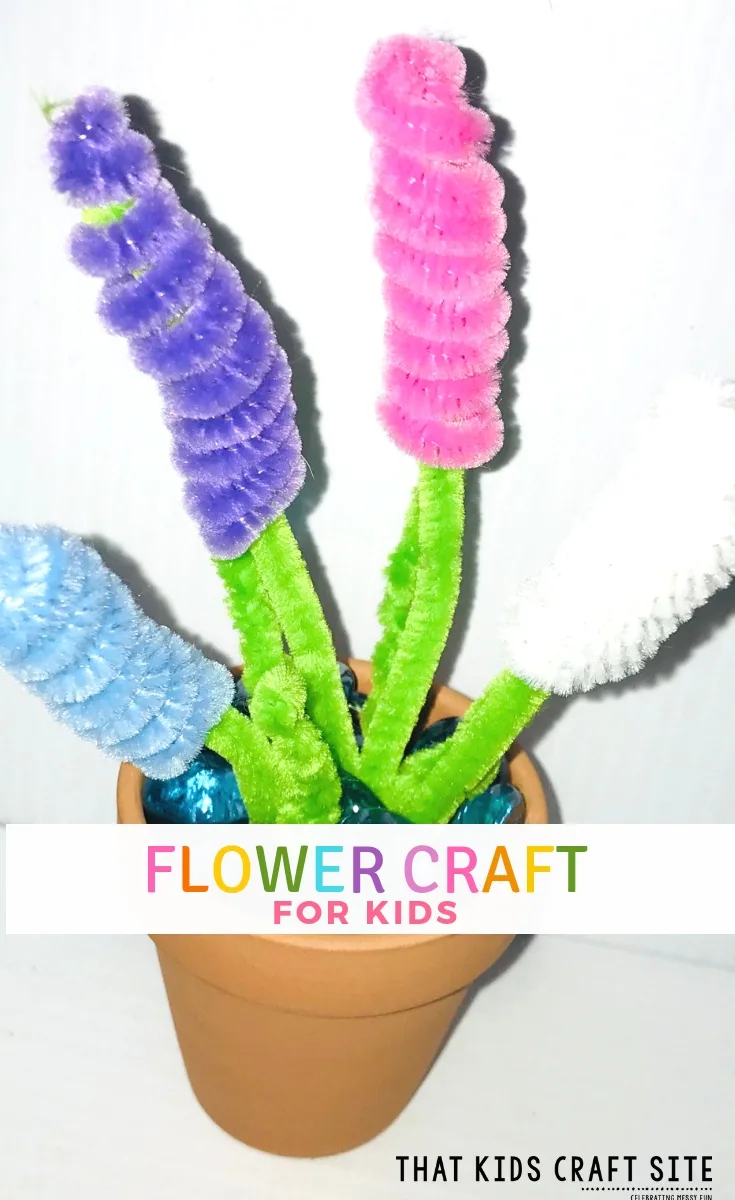 Preschool Flower Craft
Age: 4+
Time: 20 minutes
Materials:
Pipe cleaners (chenille stems): 4 green, 1 white, 1 pink, 1 purple, 1 blue
2" flowerpot
Glass gems
Pen/pencil
Instructions:
Bend a green pipe cleaner in half to form a "V" shape.
Beginning about 2" from one end of the green stem, wrap the white pipe cleaner around the stem and pen together creating a spiral of white. This will be the first hyacinth flower.
Slowly remove the pen and tuck the ends in. The white spiral should sit around the green stem creating your first flower.
Now repeat with the pink pipe cleaner on the other end of the green stem. You will end up with a green "V" and a colored flower on each end. Set aside.
Do it again with another green stem folded into a "V" using the remaining 2 colors: blue and purple.
Take the last 2 green stems folding them into a "V" and then folding each end over itself creating shorter "V" stems.
Position the stems and flower blossoms into the ceramic pot and fill with glass gems to secure.
Done! How easy was that?
Show Us Your Flower Craft!
Did you try your hand at making one? We'd love to see how it turned out! Snap a photo and tag us on Instagram @ThatKidsCraftSite! We can't wait to celebrate your creativity!
After You Make the Hyacinth Flower Craft, You Might Like These Other Crafts: