More This paper plate umbrella craft is a wonderful activity to celebrate the spring rain!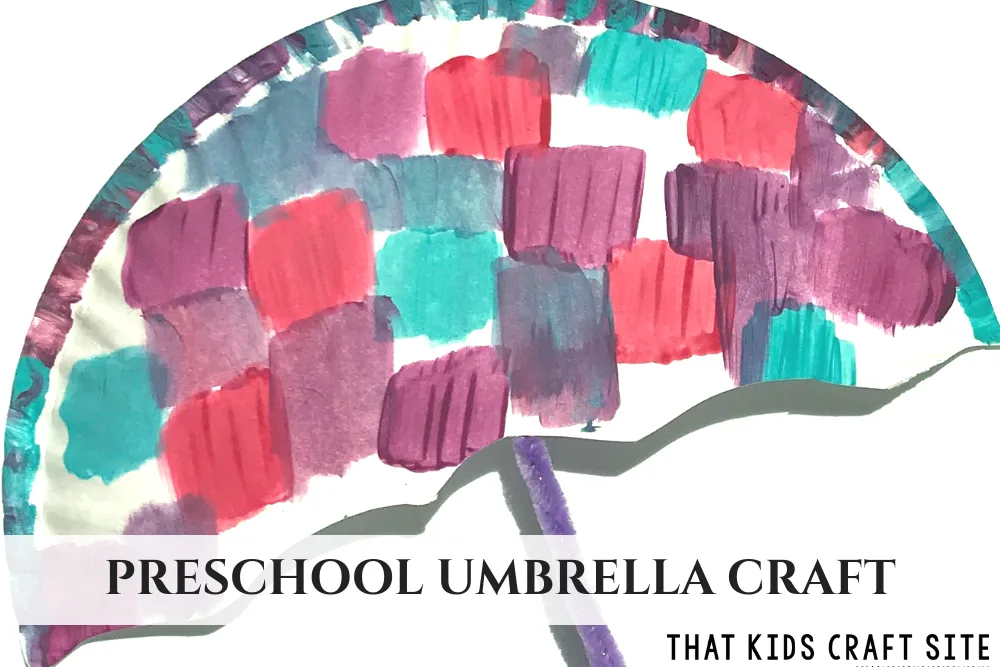 Rainy Day Craft
With April being one of the rainiest months of the year, you might find yourself and the kiddos inside quite a bit looking for an activity that will keep you dry.
Well now, don't let the weather get you down because we have the perfect rainy day craft to brighten things up.
Let's celebrate Aprils rain showers by making an awesome paper plate umbrella craft.
Paper Plate Preschool Umbrella Craft for Kids
Creating these dazzling, colorful paper umbrellas will surely lift the spirits on a not so sunshiny day.
What's more is that this paper plate umbrella craft is super simple, making it a great activity for early learners.
In addition, this project gives little ones a chance to explore their creative side while also gaining a little bit of knowledge about the umbrella, itself.
History of Umbrellas
Do you know the history of the umbrella? We sure didn't! Check out these fun facts to share with your little crafters as they create their own paper umbrella work of art.
The umbrella is an incredible invention that was created more than 3,000 years ago.
Initially, umbrellas were used as a parasol to shade nobles and royals from the sun.
Long ago, women were the only ones who carried an umbrella.
Over 33 million umbrellas are sold in the US each year!
The Gignese Museum in Italy is the only place in the world that is dedicated to umbrellas and parasols. With thousands of umbrellas on display, this museum covers the history and creation of unique shade-makers from around the globe.
An umbrella superstition says that it is bad luck to open an umbrella indoors as it will offend the sun gods.
February 10 is National Umbrella Day. Who knew there was an entire day dedicated to the umbrella?!
Now that we've all learned a little something, we hope you enjoy making this paper plate umbrella craft for kids as much as we did!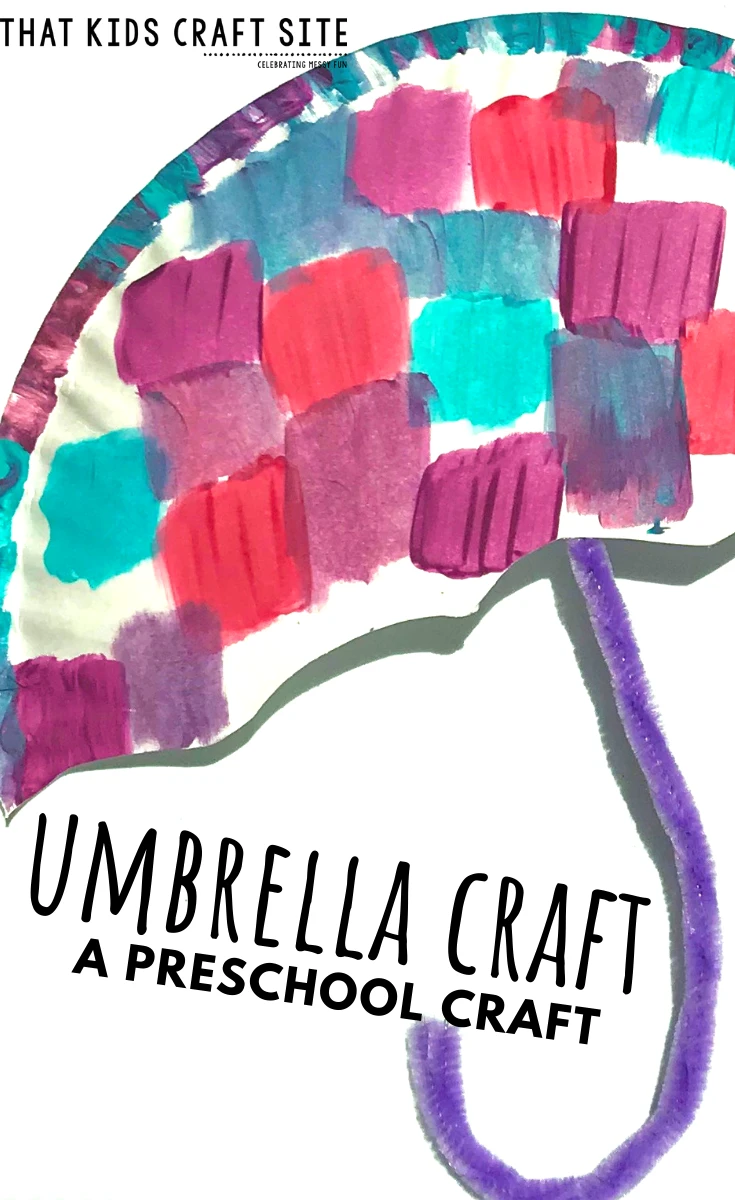 How to Use Your Umbrella Craft
It's great to make an umbrella craft, but what do you do with it?! Here are some ideas:
Use it to decorate an April bulletin board.
Hang it on the fridge as a decoration.
Make one while reading about the weather! It's a great weather craft!
Hang it from the ceiling using a paperclip that's been folded out.
Write a poem on the back of it.
Make one while reading one of the following books:
No matter how you use the umbrella craft, it's a fun activity for any rainy (or sunny!) day!
Paper Plate Umbrella Craft for Kids
Materials:
Paper Plate
Paint
Paintbrush
Scissors
Pipe Cleaners or Chenille Stems
Tape
Instructions:
Cut the paper plate in half. Add some pizazz by cutting in a wave pattern rather than a straight line.
Paint the half plate. This will be the umbrella top.
While that is drying, twist two pipe cleaners together and make a hook on one end. This will be the umbrella handle.
Tape the chenille handle to the back of the umbrella to complete the umbrella craft.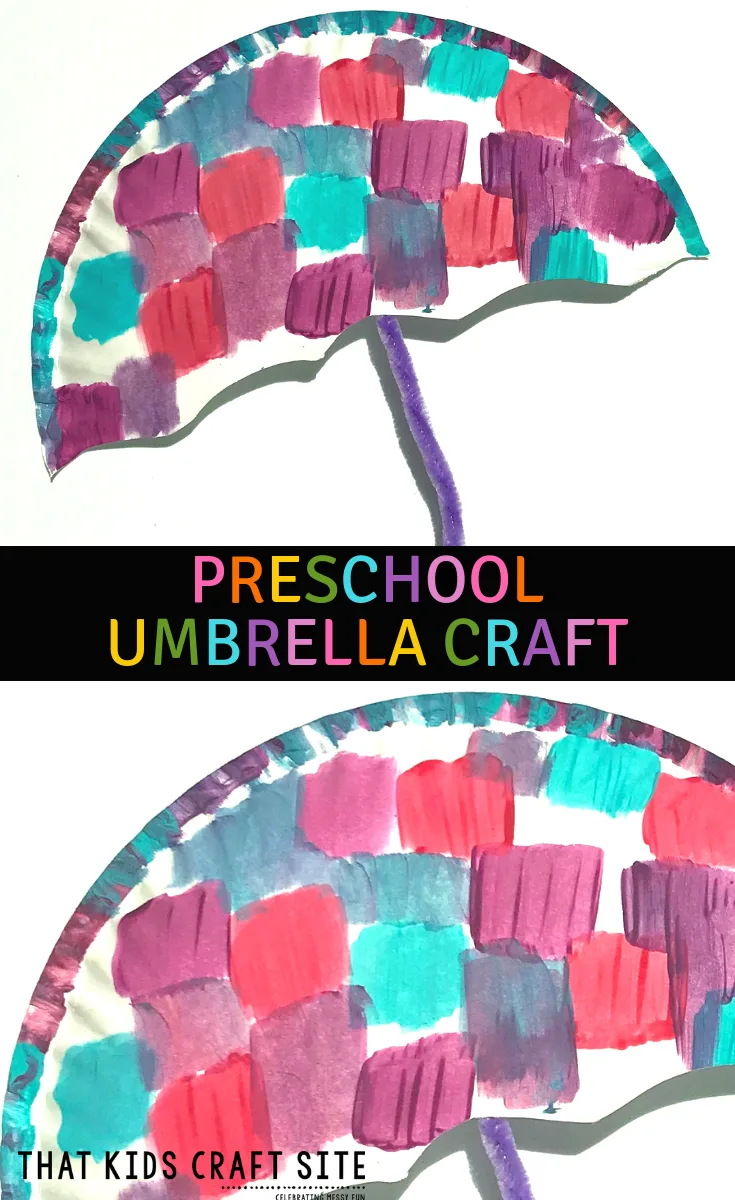 Show Us Your Umbrella Craft!
Did you make an umbrella craft? We'd love to see it! Snap a picture and tag us on Instagram @ThatKidsCraftSite! We can't wait to see your creation!
Print the Umbrella Craft Directions!
Take these directions on the go! Simply click the print button on the card below and you'll be able to easily print out the craft and supply list to take with you to school, scouts, or the kitchen table!
More Spring Crafts You'll Love!