Pop in your copy of the DVD and make your very own Cloudy with a Chance of Meatballs craft!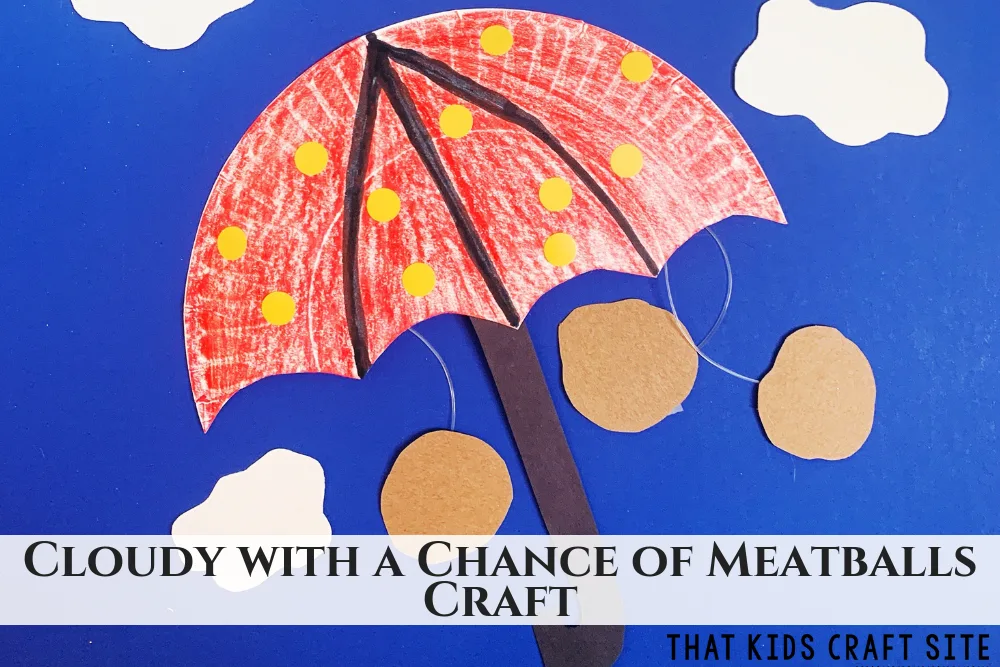 We love the movie Cloudy with a Chance of Meatballs!
It's one of those books made into a movie, and it makes us laugh every time we watch it.
So, when we were thinking of a movie craft that we could make, naturally, it was at the top of our list.
Movie Crafts
Why make crafts based off of movies? Well, it's a great way to extend learning and make the watching of the movie more interactive.
For this Cloudy with a Chance of Meatballs craft, it seemed only fitting to make an umbrella with meatballs. After all, the movie is about it raining meatballs – and other food!
For other movies, we've tried different things. This Toy Story slime, for example, was a great way to make our favorite mini-Martians!
These types of hands-on activities get kids thinking about the movie's plot, characters, and message. Talking about those things while making a movie craft is a wonderful way to help preschoolers build those language arts skills that they need before heading to kindergarten.
So, the next time you sit down to watch a movie with your kids, consider extending the learning by making a movie craft later that day or in the days ahead.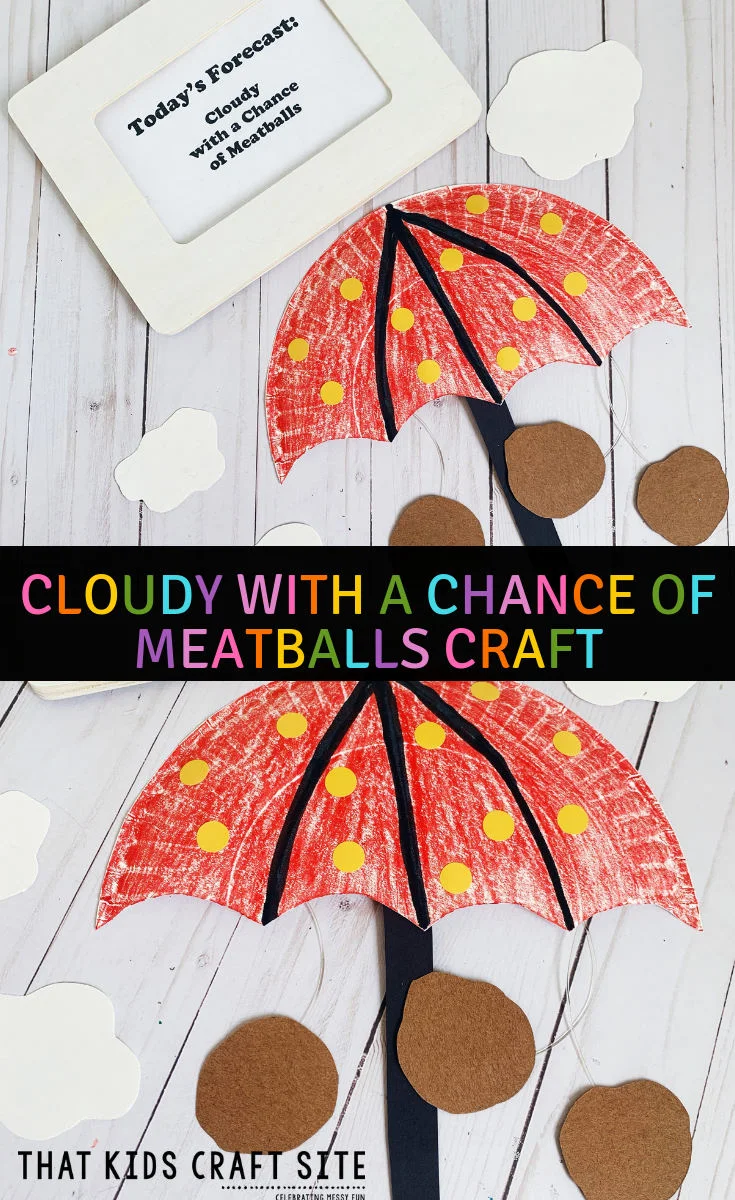 This post contains affiliate links to products related to this craft.
Cloudy with a Chance of Meatballs Craft
One of the reasons we love Cloudy with a Chance of Meatballs is because it emphasizes creativity and never giving up. Those are important messages to remind kids (and adults!) of every day.
This easy umbrella craft only takes a few supplies and, chances are, you already have them all at home!
We started by cutting out the umbrella shape from a paper plate. You can cut it freehand or draw the shape on ahead of time – whatever works best for your kids.
After cutting it out, we drew the black lines on to indicate where the folds of the umbrella would fall if it were real.
Next, we colored it in and added some stickers to make polka dots. We used red like the umbrella in the movie, but you can color your umbrella any color or colors you choose.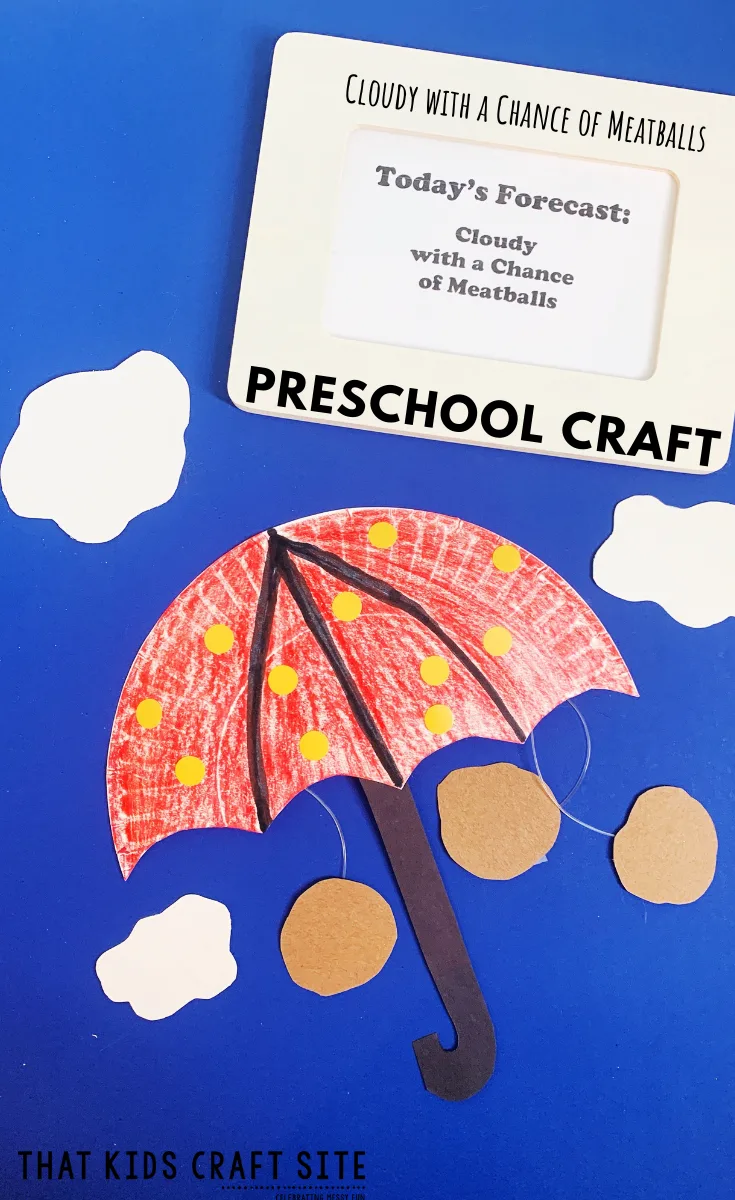 Next, add a black handle cut from construction paper. Cut a few lengths of clear string (dental floss would work great too if you don't have clear string!) and tape one end to the back of the umbrella and one end to the meatballs. We cut out three, but if it's raining particularly hard at your house, cut out as many as you'd like!
Hang the umbrellas using a Christmas tree ornament hook or a paperclip that you've bent apart. They make fun ceiling decorations in a classroom!
And that's it! Your Cloudy with a Chance of Meatballs craft is ready to enjoy!
Before Making the Craft, Watch the Movie and Read the Book!
Before making your Cloudy with a Chance of Meatballs craft, be sure to pick up your copy of the DVD or watch it on On Demand!


Don't forget to read the book, Cloudy with a Chance of Meatballs by Judi Barrett as well!

How to Make the Cloudy with a Chance of Meatballs Craft
Show Us Your Craft!
Did you make a Cloudy with a Chance of Meatballs craft? Tag us on Instagram @ThatKidsCraftSite ! We'd love to celebrate your creativity!
You Might Also Like These Other Preschool Crafts