Have extra toilet paper rolls? Make a toilet paper roll pig craft!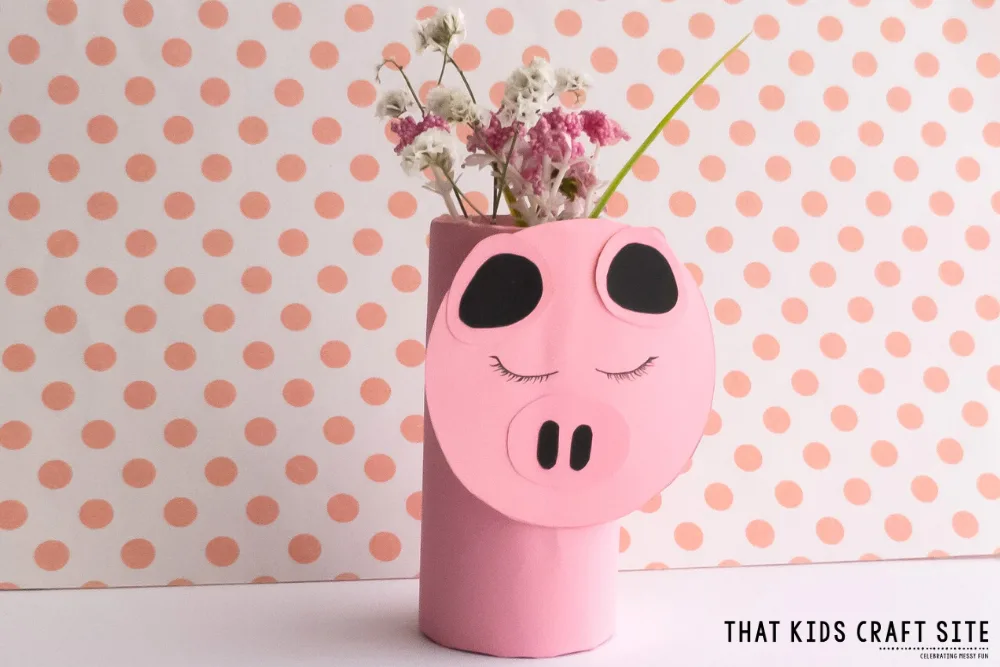 It's never too early to start teaching our little ones the wonders of recycling and there's no better way than through crafting!
Today we're sharing a cute and fun craft to put toilet paper rolls to good use by transforming one into a cute little piggy!
Piggy Craft for Kids
We are such big fans of teaching useful skills to our kids during fun activities and I think we can all agree recycling is a major skill to start developing early on.
And what better way to do that than good ol' crafting fun?
Toilet paper roll crafts are amazingly easy to make. Whether you're a teacher trying to add a bit more of fun to their classroom or need an idea for a farm unit study, this toilet paper roll pig is a blue ribbon winner!
For parents who need more ideas for their activity-arsenal to keep their kids entertained indoors…completely screen-free, this pig craft is a sure bet!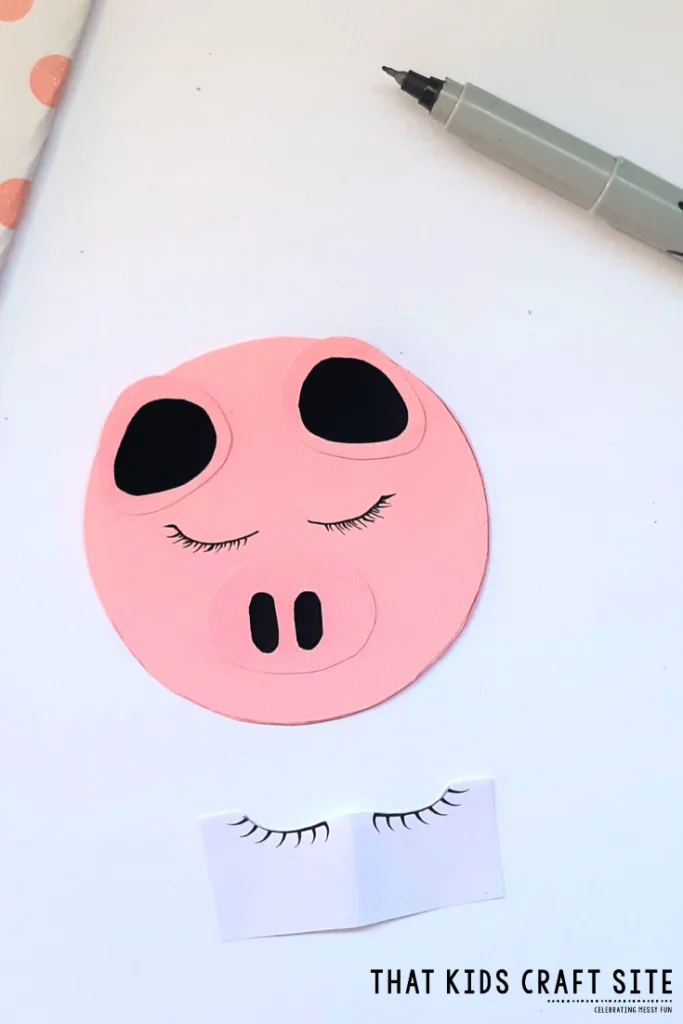 How to Make a Toilet Paper Roll Pig
We loved making this little cutie! The step by step directions are very easy so kids of all ages can make this little piggy come to life… although I have strong suspicion toddlers and preschoolers are going to like it a bit more than tweens and teens. 😉
Recycled Piggy Toilet Paper Roll
WHAT YOU'LL NEED:
Toilet paper rolls
Pink craft paper
Black craft paper
Scissors
Craft Glue
Pencil
Black marker
Ruler
Let's get ready! Gather all the listed supplies and get to work.

The first step is to download our exclusive piggy template. It's in our Freebies Library, so you can log in and download it from there. Not a member yet? Scroll down to the end of this post to join!

Then you just need to print it out and follow the step by step instructions down below to bring this little cutie to life!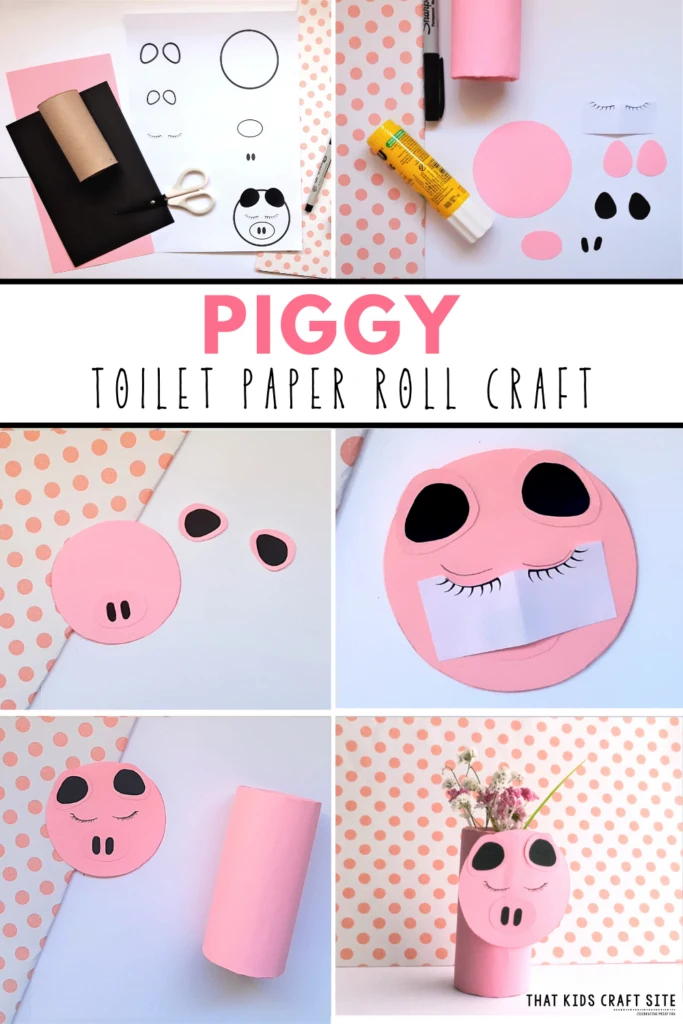 INSTRUCTIONS
Start by downloading our exclusive piggy template for free and print it out.
Cut out each shape from the template and trace them onto the pink and black crafting paper. Once you've traced everything, cut out the pieces.
Trace and cut out a rectangle in the same pink craft paper, using the measurement of the toilet paper you're using for this craft as guidance and to wrap your toilet paper in it.
Glue the rectangle to the toilet paper making sure to wrap the entire cardboard tube.
Glue the nose on to the big round shape. This is the piggy's head.
Glue the pink ears' pieces onto the piggy's head.
Glue the smaller black ears' pieces onto the pink ears, right in the center.
Cut the eyelashes piece from the template and carefully cut the top using the closed eyelid as a guide. Use it to trace the eyes onto the piggy's head. Remove it and draw in some cute big lashes!
Draw any other details you want on the piggy and now glue the finished head onto the top of the toilet paper roll.
Your pig toilet paper roll craft is now complete!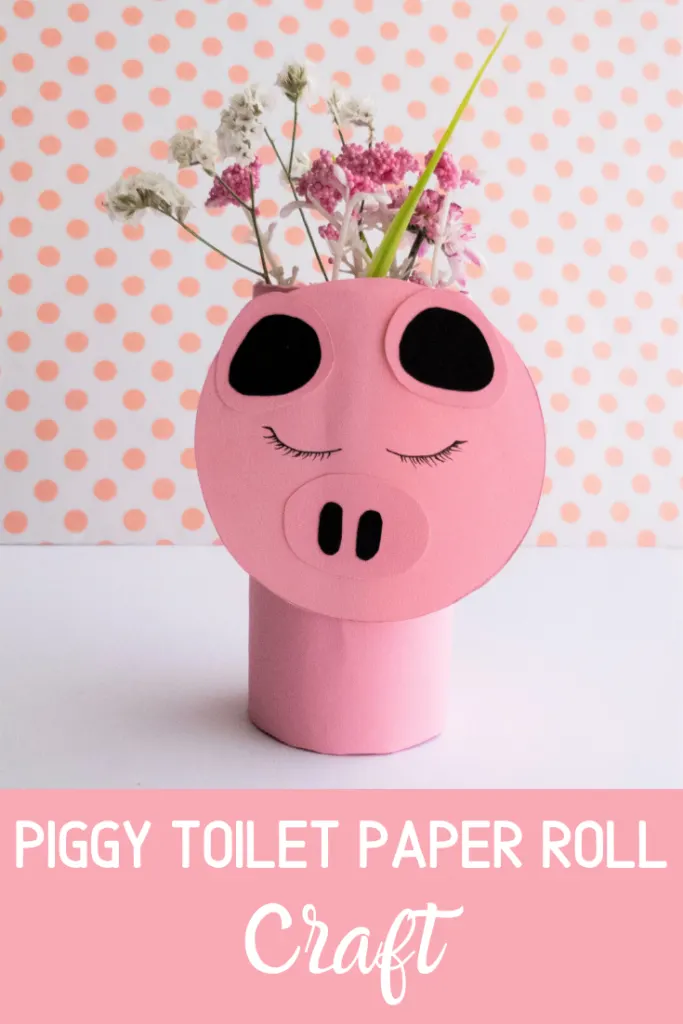 HOW TO USE YOUR PIG CARDBOARD TUBE CRAFT
After the kids are done playing with this pig craft, you can display it in their rooms as part of their craft collection or use it as a pencil case.
I personally loved putting some wildflowers from the garden in it, and my kids were delighted.
You can also keep the toilet roll crafting fun going and help your little ones create their own toilet paper animal universe. Check out our other animal crafts made with cardboard rolls and keep that crafting fun alive!