Introduce prepositions to your young learners with this free drawing prompt activity! These drawing prompts are enjoyable, and easy, and only require 3 items!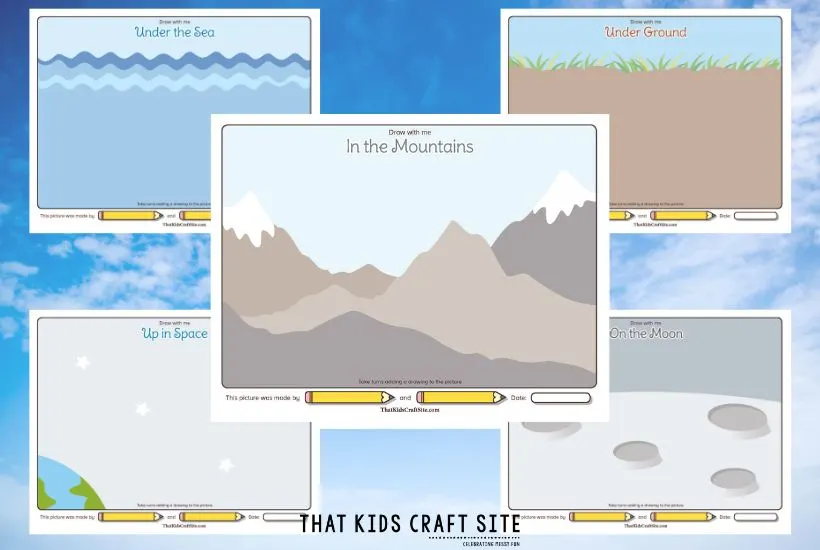 Drawing Prepositions
You and your littles will love these educational drawing prompts!
These free drawing pages are focused on prepositions! A preposition is a word or group of words used before a noun that show direction, place, location or time.
Common prepositions: in, on, over, under, below, between, behind, along, within, above, at, etc.
Along with working on their prepositions, they will also be practicing their fine motor skills while they hold their crayons, markers, and pencils to create their beautiful pieces of art!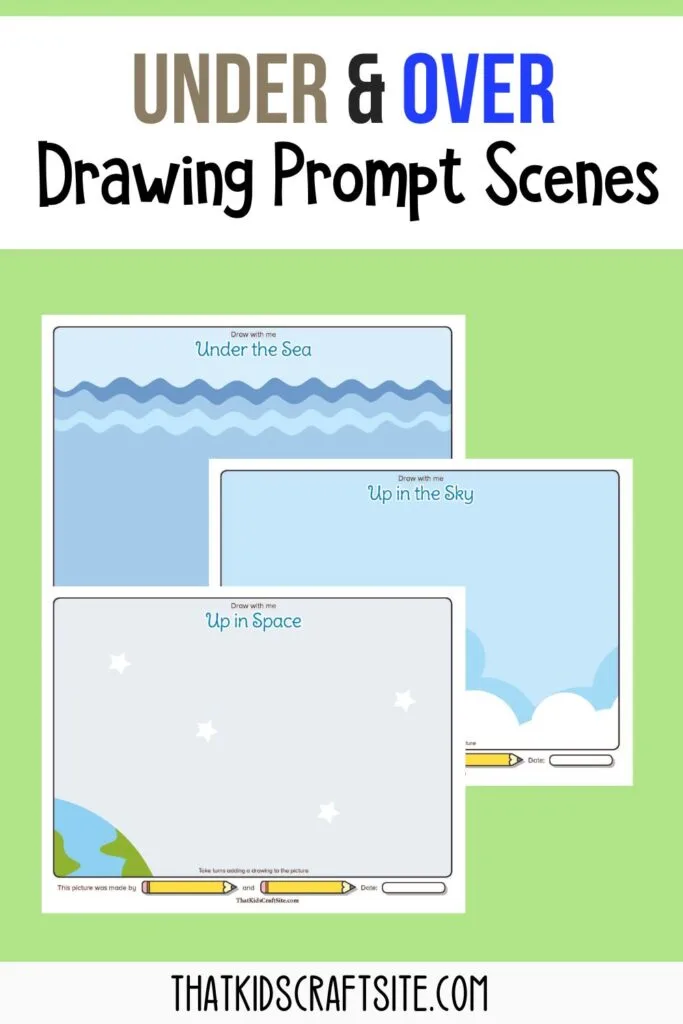 Drawing Prompt for Kids
These free printables focus on prepositions of location and prepositions of time. Your littles will have fun while learning about this important piece of grammar that we all use on a daily basis.. see what we did there?!
This activity is easy to explain to all your young learners!
Your kids will get into groups of two. They will gather their coloring supplies and take turns drawing themselves in these exciting scenes. Each scene gives an example of… a preposition of course!
The hardest part of this activity will be for them to decide which FREE printable they want to use!
They can choose to draw themselves…
ON the moon like an astronaut
IN

the mountains

on a hike
UP in the sky flying with the birds
UNDER the ground exploring
UP in space like a shooting star
UNDER the sea swimming with the fish
There is sure to be a cute printable your kids are excited to use out of these 6 different options!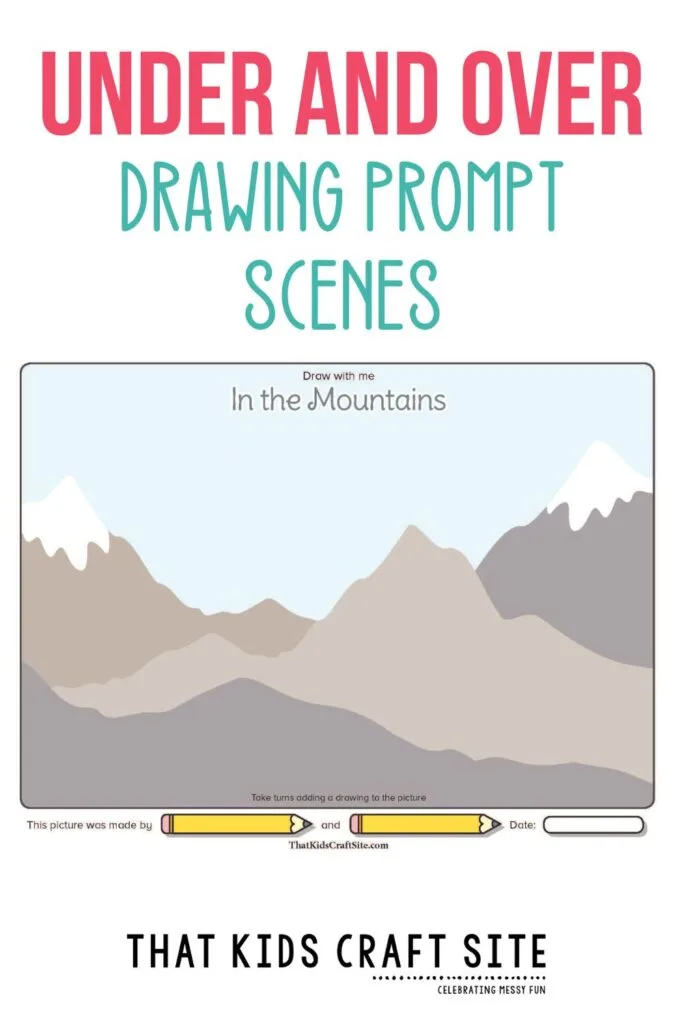 Supplies Needed for Activity
This drawing prompt only requires three items! You probably have all these things on hand.. but check this list just to be sure!
Let your next grammar lesson be enjoyable for your kids (and you) with these drawing prompt printables! Use these pages as a short and sweet introductory activity to prepositions!
Let's Draw Prepositions
Prepositions are often difficult for young minds to understand. Exposure at an early age, even if it's only in a quick drawing activity, will set them up for success when prepositions are formally introduced to them in school!
We do not expect your child to write a paper about the importance of prepositions after this craft is done… We simply wanted an enjoyable way to introduce a new topic and hope these few examples will help them communicate better as their vocabulary broadens!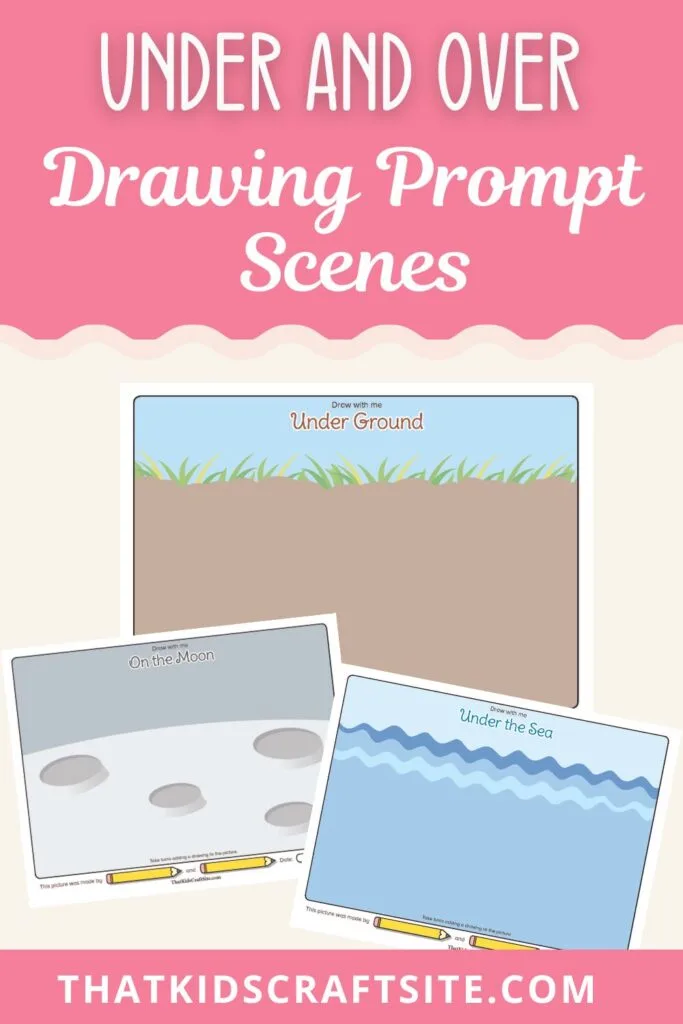 Free Printable Drawing Prompt
Grab your free drawing prompt printable from the Freebies Library.
If you're not a member, it's simple to join! The Freebies Library has unlimited amounts of worksheets, games, and activities that will keep your kids entertained craft after craft! Just click the link below to sign up!
You may also like…