These grocery store pretend play printables are the perfect way to get your kids using their imaginations while learning at the same time!
Kids will love having their own grocery store to play with right at home!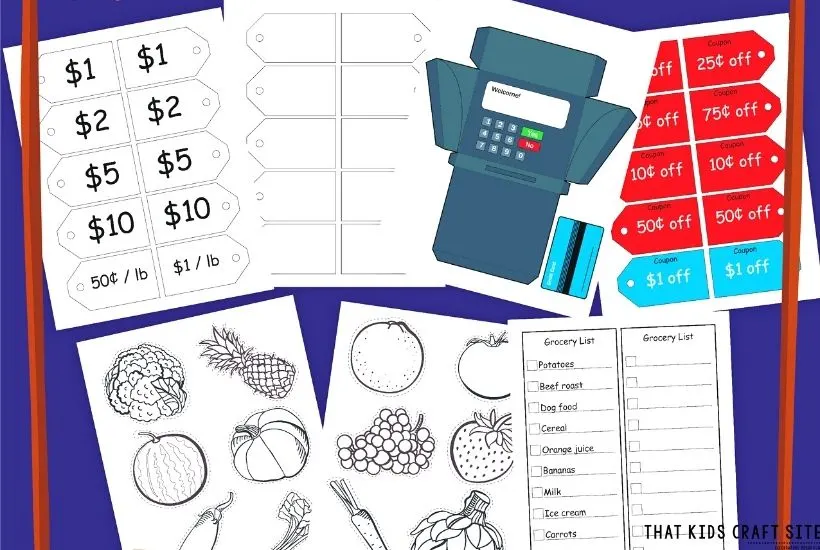 Preschool Dramatic Play
Preschool dramatic play is essential to developing minds and helps the growth of children's social skills, creative thinking skills and so much more!
Not only is dramatic play for preschoolers a great way for them to use their imaginations but it also helps them to learn about new things in this world, or gives them a deeper understanding of things they already know a little about!
Plus, it's a great way for kids to learn to play better with others. They must take turns being the cashier or the shopper, listen to one another's ideas about how to set up the shop, then work together to get everything cleaned up afterwards.
But don't run to the store and spend tons of money on dress up clothes and pretend play toy sets that kids will probably not be interested in in a week.
There are so many free resource's online, like these grocery store pretend play printables, that won't cost you anything except a little bit of paper and some time!
How to Use the Grocery Store Pretend Play Printables
Print out the grocery store pretend play printables and cut everything out or let the kids help you.
They can color the fruits and vegetables then you could even laminate the price tags, coupons, and grocery lists so they last even longer.
Then you can cut out the credit card reader and carefully fold it together using the dotted lines. Use tape or glue to make sure it stays together.
Once everything from the printable set is ready kids can get to work setting up shop! They can get extra creative and add in things from their toys to the store or even draw their own extra supplies on paper.
The best part about this printable is that kids can decide how they want to keep the playing going. If they want to print out just another card reader and add a pet store with their stuffed animals or they can make any other store they can think up to make a whole plaza where everyone get their own store!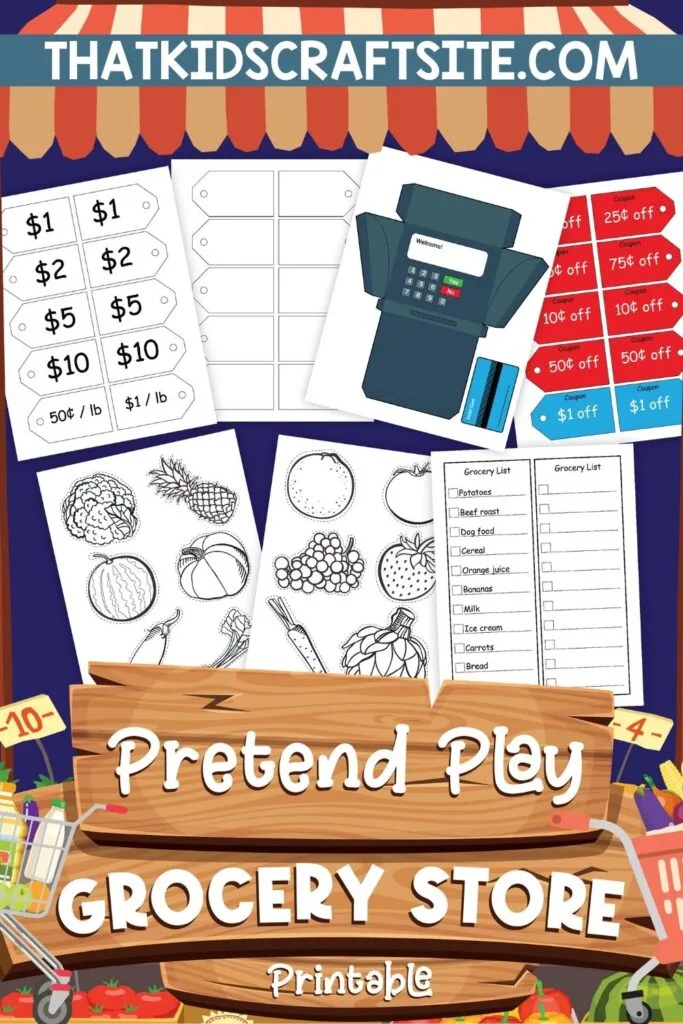 Grab Your FREE Grocery Store Pretend Play Printables
Head on over to The Freebies Library to grab your free copy of the grocery store pretend play printable! If you're already a member, you can sign in here.
Not a member yet? Sign-up for free for our weekly newsletter and the Freebies Library below. The password will be emailed to you. (If you don't see it after 15-20 minutes, be sure to check your SPAM folder as it sometimes likes to hide out there!)
Make Learning Fun with Free Dramatic Play Printables
Stop spending tons of money on toys that your kids rarely play with and don't do anything to enhance their learning or imaginations. Instead try this fun and free grocery store pretend play printable that is so much better for their creative thinking!
Your kids will love how much fun it is to have their own grocery store and will learn so much about money, sales and coupons during the game!
YOU MIGHT ALSO LIKE…