Party hard with Perler bead patterns that are perfect for birthdays! These birthday Perler bead patterns are perfect for celebrating!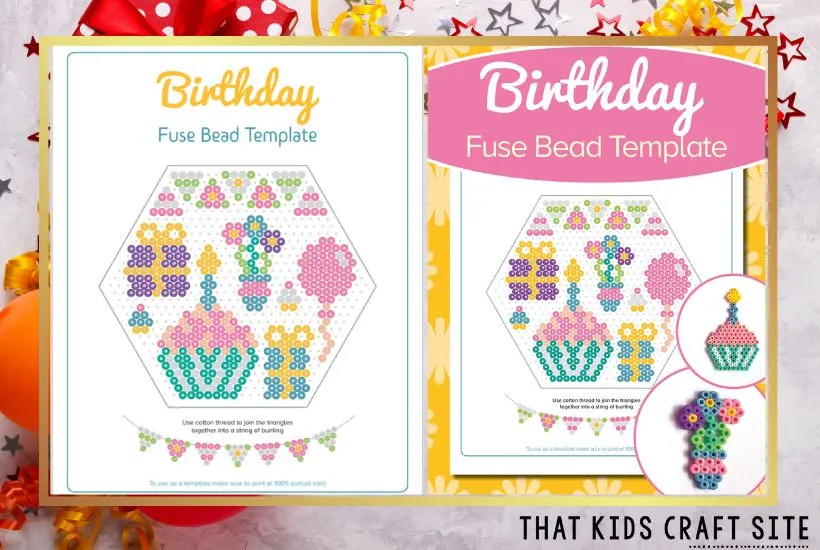 Perler beads are a really fun way for both kids and adults to show off their creative sides. If you're just discovering Perler beads, let us explain what they are. Perler beads, also known as melty or fuse beads, are small plastic beads that come together to make a design. Once the design is complete, an iron helps to melt or fuse the beads into one solid piece. How fun is that?
If you're looking for some birthday excitement, check out the incredible birthday-themed Perler bead patterns that we have in our Freebies Library! They make a great craft activity that's perfect for play dates, parties, and more! There are so many things that you can create by fusing a few colorful beads together.
For instance, melty bead projects can make a cool keychain, a pretty necklace, or even a cute magnet. You can also use birthday Perler bead designs as party decorations and cool favors for friends. The possibilities for fuse bead crafts are pretty much endless!
Let's get crafting and make some of the best melty bead birthday projects ever!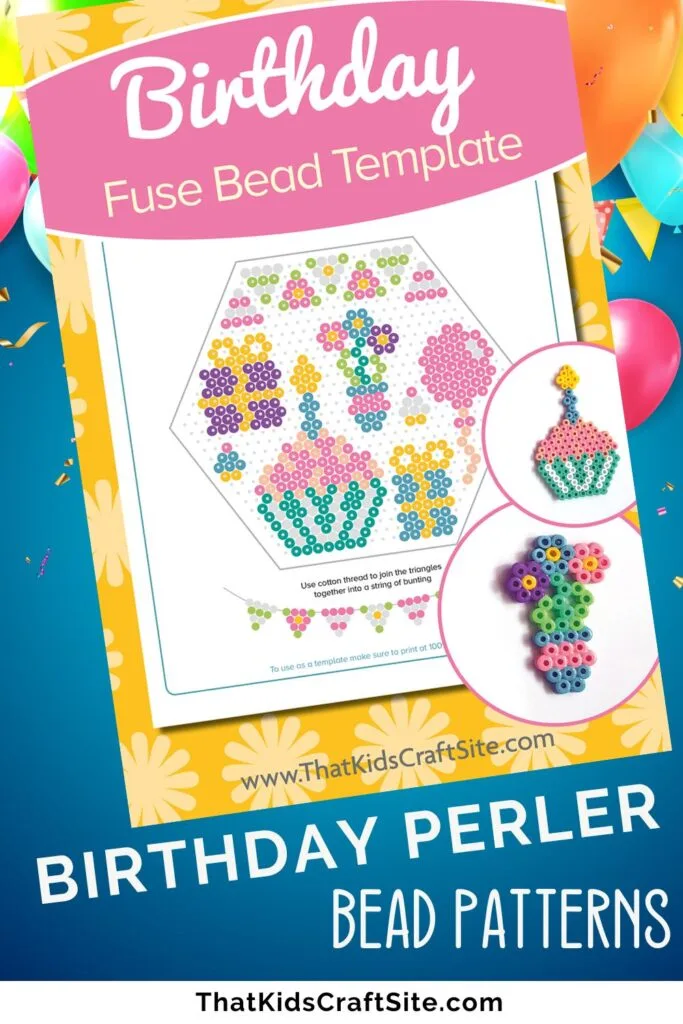 Create Birthday Perler Bead Projects
It only takes a few simple steps to make fun Perler bead birthday designs. Before you start, let's make sure you have all the right supplies. Here's a list of what you will need to create really fun birthday Perler bead projects:
Now that you have all the supplies, follow the simple steps below to complete a birthday Perler bead project of your choosing.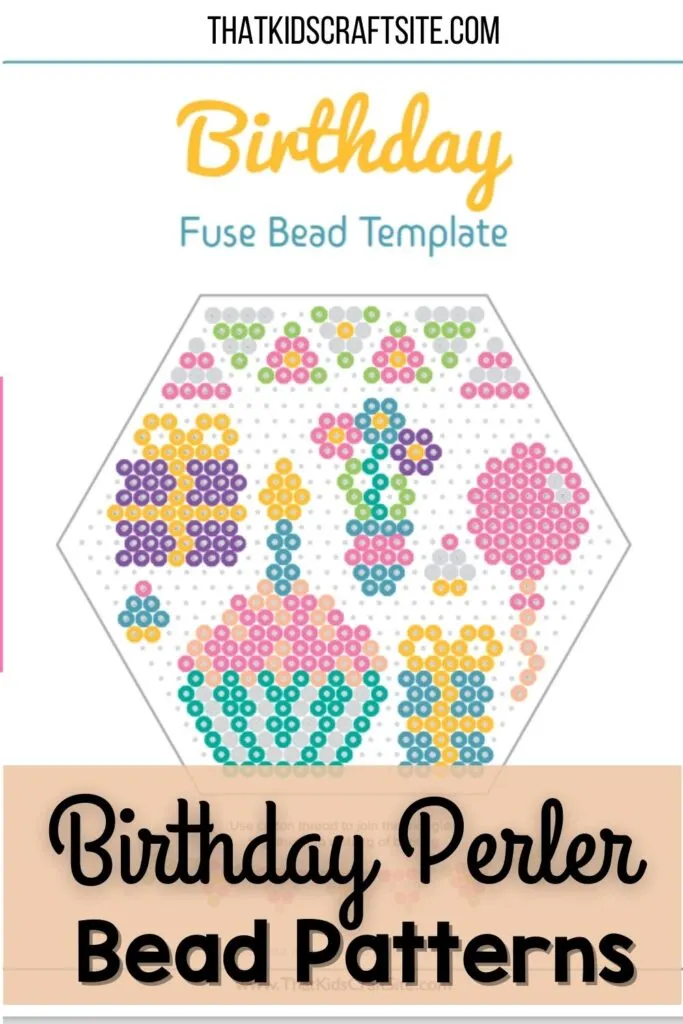 Instructions:
Print out the FREE birthday Perler bead patterns on your printer.
On a flat surface, or using a Perler bead pegboard, arrange the beads to match the design.
Once the beads look like the pattern, carefully cover it with a piece of parchment paper.
Heat up the iron to the medium setting. Be mindful, the iron will be hot to the touch!
On the ironing board, use the hot iron to press down on the Perler bead project for about 10-15 seconds. Slowly move the iron in a circular motion while pressing gently to fuse the beads together.
You may want to fuse both sides of your project or keep it with one side fused and one side unfused. This is totally your preference!
Your birthday Perler bead project is now ready to display, gift, or made into a functional piece!
Perler bead designs are great to make exactly like the pattern or you can mix it up and put your own spin on things. Be creative and use different colors or rearrange the beads in a new way. Use your imagination and make a one-of-a-kind piece that represents you! Some of our favorite Perler bead birthday designs include white, red, pink glitter, blue glitter, and jewel tone pegs.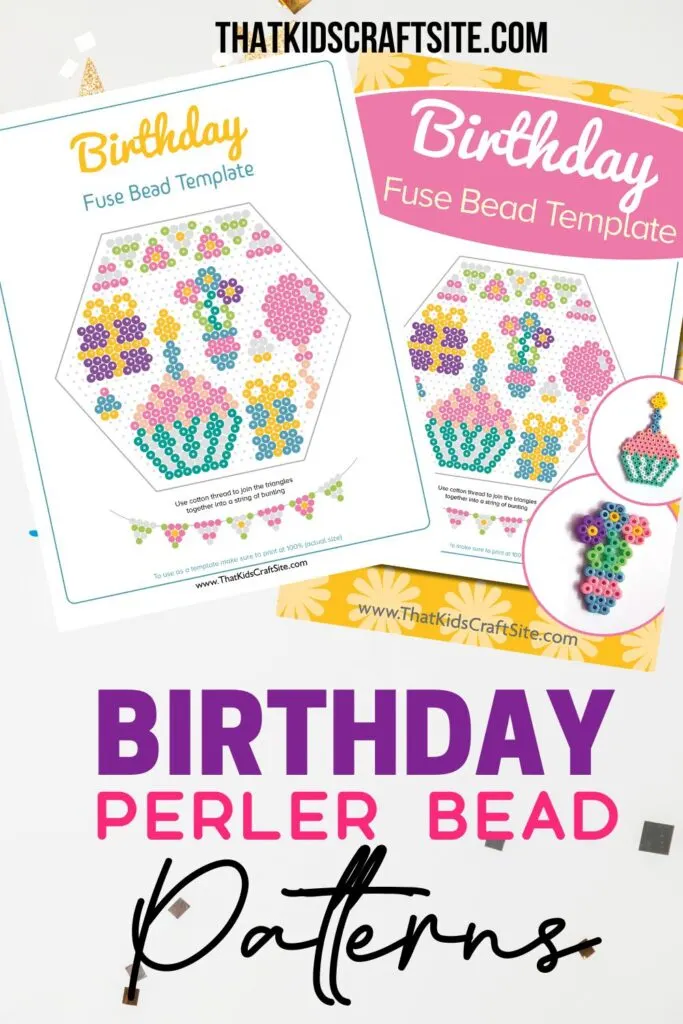 Melty Bead Designs for Birthdays
When you're all set to make a birthday bead craft, head on over to the Freebies Library. Our Perler bead birthday designs are sure to get any party going. Each pattern is fun and easy and will provide hours of fun for kids of all ages. Once you download the free designs, simply follow the instructions and get ready to celebrate!
You May Also Like…