Get in the game with these super soccer Perler bead patterns for kids!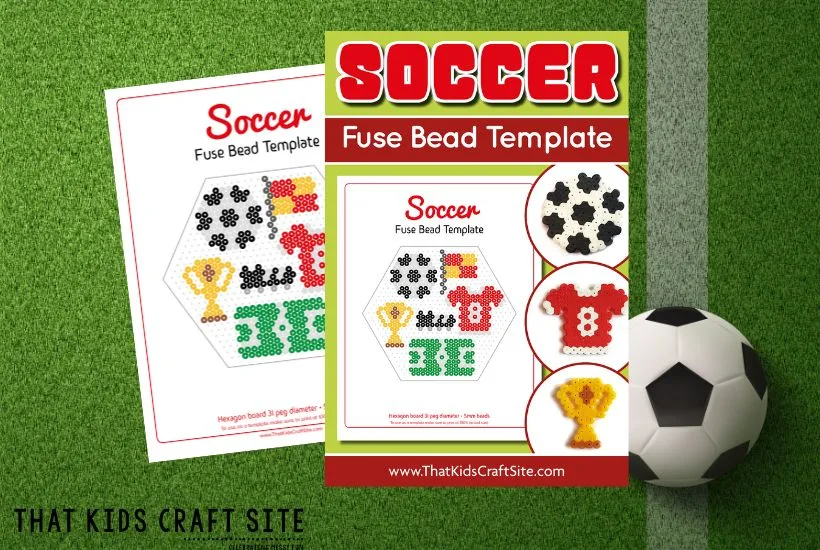 With the soccer season in full swing, a great way for little ones to have fun with this sport is to make crafts.
Soccer-themed projects are the perfect opportunity to bring the game inside and get creative.
Encourage little ones to score big with some really exciting soccer Perler bead projects.
Creating soccer Perler bead patterns is an entertaining hands-on activity for preschoolers.
Simply head on over to our Freebies Library and download the designs for free!
These active patterns will encourage imaginative play, boost hand-eye coordination, promote color recognition, and more!
Below you will find awesome soccer Perler bead pattern ideas for kids.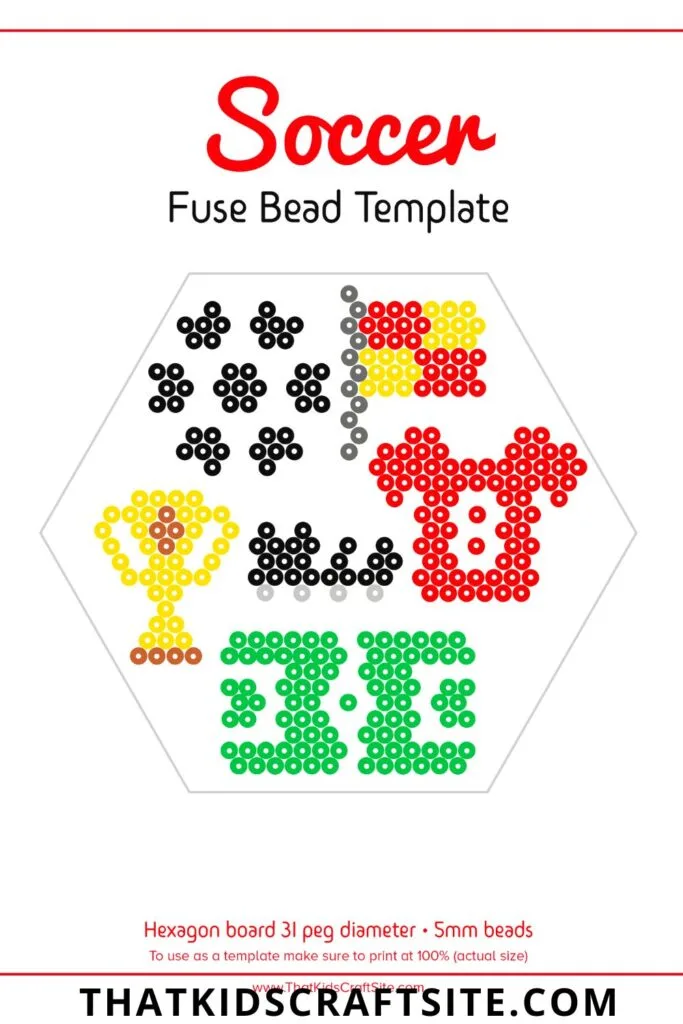 This article contains affiliate links to products that you might like.
Perler Bead Soccer Designs
Kids will have a blast putting together different soccer designs out of melty beads.
There are only a few supplies that you need, with some being optional.
Check out the full list of materials below before you begin making any soccer Perler bead patterns.
Materials:
Once you have all of the necessary materials, log into the Freebies Library and find the soccer-themed Perler bead patterns.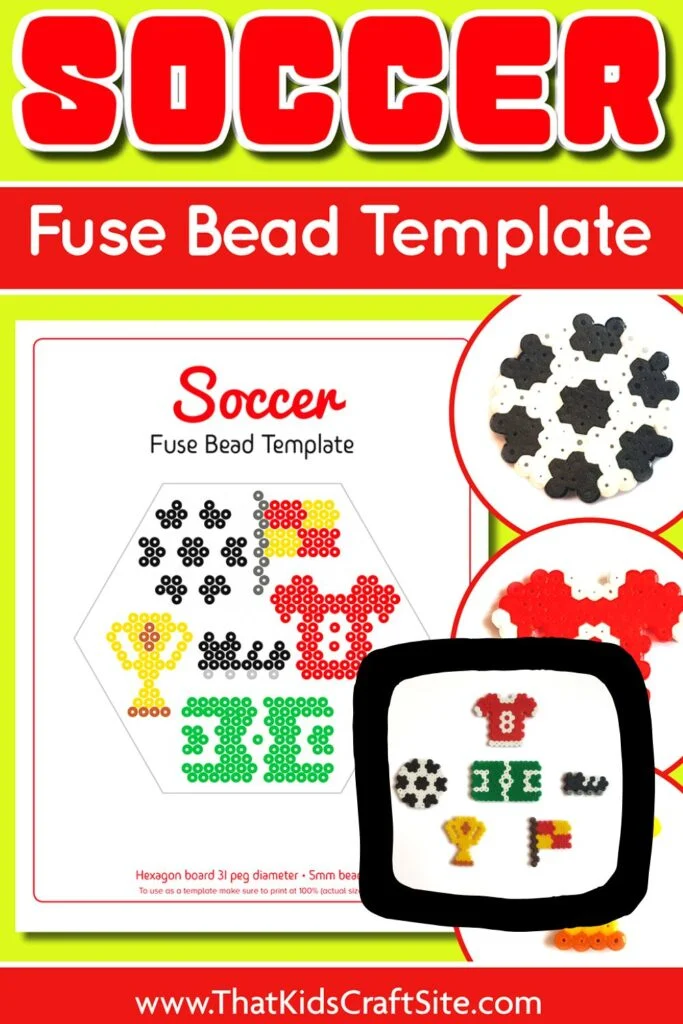 Instructions:
Locate the FREE soccer Perler bead templates in the Freebies Library and print them out using a printer.
With a Perler bead pegboard (or just on a flat surface), arrange the beads to look like one of the soccer designs. Little ones may find it easier and more fun to use the optional Perler bead pen dispenser. This will help when placing the beads in the correct pattern.
Once the beads match the design, carefully cover it with a piece of parchment paper.
Adults: Set the iron to the medium setting. Once it is good and warm, firmly (yet gently) press down on the bead pattern to fuse the beads together for about 10-15 seconds. It helps to slowly move the iron in a circular motion as you press down. Once the beads are melted together on the one side, feel free to flip the project over and melt the other side.
Note: Only one side of the project needs to be fused for the design to stay together.
You did it! The soccer Perler bead project is complete!
Turn the soccer design into a keepsake magnet or coaster. If you're feeling extra creative, make all of the soccer patterns, grab a hanger and some string, and put together a one-of-a-kind soccer mobile!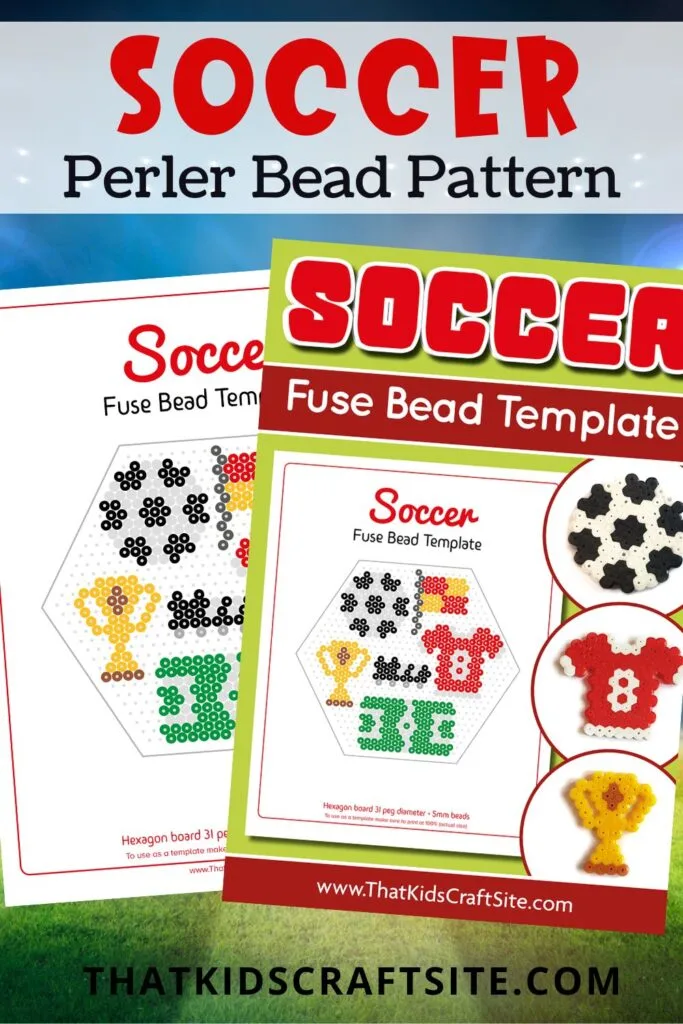 If you and your littles are looking for some unique inspiration, try incorporating different types of beads into your patterns.
A few of our favorite Perler bead soccer designs include glow-in-the-dark beads, stripes and pearls beads, as well as glitter beads to make our exciting patterns!
Children's Soccer Perler Bead Patterns
Soccer Perler bead designs are great for children to make and create.
With an unlimited number of possible patterns, Perler projects are the perfect activity for engaging and entertaining young minds.
From soccer balls and cleats to flags and goals, these fuse bead templates are winning!
Happy Bead Fusing!
You May Also Like…