Celebrate the Irish way of life this holiday with lucky St. Patrick's Day Perler bead patterns!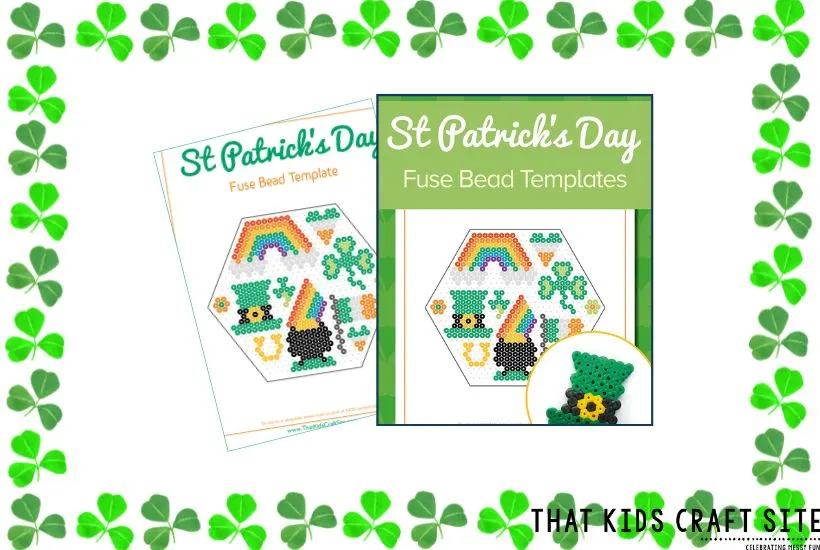 Did you know that St. Patrick's Day began as a celebration of life for the Patron Saint of Ireland, Patrick? Over time, the holiday of St. Paddy's Day has transformed into what we know of it today. The once simple feast given to pay tribute to St. Patrick has now become a fabulous celebration of Irish life as a whole. St. Paddy's Day honors the traditions of Irish culture with festivities that include lively parades, all things green, and lots of good luck charms.
Celebrate this spirited holiday with children by making St. Patrick's Day Perler bead patterns. Your little leprechauns will feel super lucky as they join in the festivities creating shamrocks, pots of gold, horseshoes, and more. What's even better is that you'll feel fortunate too, when you find out that we offer these St. Patrick's bead patterns and more for FREE in our Freebies Library! Yes, it's true.
Have a shamrockin' good time with these St Patrick's Day Perler bead patterns!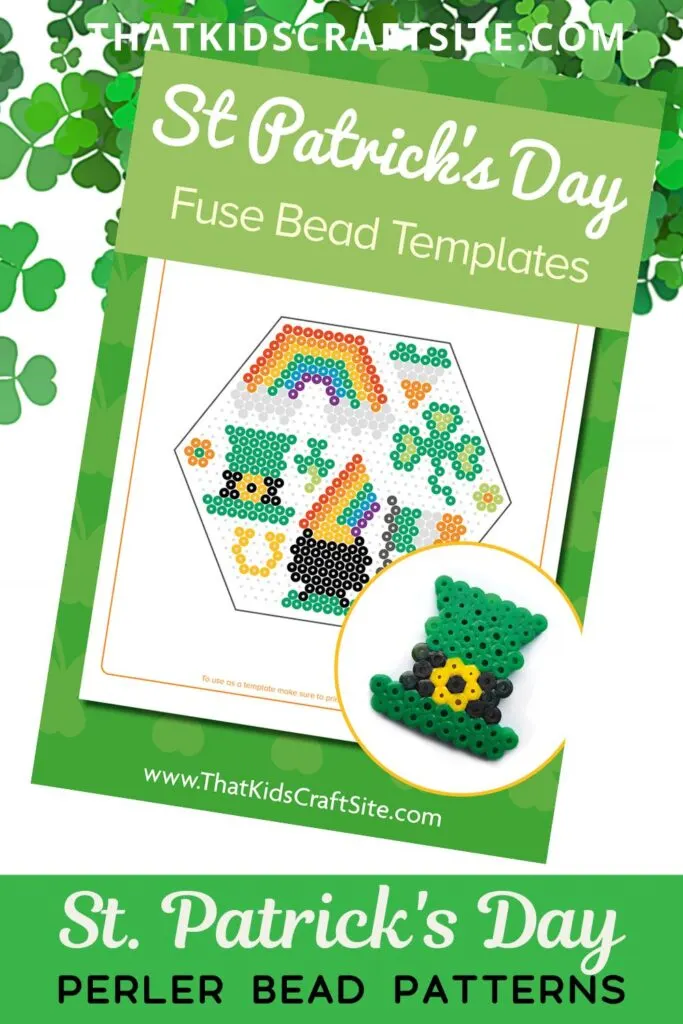 Fused Bead Patterns for St. Paddy's Day
Crafting Perler bead designs to celebrate St. Paddy's Day is fun and easy to do. Let's take a look at the list of materials that you'll need to create the best St. Patrick's Day Perler bead patterns.
Materials:
Now that you have all the materials, follow the simple steps below to complete some exciting St. Paddy's Day bead projects.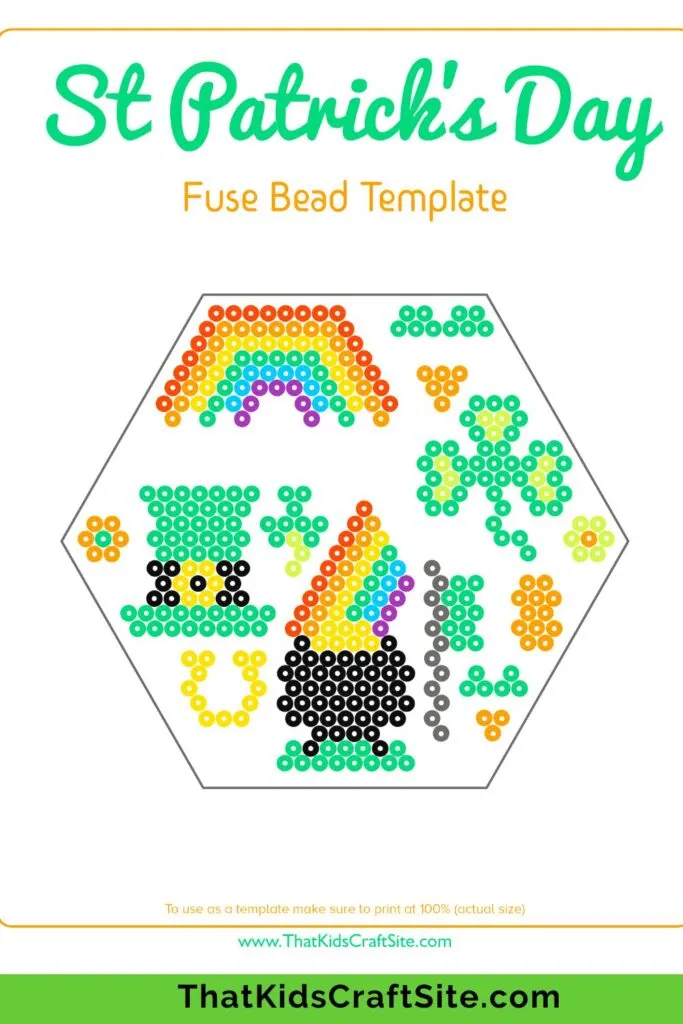 Instructions:
Print out the FREE St Patrick's Day Perler bead patterns on your printer.
On a flat surface, or with a Perler bead pegboard, arrange the beads to look like the design.
Once the beads are put together to match the pattern, gently cover it with a piece of parchment paper.
Heat up the iron to the medium setting. Careful! The iron will be HOT to the touch!
Using the ironing board, press down on the Perler bead project with the iron for about 10-15 seconds. Slowly moving the iron in a circular motion while pressing will help to fuse the beads together.
You can choose to fuse both sides of your project, or leave it with one side fused and one side unfused. For the melty beads to stick together, only one side needs to be fused, so doing both sides is completely up to you.
Your St Paddy's Day Perler bead project can now be put out on display, given as a gift, or made into a keychain!
Perler bead patterns can be followed to the tee or you can get creative and make it unique. Not sure how to do that? Maybe use different colors than the pattern suggests or switch up the way the beads are arranged. There is no right or wrong way to make Perler patterns. No matter what, just have fun with it!
Some of our favorite Perler bead St Patrick's bead designs include jewel tone pegs, gold beads, black, white, and of course, shades of green!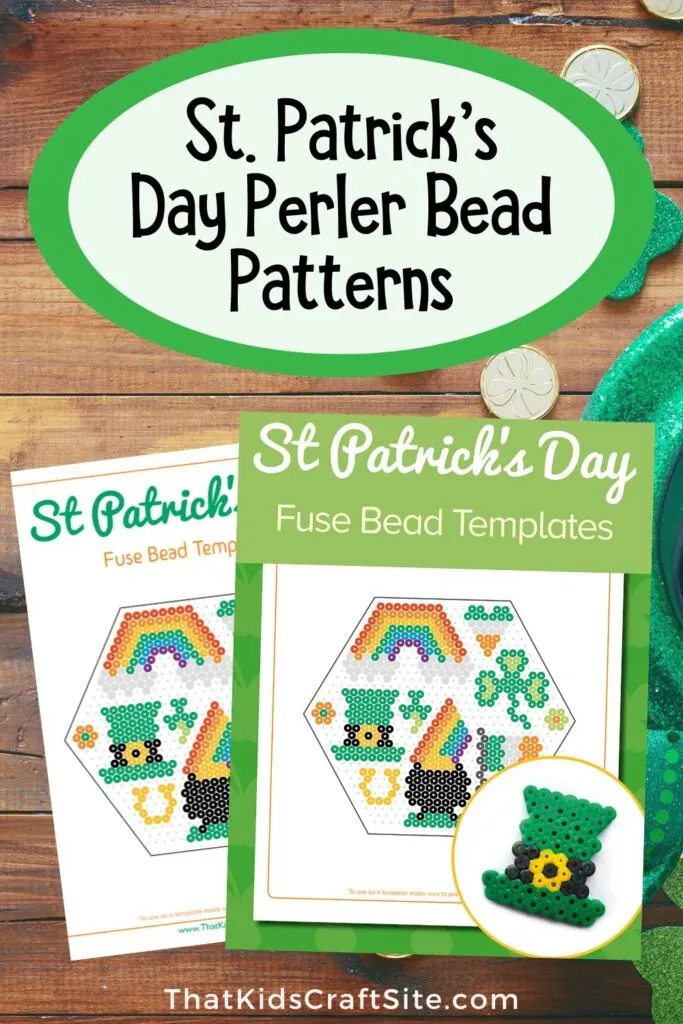 St. Patrick's Day Bead Patterns for Kids
When you're ready to partake in some festive shenanigans, go to our Freebies Library for some really great St. Patrick's Day Perler bead patterns. Our fused bead designs will make any little leprechaun feel lucky. With super simple patterns and really fun designs, our bead patterns will have the kids crafting for hours. To begin, download the free designs and follow the instructions!
You May Also Like…