Put your drink on these super cute do-it-yourself macrame coasters!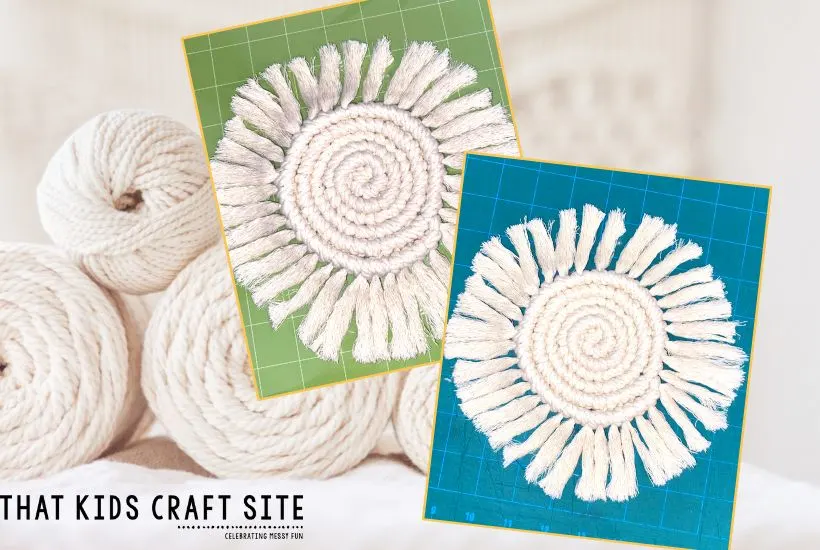 Combining organic elements with a free-spirit vibe, bohemian style is a simple, yet artistic way to show off who you are and where you've been. You can achieve boho-inspired decor with the help of a few macrame basics. Macrame is a natural fiber art that uses different knotting techniques to create both decorative and functional textiles. Bohemian decor made with macrame produces stunning wall art, eclectic plant hangers, beautiful jewelry, and more!
Give the art of macrame a try by making a set of do-it-yourself coasters. Following the step-by-step instructions below, you can create these magnificent coasters with just two simple knots. Super cute and fairly easy to put together, you can have your own macrame coasters in no time.
Bring a boho element into any space with these DIY macrame coasters!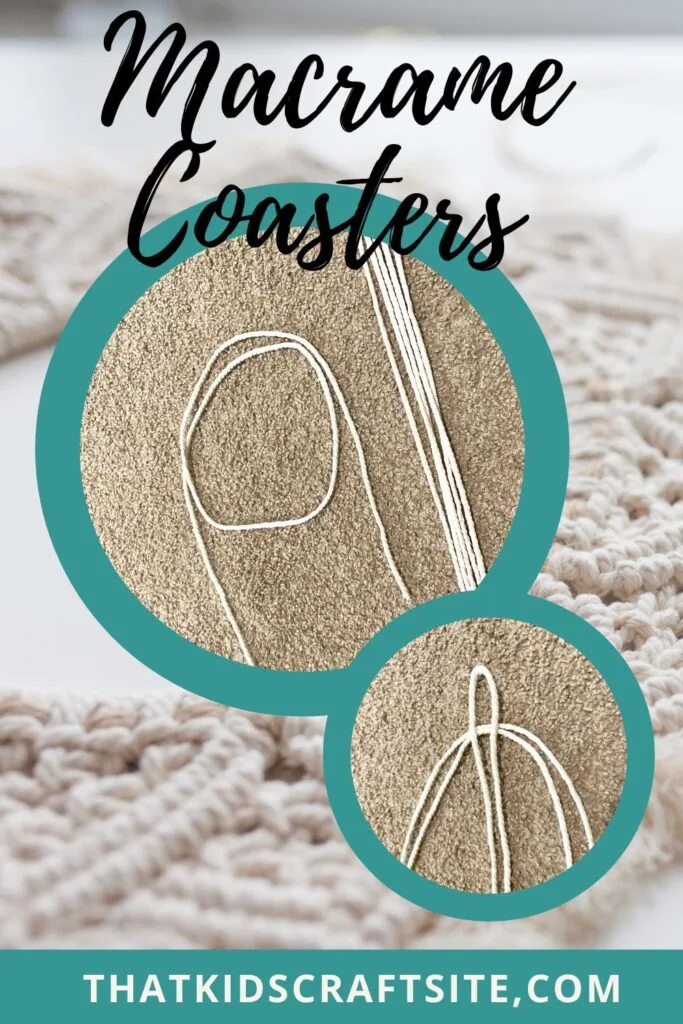 How to Make Boho Macrame Coasters
Materials for Macrame Coasters:
Scissors
Ruler
Comb
Iron (optional)
Instructions for Macrame Coasters:
Cut 1 piece of 5 foot (60 inch) long cord. This will be your holding cord.
Cut 5 pieces of 40 inch long cords. These pieces (including additional cut strands you make later) are your working cords.
With the 5 foot cord, make a circular shape with one end.
Take a 40 inch cord and make a Lark's Head knot around the circle part of the 5 foot cord (where the cord is overlapping).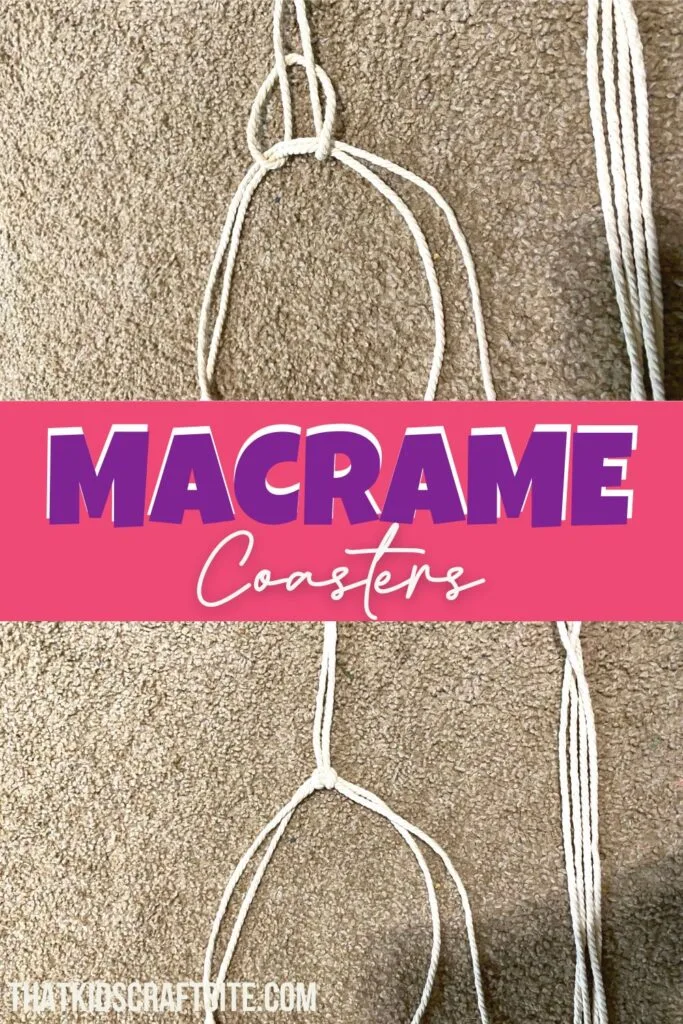 Note: Make a Lark's Head knot by folding the piece of cord in half and placing it over the overlapped circle. Pull the loop down behind it, and then pull the loose ends of the cord through the loop. Pull the loose cords so it makes a knot around the circle piece.
Repeat with the 4 remaining pieces of 40 inch cord.
When all 5 of the 40 inch cords are knotted on, take the long strand of the 5 foot cord and pull tightly. This will pull all the knots together forming the middle of the coaster.
Yay! You're doing great!
Create a double half hitch knot on the first 40 inch strand that is next to the 5 foot piece (aka: holding cord). Do this by taking the long piece of the holding cord and place it over the first strand of the closest Lark's Head knot. Then using the same strand you just went over (working cord), loop over the holding cord, then under, and pull the end through to create a half hitch knot. Repeat to create a double half hitch knot. Sounds tricky, but once you know, you know.
Note: Keep the holding cord tight as you make the double half hitch knots around the holding cord. It will want to twist. Don't let it. Also, you want to make your knots snug, not tight. Otherwise, your project will end up looking like a jellyfish – true story. 🙂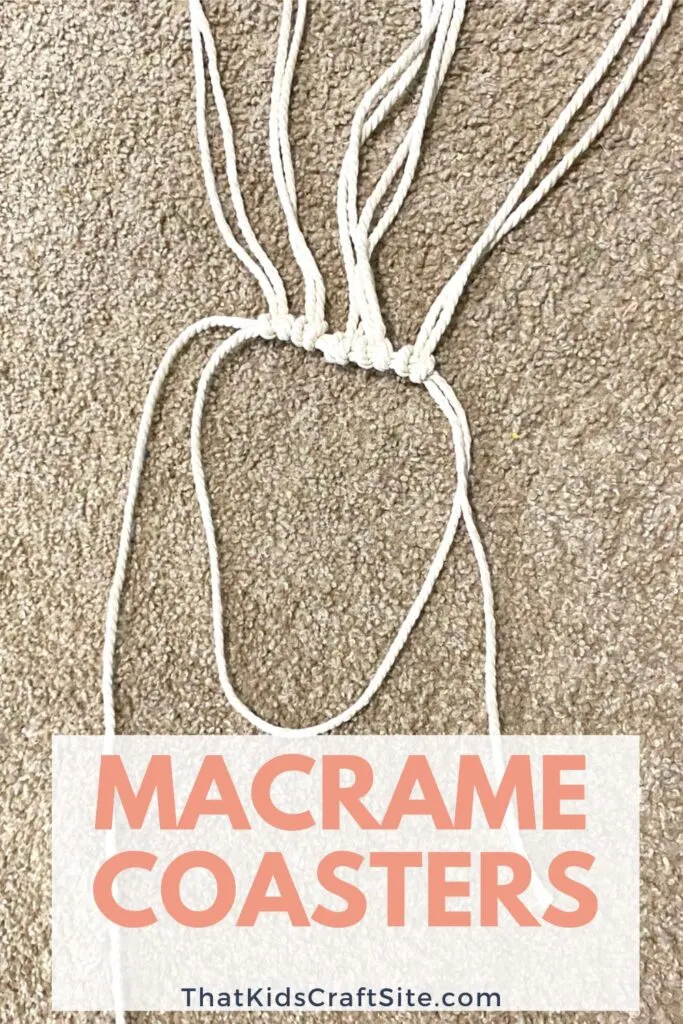 Repeat this last step going around to the next in line of the 40 inch strands while always using the same holding cord (5 foot piece).
Keep going! As you continue, there will be areas where it seems like you need to add more working cord because there is a gap. Add additional cord by cutting a 38 inch strand, and attaching it to the holding cord with a Lark's Head knot (each additional cord needed to fill a space will be cut 2 inches shorter than the previous). Proceed with the double half hitch knots process.
After 5-7 rows are complete (or a size you fancy), tie off the holding cord by pulling it through the last row with a crochet hook from the front to the back, tying a knot, and trimming the excess off with scissors.
Trim up all of the ends to be about the same length and then brush them out with the comb. When all of the ends are brushed out, give it one more final trim to get rid of any long pieces.
Optional: Iron coasters to flatten them and make the ends straight.
Congratulations, you have just made your first coaster! Make 3 more to complete the set of 4!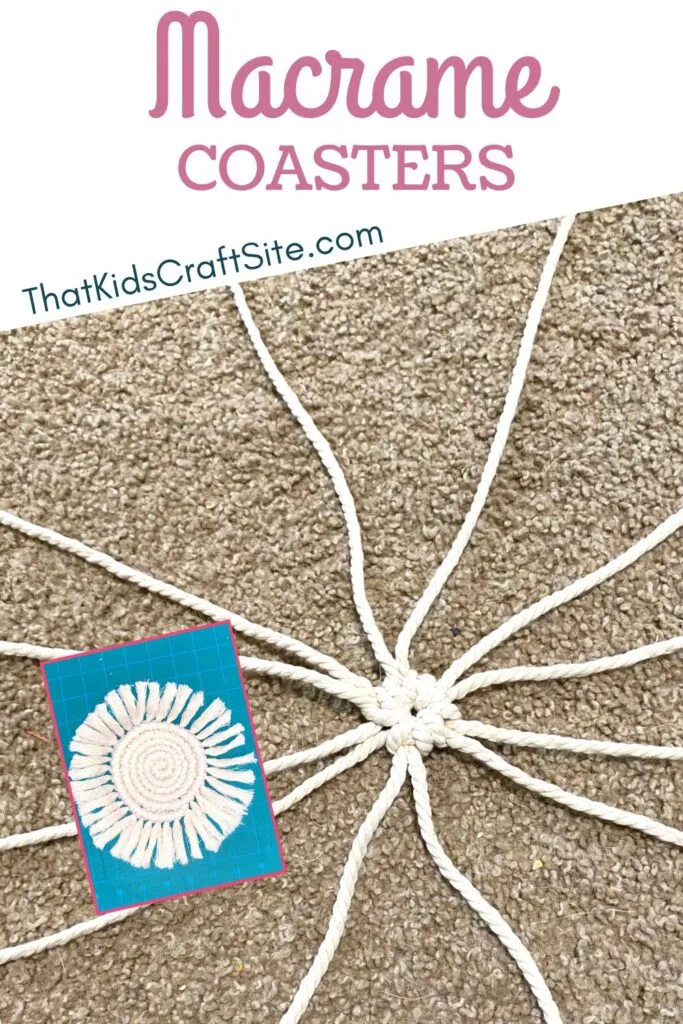 DIY Macrame Coaster Set
If you're looking for an easy beginner macrame project, try this DIY macrame coaster set of 4! They will add a fun and natural feel to any room that they are in. Keep these charming coasters for yourself or give them to a friend. Happy knotting!
You May Also Like…