A beaded snowflake is the perfect winter craft for preschoolers!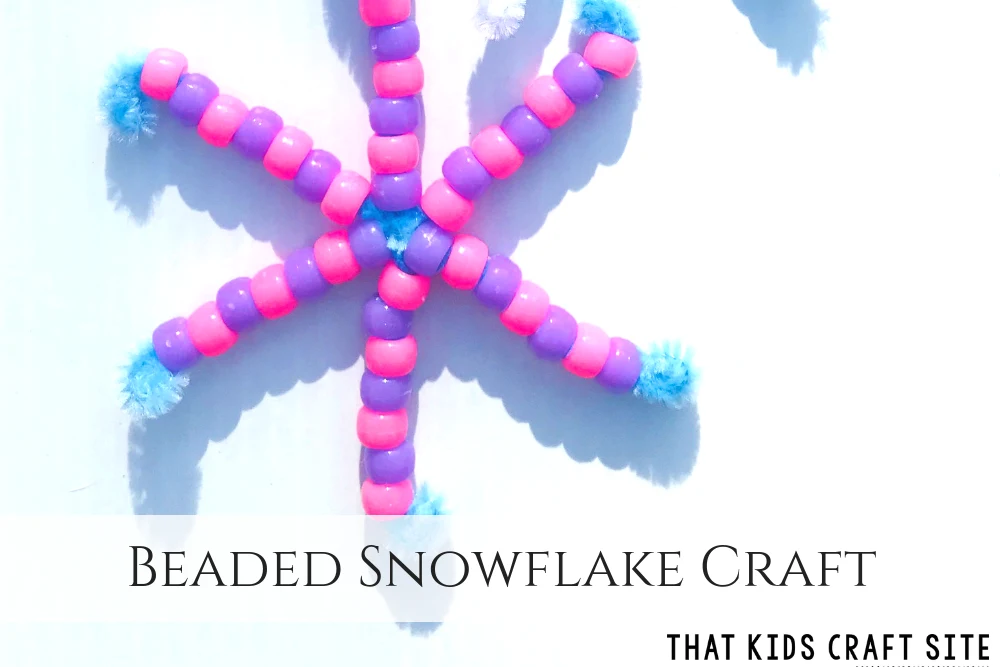 This post contains affiliate links.
When I taught in a preschool, one of the skills we worked on the most was fine motor coordination. In simple terms, it's helping little ones build their hand muscles and develop hand-eye coordination. While it may seem old hat for us, for preschoolers, those fine motor activities are super important.
After I had my own kids and we were doing preschool at home, I wanted to incorporate a lot of those fine motor activities into our lessons too. This beaded snowflake ornament was one of the easiest ways to sneak in some fine motor skills practice while doing some preschool crafts.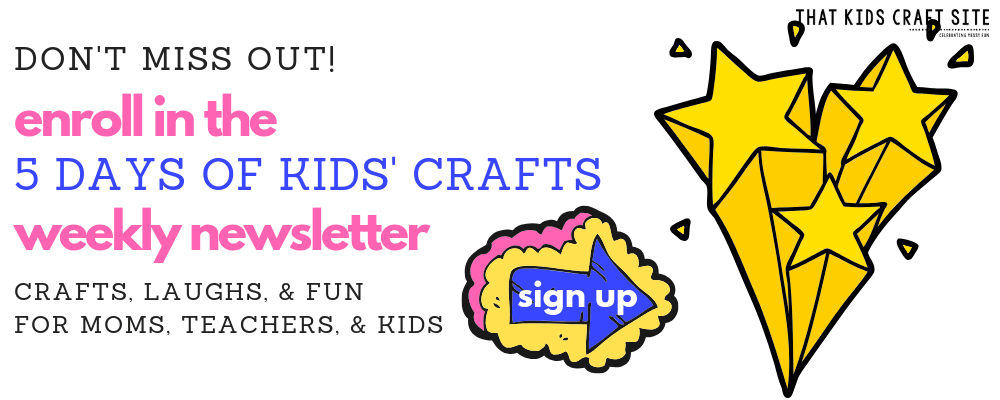 Snowflake Craft for Preschoolers
Preschool winter crafts are always a bit tricky, because kids don't have a lot of patience after being cooped up indoors during the cold months. Trust me, even I don't have a lot of patience after having to stay inside a lot! So, one of the ways that I've found to keep kids more interested in winter crafts is to give them a lot of material options.
Beaded Snowflake Creativity
For this snowflake craft, instead of simply laying out a set color of beads or one chenille stick color, give kids the option to choose. Put the beads in separate color-coded containers or mix them up, and let the crafters choose their own colors, patterns, and designs. Do the same with the chenille sticks, so that each snowflake is as unique as the child who creates it.
The sky is the limit in terms of color combinations!
For a fancier snowflake, try adding some in some different styles of beads. This is our affiliate link for the mixed bag of craft beads that we love using. There are a ton of different styles and we've used them for everything from snowflake crafts to bookmarks to DIY jewelry. The bag lasts a long time!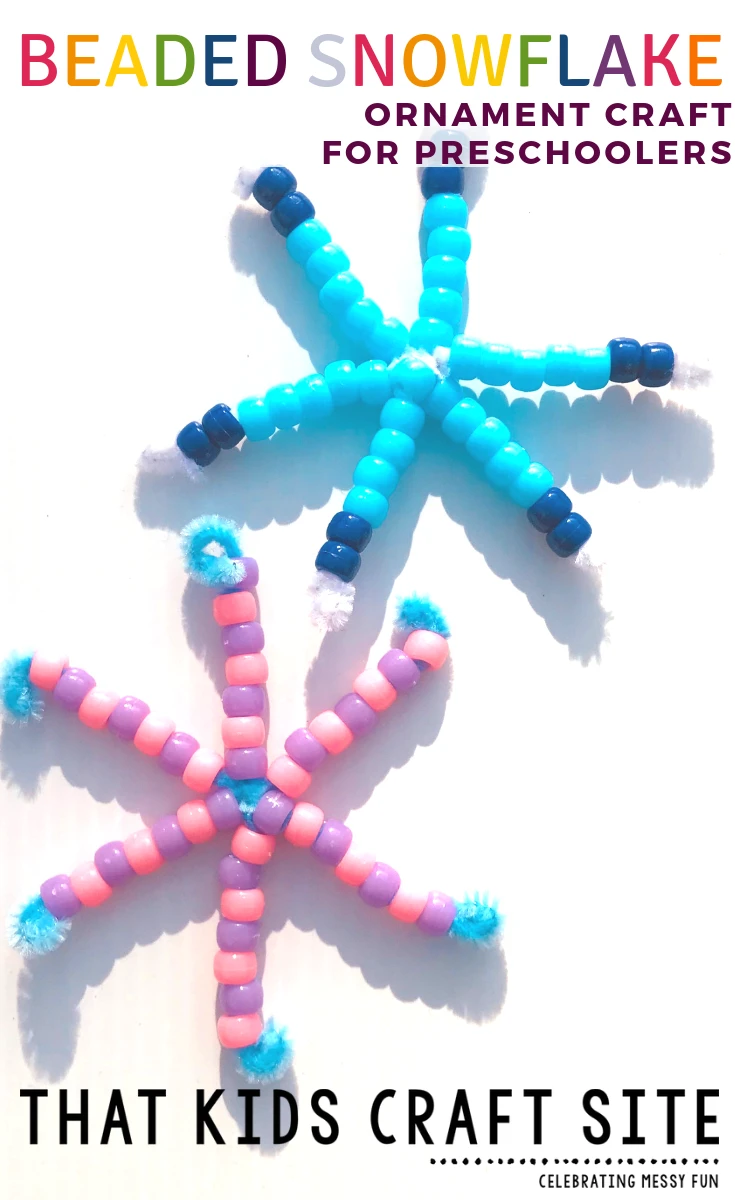 How to Make a Beaded Snowflake
Age: 4+ (use caution as the beads are small and pose a choking hazard!)
Time: 15-20 minutes
Materials:
Scissors
String, yarn or ribbon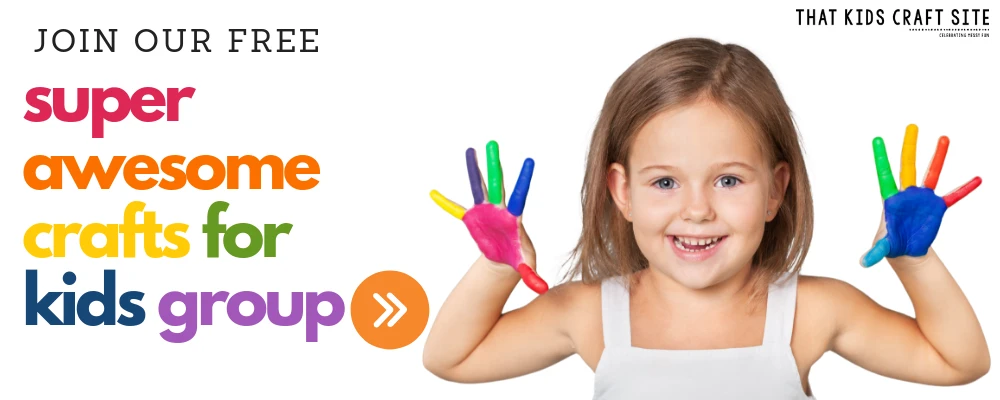 Directions:
For this preschool craft, it's better for adults to prep the snowflake bases before the kids have a go at it. Here's how…
Cut each chenille stems in half (3 halves make 1 snowflake).
Take 2 of the cut chenille stems and form an X. Twist to connect.
Take the third half and twist it around the middle of the X.
This is the snowflake base.
For the kids:
Put about 5-7 pony beads on each snowflake stem.
Twist the stem ends to secure the beads, making one stem end a loop for hanging.
String a piece of yarn or ribbon through the one loop and hang high!
Show Us Your Creation!
Did you try your hand at making one? We'd love to see how it turned out! Snap a photo and tag us on Instagram @ThatKidsCraftSite! We can't wait to celebrate your creativity!
More Preschool Crafts to Love!
Print It Out!
Take the directions for this beaded snowflake craft with you to school, a club, or wherever you'll be crafting! Simply print out the directions below by clicking on the Print button!