Introduce butterflies to little ones with a beautiful butterfly craft!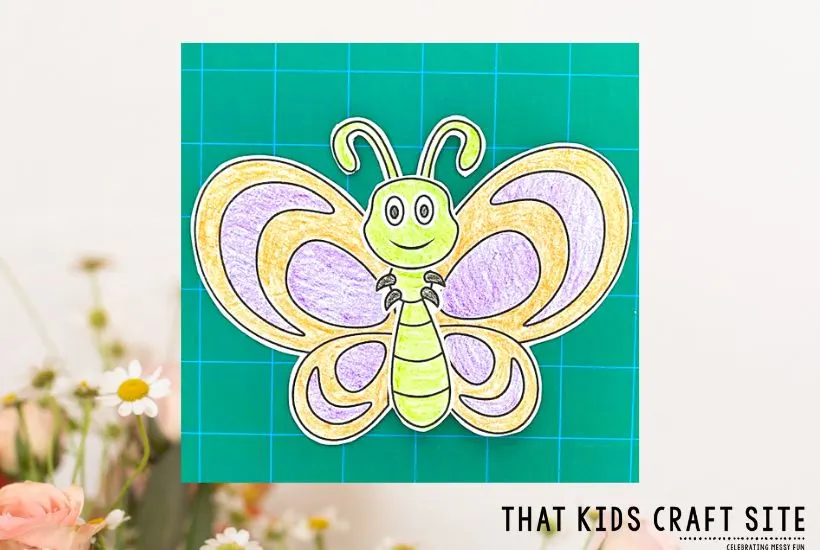 Spring is here! This season of renewal means warmer weather, sprouting flowers, growing bugs, and more.
As nature and the world around us springs to life, preschoolers are sure to take notice.
Have fun and satisfy their curiosity about one of the earth's most interesting insects, the beautiful butterfly!
While bugs, in general, seem to be a fascination of most youngsters, butterflies are on a whole other level.
They are whimsical, enchanting, and almost magical.
As they transform from crawling caterpillars into fluttering butterflies, these impressive insects are the perfect subjects for a variety of preschool craft activities.
One of our favorite Spring projects to do with little ones is a butterfly paper craft.
It's a really fun hands-on activity that is both engaging and educational.
Crafting a Paper Butterfly
Crafting a paper butterfly is super easy to make.
All it takes is the free printable template and a few supplies that you probably already have on hand in your craft room.
Below you can find a full list of the supplies you will need, as well as the instructions to make this beautiful butterfly paper craft.
Let's get going!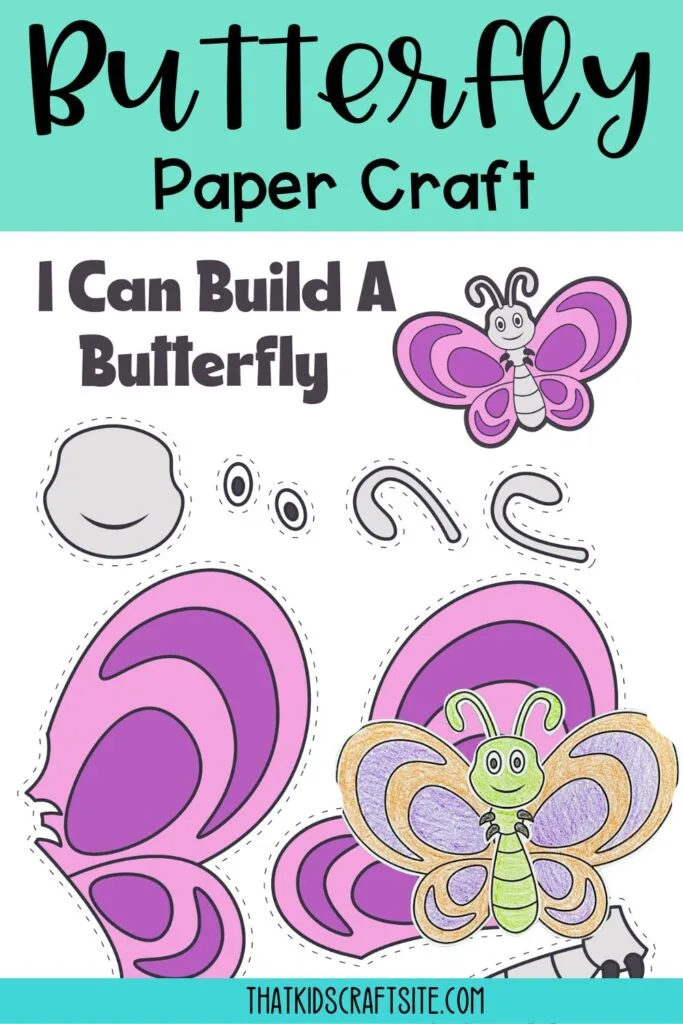 This article contains affiliate links to products that you might like.
Supplies to Make a Paper Butterfly:
Free Butterfly Paper Craft Printable (it's in the Freebies Library)
Printer
Paper
Crayons or Markers
Kid-friendly Scissors
Glue or Glue Stick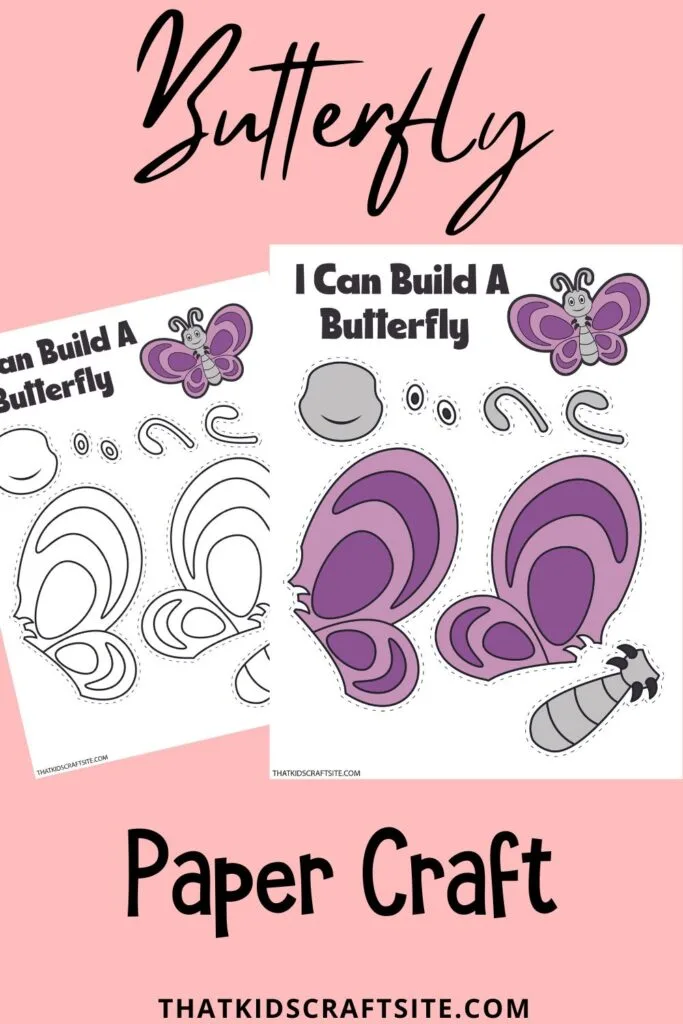 How to Make a Paper Butterfly:
Print out one, two, or as many butterfly paper craft printable templates as you want.
Taking the crayons or markers, color in the different parts of the butterfly.
Then, following the dotted lines, cut out all of the butterfly pieces. Including wings, body, head, antennae, and more.
Next, build the butterfly by gluing the cut out pieces together.
Once it's dry, display the beautiful butterfly by hanging it from the ceiling, in a window, or wherever you like.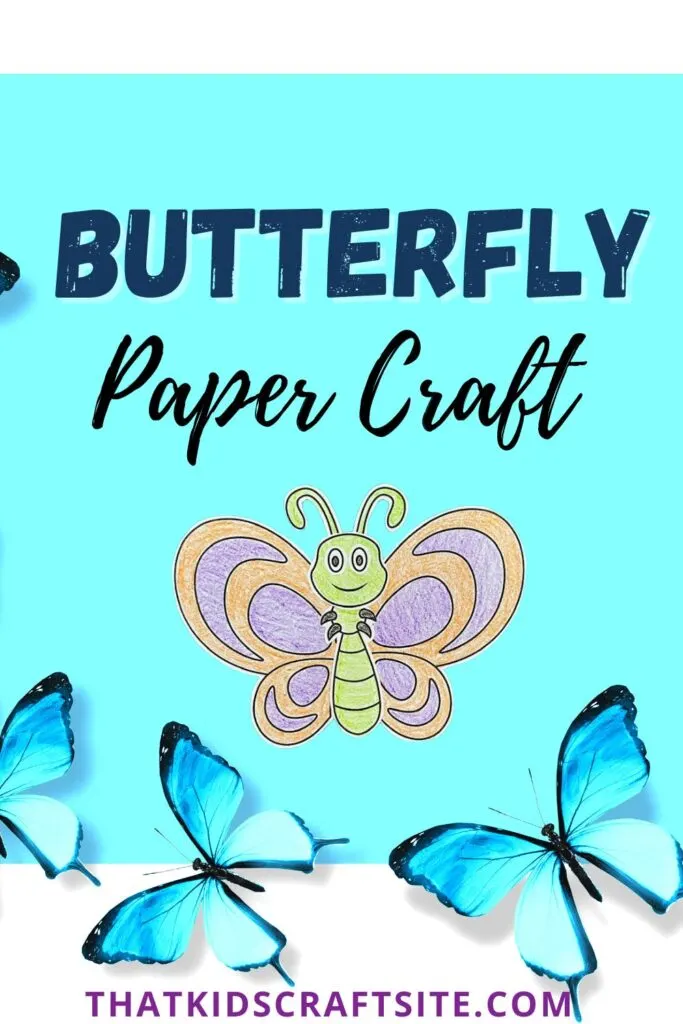 Creating a paper craft butterfly is an exciting activity for kids of all ages. We love to see the different colors that the kids use to bring their butterflies to life.
Will their butterfly have wings with bold bright colors? Or will it have a rainbow body, maybe? Who knows!
However your littles like to color their beautiful butterflies, these colorful printables will surely be a work of art!
Paper Craft Butterfly
The natural world that we live in is known to fill young children with wonder and amazement.
This curiosity makes this paper craft butterfly project the perfect activity for preschoolers to do in the spring.
These beautiful butterflies will look great as classroom decorations or even put on display at home.
Have some learning fun today with your littles as they color, cut, and build these magical butterfly paper crafts.
Happy crafting!
You May Also Like…