Preschool crafts are always fun, but never more so than during the Christmas holidays. This Christmas tree craft for preschoolers is easy to make and, best of all, inexpensive!

Christmas Tree Craft for Preschoolers
When I taught preschool and kindergarten many moons ago, I loved making Christmas ornaments with my students. When I had my own kids, that Christmas crafting tradition continued with everything from ornaments to homemade gifts. This easy Christmas tree craft for preschoolers would have been a sure hit!
It uses just a couple of materials – all of which are inexpensive or free! – and it doesn't take a long time to make. That's a double win for classroom crafts!
Not only is it easy and inexpensive, but it also gives kids a chance to practice lacing. The hand-eye coordination needed for lacing is an important preschool skill and one that will help kids with other academic skills later. So, weaving in the ribbons not only makes the Christmas tree craft come alive, it helps kids develop those very important kindergarten readiness skills.

Christmas Tree Art
For this Christmas Tree craft, we just freehanded our Christmas tree. You could certainly make a pattern and share it with all of your kids or students and have them trace the same thing. But we like the uniqueness that each freehand Christmas tree brings, so we just let them cut out their own.
Instead of using traditional cardstock to make the Christmas tree ornaments, we used recycled paint chips from the local hardware store. Not only were they free (yay!), but they added some fun colors to our creations. You could even get paint cards in a punch of non-traditional Christmas tree colors and have the kids make their own colorful Christmas Tree art projects. The possibilities are endless!
While we used ribbon, you could just use red yarn. One inexpensive skein will make hundreds of Christmas trees!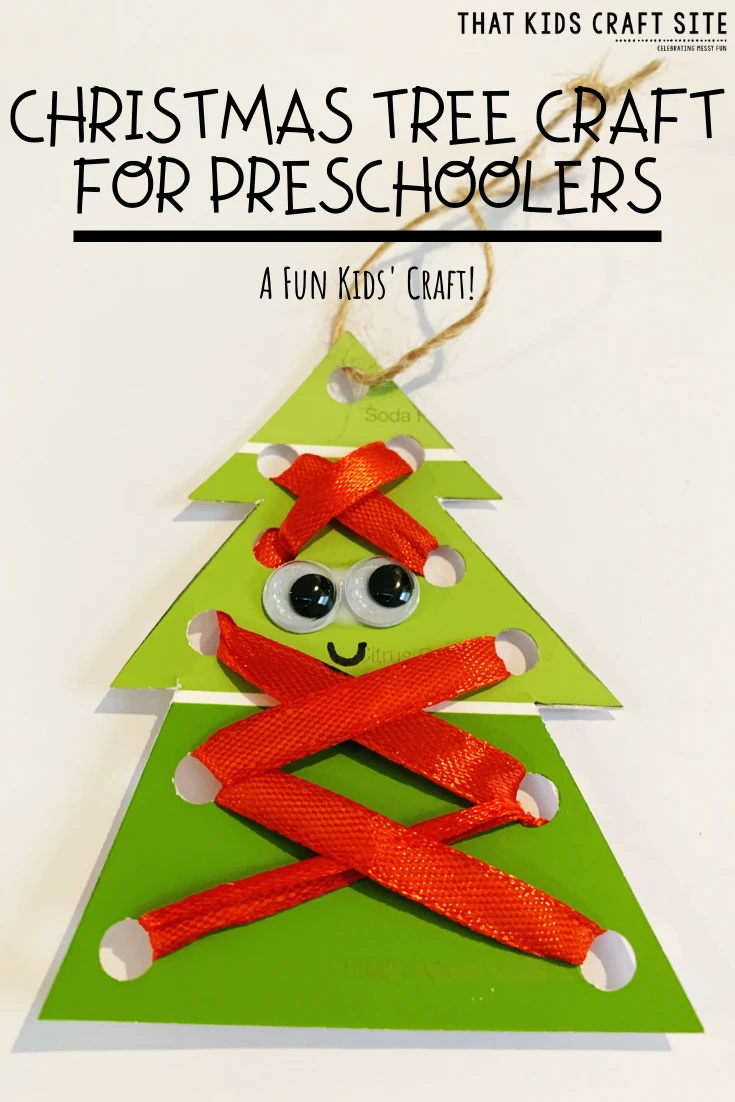 How to Make the Christmas Tree Craft for Preschoolers
We have included a printable version of the directions below (just scroll down) so that you can print them out and take them with you to school. I also used to print out directions and stick them in my files for that week of school so that the following year everything was there when I needed it.
To give you an overview of the craft though, here are some basic directions.
Gather a colorful paint chip (opt for a wide one over a long one) or a piece of green cardstock, some ribbon or yarn, googly eyes, a hole punch, and a glue stick.

Cut a Christmas tree shape from the paint chip. Sketching it out on the back of the card before cutting may be easier.

Then use a hole punch and punch holes on the points of the tree. Lace a ribbon or piece of yarn through the holes. You can criss-cross like we did or do straight lacing around the shape. Do whatever appeals to you.

Next, glue on some googly eyes and run a string through the top hole to make a loop. That's it! Your quick and easy Christmas trees are complete.

Hang them on a bulletin board, on the Christmas tree, or use them as gifts for parents for the holidays. The possibilities are endless!
Print Out the Directions for the Christmas Tree Craft for Preschoolers
Have a Merry Christmas!
You Might Also Like These Other Preschool Crafts