Head outdoors and gather your crafting supplies from nature for these easy fall crafts for kids!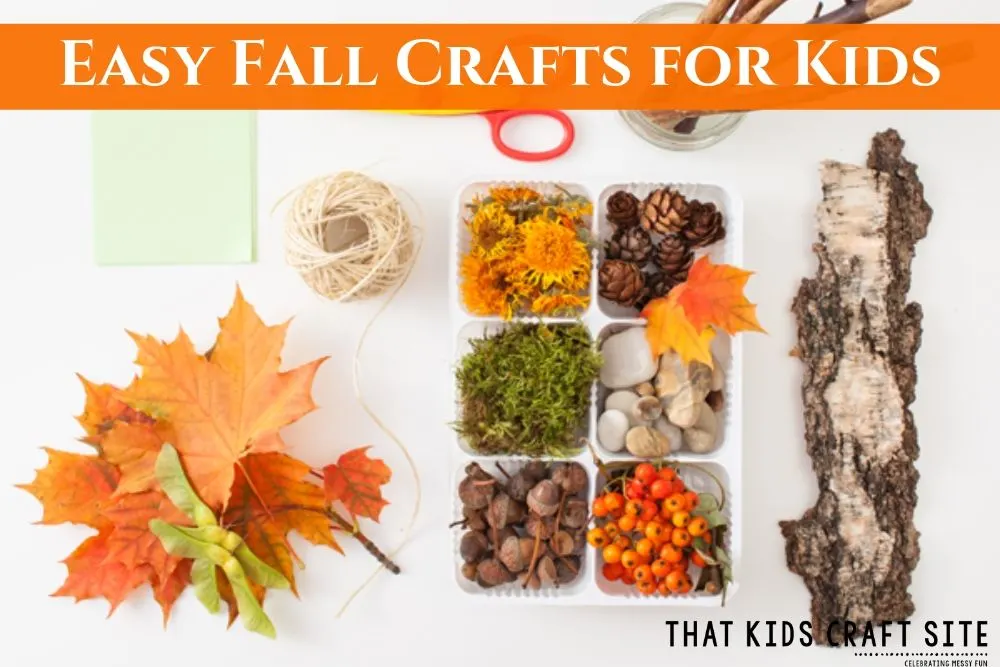 Easy Fall Crafts
Fall is the perfect time to go outside and collect your own craft materials! Yay for inexpensive crafts, right?!
Little hands can easily transform bark, acorns, and pinecones into works of art. The red, yellow, and orange leaves also provide an art pallet suitable for tons of crafts for children of all ages.
Scroll through the list below and make a few notes of what you can gather on your next nature walk in order to make an easy fall craft with your children!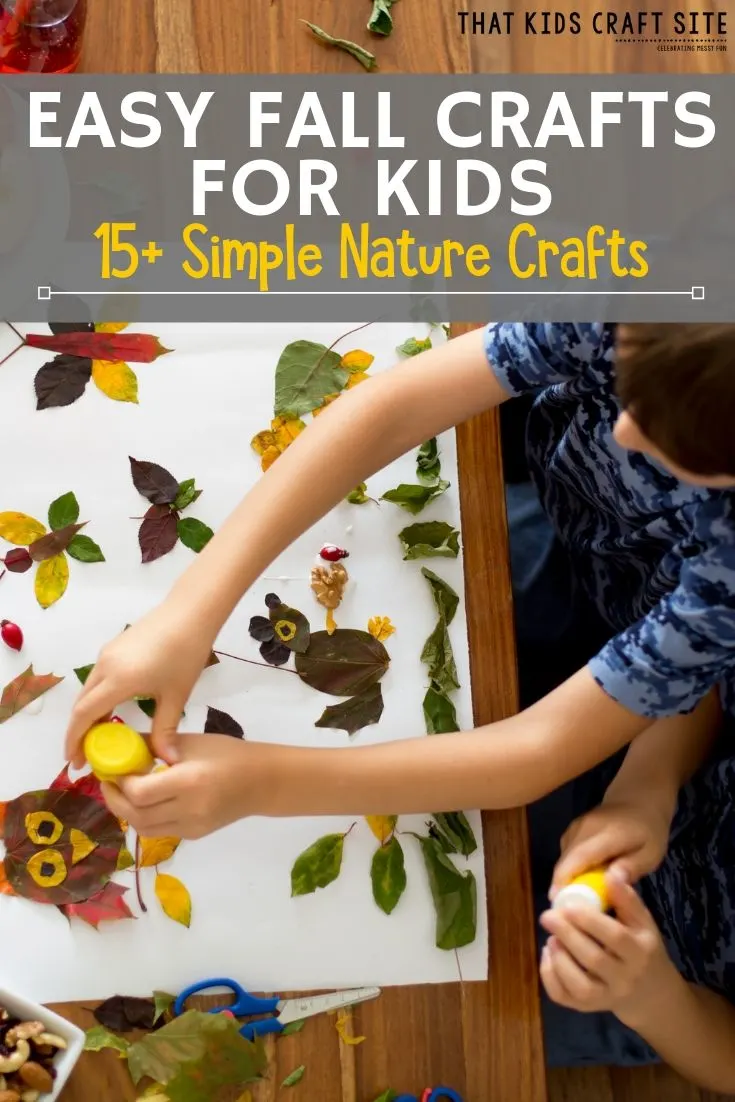 DIY Fall Crafts
Turn rocks and leaves into your very own turkeys! Check out this Easy Turkey Craft over at our sister site Mama Teaches!
Are the birds eating your crops? Maybe it's time to make some Paperbag Scarecrows like we did on Mama Teaches!
No matter what age your child is, he or she will enjoy collecting fall nature materials to use in this Nature Nameplace Collage from Parents Magazine.
You Might Also Like: September Crafts for Kids
Turn a pinecone into a pumpkin? Why not? Grab Melissa's instructions here: Easy Pine Cone Pumpkin Craft for Kids.
Gather even more pinecones for Creative Green Living's Pinecone Rose Bouquet.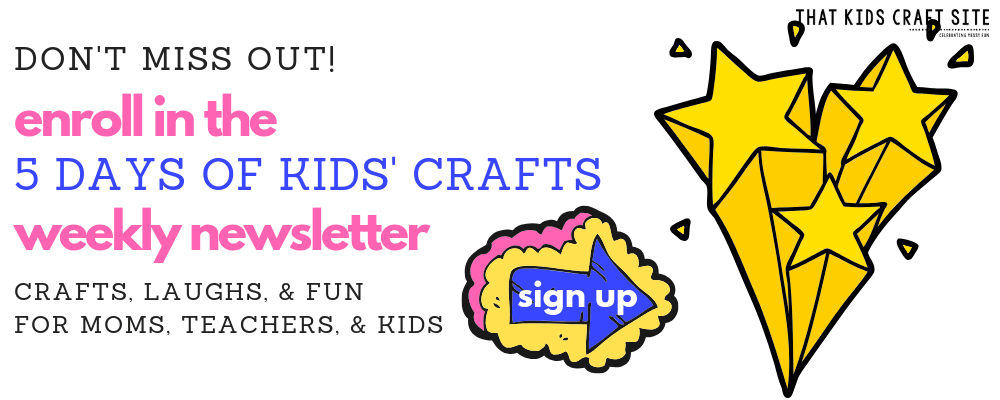 Angela at Projects with Kids gives instructions for unique Fall Suncatchers Using Seeds.
Fireflies and Mudpies has found a fun way to mix jingle bells and acorn hats. Make some Whimsical Acorn Bells.
You can find another fun use for acorn hats at Rhythms of Play when you check out Nell's DIY Acorn Marble Necklace
You Might Also Like: Easy Ghost Craft for Halloween
Do you love the smell of pumpkin pie baking? If so, be sure to take a look at Creative Homemaking's recipe for Pumpkin Pie Playdough.
Gather some bark and other natural supplies to make these adorable Bark Owls from Melissa at Fireflies and Mud Pies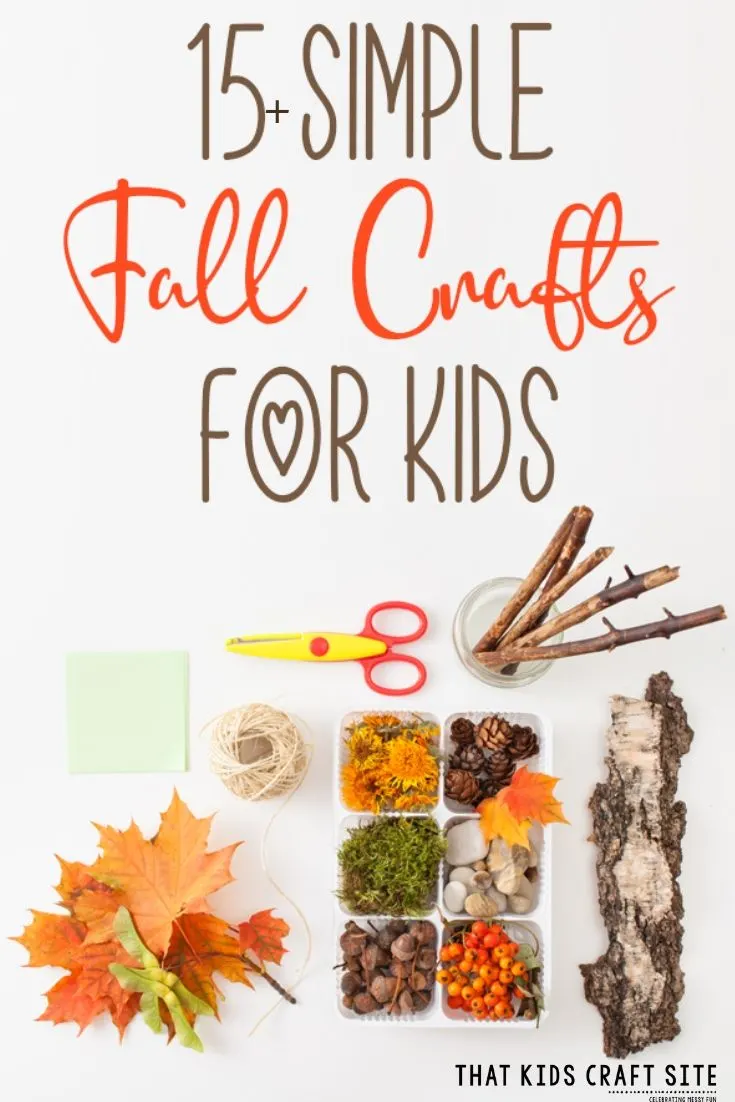 More Easy Fall Crafts
Leaves make a great base for fall nature crafts. Browse these leafy projects:
Younger students will love this fun Duct Tape Leaf Bracelet from Jenae at I Can Teach My Child.
Amaze your kids with this stunning DIY Leaf Bowl from Alli at Made With Happy.
Selena at Look! We're Learning offers a simple project–Easy Nature Art: Leaf Painting for Kids.
You Might Also Like: October Crafts for Kids
Make a beautiful Stick and Leaf Butterfly Nature Craft with these instructions from Shruli at Artsy Craftsy Mom.
Try making some fun and funny Leaf People. You'll get plenty of inspiration from Camille at My Mommy Style.
Emma at Kids Craft Room offers instructions for Leaf Luminaries that are beautiful enough to give as gifts or use as part of your table setting for a special meal.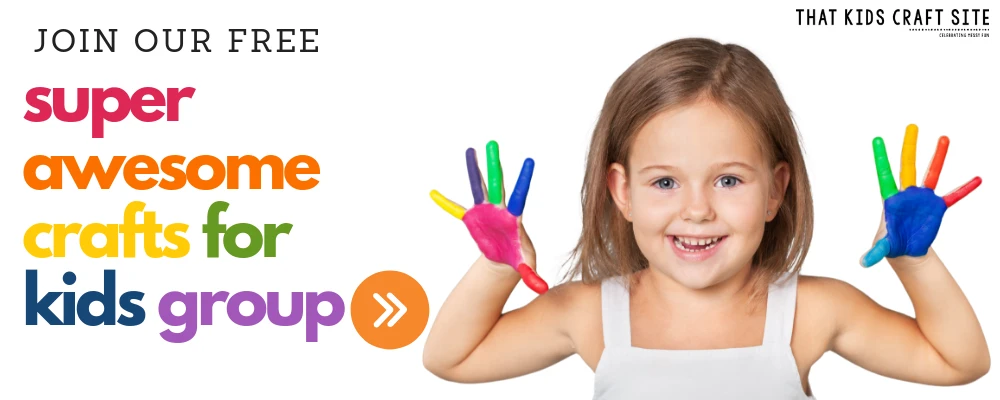 Easy Fall Crafts for the Win!
Pick a fall nature craft idea from the list above, get outside to gather materials, and create a beautiful memory with your children. It's going to be an autumn to remember!