This holiday scavenger hunt is the perfect Christmas tradition to start with your family this year!
Spend some quality time together as a family laughing and having so much fun trying to complete this Christmas decoration scavenger hunt!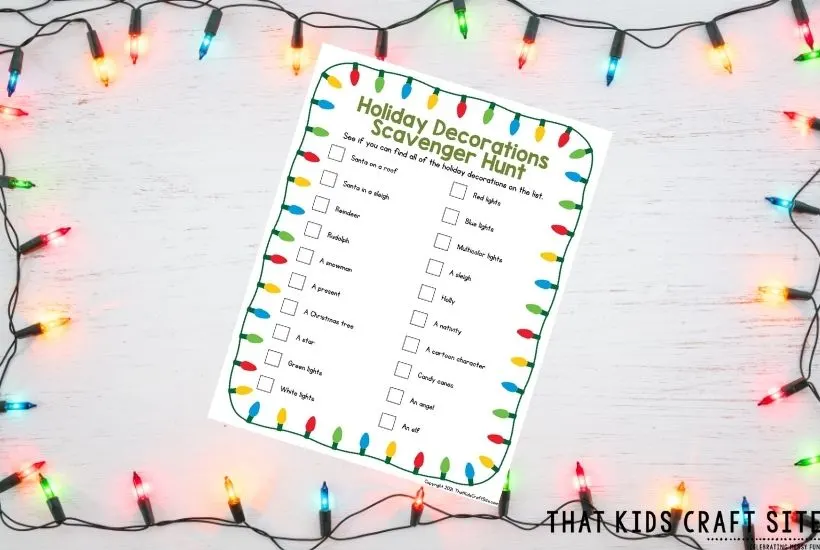 Spending Family Time Together
Christmas is the best time of the year to slow down and remember the things that matter most in this world, our families.
While we all have our favorite Christmas family traditions each year, there is always room for more and this holiday scavenger hunt makes for the perfect addition!
Whether you add this game to a whole day of family fun activities or are just trying to sneak it in after dinner to get some time together, any amount of family time together is well worth it.
So this holiday season give the priceless gift of spending family time together.
You will create memories that will last a lifetime and will pass on new family traditions that your kids can continue when they're grown with their kids!
How to Play the Holiday Scavenger Hunt: Christmas Decorations Edition
First you have to decide if you want to play on teams or individually. When you have smaller kids it's easier to play on teams so they are not struggling to keep up. But with older kids it's more competitive to play individually against one another.
Then you can make it more fun by playing for a prize. It doesn't have to be a physical prize, but it can be if you have something cool to compete for. If not, make up something fun like the winner gets to pick a Christmas movie to watch or gets to pick where to go for a fun treat afterwards.
Once you've decided on how you want to play, print out a scavenger hunt for each team or each person.
Pile everyone in the car to take a nice slow drive around the neighborhood to see who can check off the most decorations. Whoever is driving is going to need someone to help check off their list though!
Another fun way to play is by bundling up and walking around the neighborhood. Even if you don't live in town, drive to the closest neighborhood, find somewhere to park so you can walk around.
However your family decides to play the game, everyone will have so much fun with this scavenger hunt and you will make memories that will last for years to come!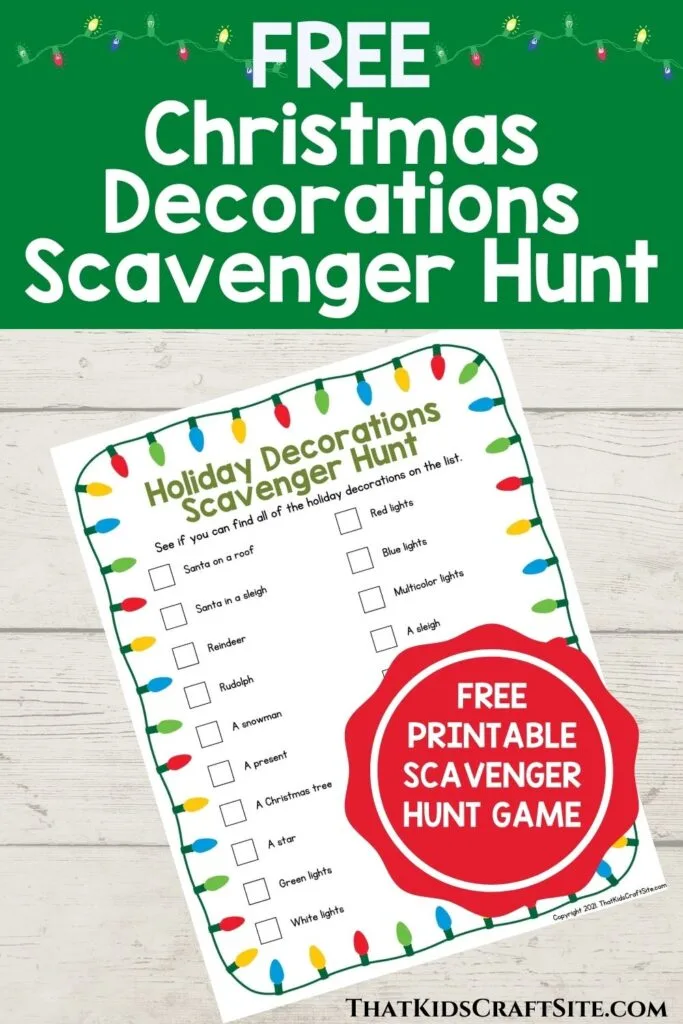 Download Your Free Copy of the Holiday Scavenger Hunt
Get your free Christmas decorations scavenger hunt printable from the Freebies Library here. Just use your password to get in and find it located under the "Games" section of the library.
Not a member yet? No worries! You can sign up below!
Want to Have More Christmas Family Fun? Try These Christmas Activities!