Soar into space with bead patterns that are out of this world! These space Perler bead patterns are sure to be a hit!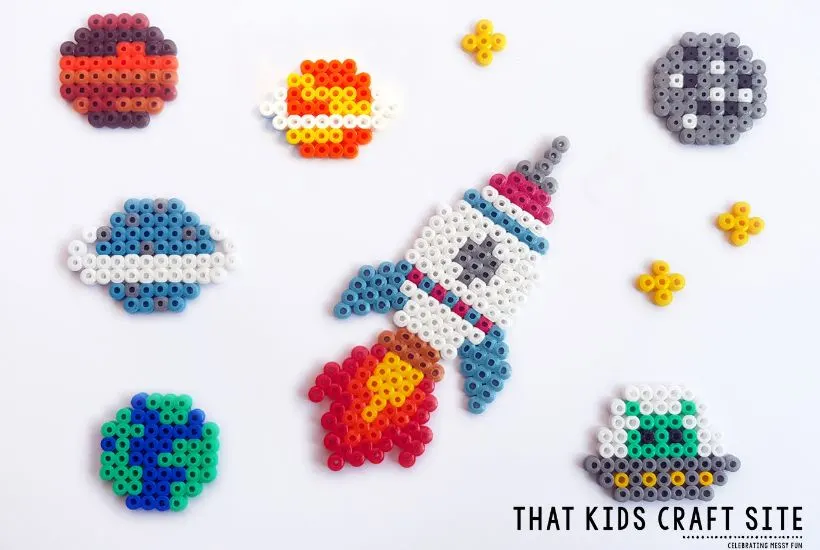 When you and the kiddos are feeling crafty, grab some Perler beads for an activity that's fun and easy to do. If you're not yet familiar with Perler beads, they are tiny colorful beads that fuse together to create images. Also known as melty or fuse beads, these plastic pegs come in packs or tubs that include a variety of different colors. With a bit of imagination, kids of all ages can design incredible images with a bucket of Perler beads.
To start crafting with Perler beads, we have some awesome space-theme Perler bead patterns that you can find in our Freebies Library. Kids can learn about the solar system by making melty bead planets. Or they can blast off into the universe in a fuse-bead rocket ship. The options are infinite! Perler bead space designs can take toddlers, teens, and adults to the moon and back again!
So, let's not wait any longer. We'll launch space Perler bead patterns that are out of this world in 5… 4… 3… 2… 1!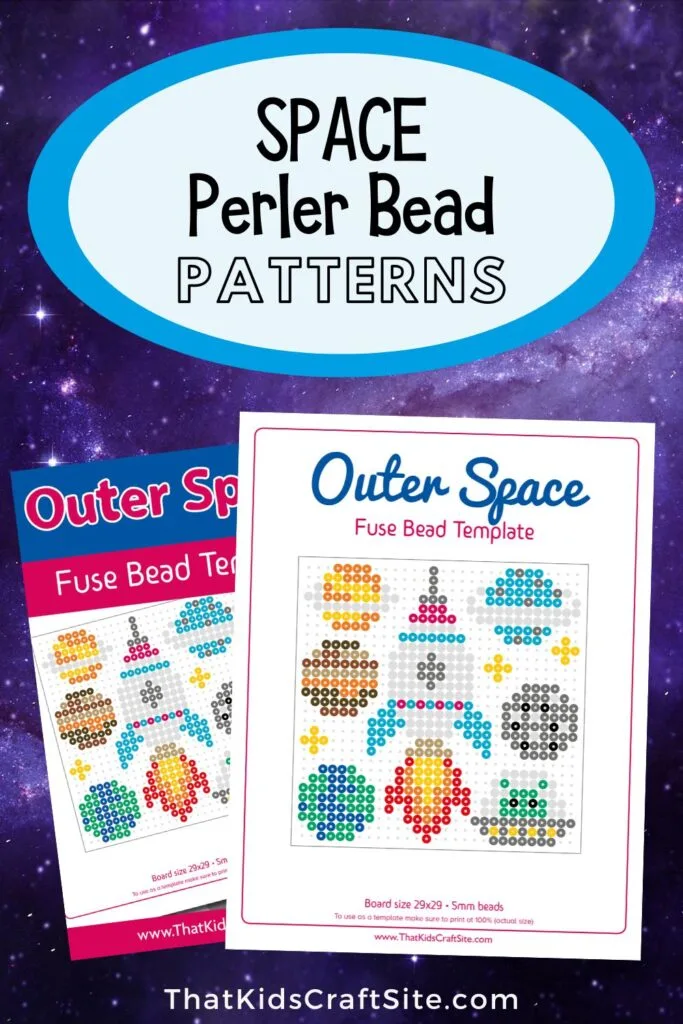 Create Space Perler Bead Projects
Creating Perler bead projects that are related to Outer Space is super simple. To make space theme designs, you will only need a few supplies. Here's the list:
Iron
Ironing Board
Parchment Paper
Free Outer Space Perler Bead Patterns
Perler Bead Pegboard (optional)
When you have everything that you need to make melty bead projects from space, you're halfway there. Here's how to complete an outer space Perler bead project:
Print out the FREE outer space Perler bead patterns on your printer.
Arrange the beads according to their design on a flat surface or with a Perler bead pegboard.
Once the pattern is complete, carefully cover it with a piece of parchment paper.
Warm up the iron to the medium setting being cautious not to touch the hot plate.
Use the hot iron (on the ironing board) to press down on the Perler bead project for about 10-15 seconds. The heat will fuse the beads together. It helps to slowly move the iron in a circular motion while pressing gently at the same time.
You can flip the project over and fuse the other side together as well, or keep it with one side fused and one side unfused. This is totally up to you!
And DONE! Enjoy your fantastic Outer Space Perler bead project!
When making your Perler bead designs, feel free to follow the pattern exactly or twist things up a bit and make it your own. We like to do both. First, we do the patterns as is using the recommended colors. Then, we get a little wild and use our imaginations to create one-of-a-kind fuse bead projects that we love! Some of our favorite Perler bead Outer Space designs include the colors black, white, red, dark blue, and yellow.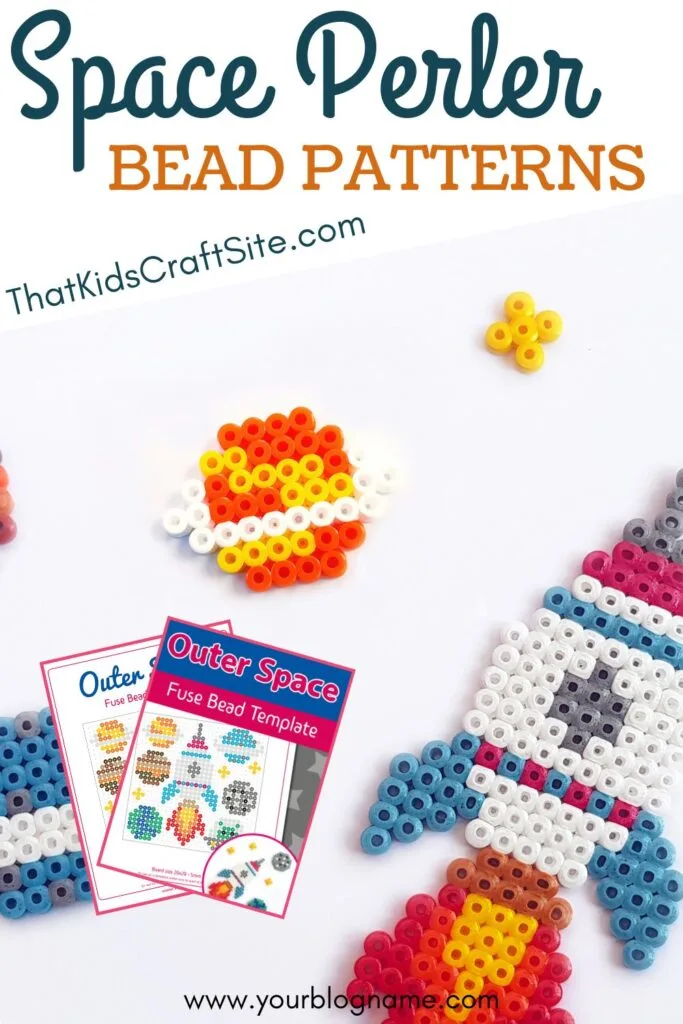 Melty Bead Designs from Space
When you're ready to make an outer space fuse project, head on over to the Freebies Library. Our Perler bead designs from space are truly out of this world. Each pattern is fun and easy to recreate, making this a great activity for younger children, teens, and adults! Once the free designs are downloaded, simply follow the instructions and get ready to blast off into an unknown universe.
You May Also Like…