Get your yum on and have fun making fast food Perler bead patterns!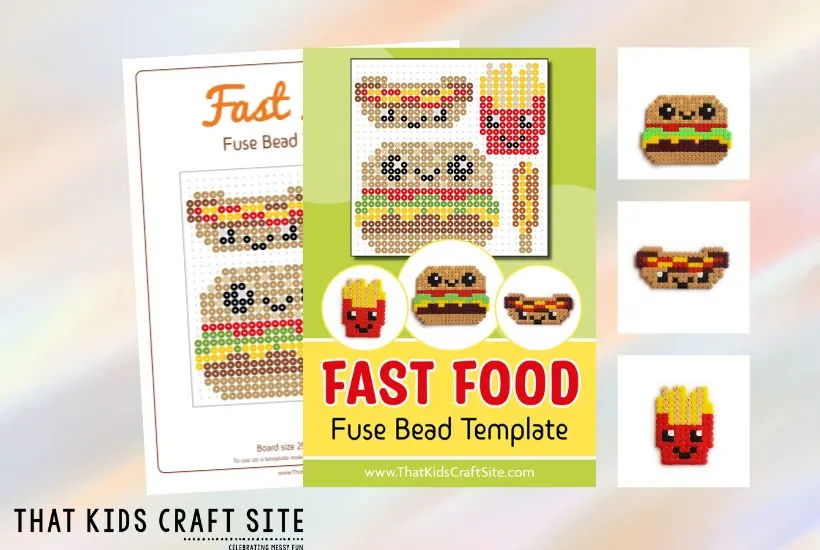 Food and fun go hand in hand for children (and adults, too!). Let's make playing with food an activity that little ones will be sure to remember.
With fast food Perler bead patterns, kids can create hamburgers, hot dogs, fries, and more with colorful melty beads.
Crafting with Perler beads is a wonderful hands-on activity for kids of all ages.
These fast food patterns that we have in our Freebies Library are some of the best designs yet.
Making fuse bead projects is a way for children to expand their imagination and build up fine motor skills.
From strengthening small hands to exploring creative thoughts, little learners will enjoy putting together a number of different fast food Perler bead patterns.
Head on over to the Freebies Library to find some delicious fast food melty bead patterns!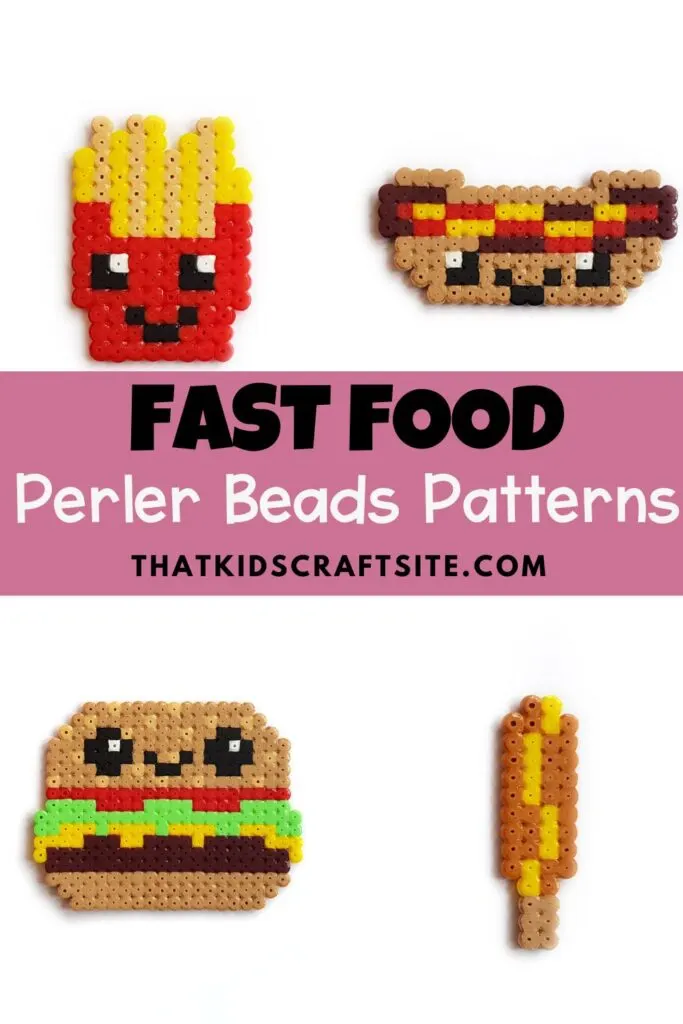 This article contains affiliate links to products that you might like.
Perler Bead Fast Food Projects
Have fun creating and making colorful Perler bead burgers, dogs, fries, and more!
With only a few necessary supplies, small students can make a number of melty bead projects for an exciting school or home activity.
Let's take a look below at some of the materials that you and your little ones need to make Perler bead fast food patterns.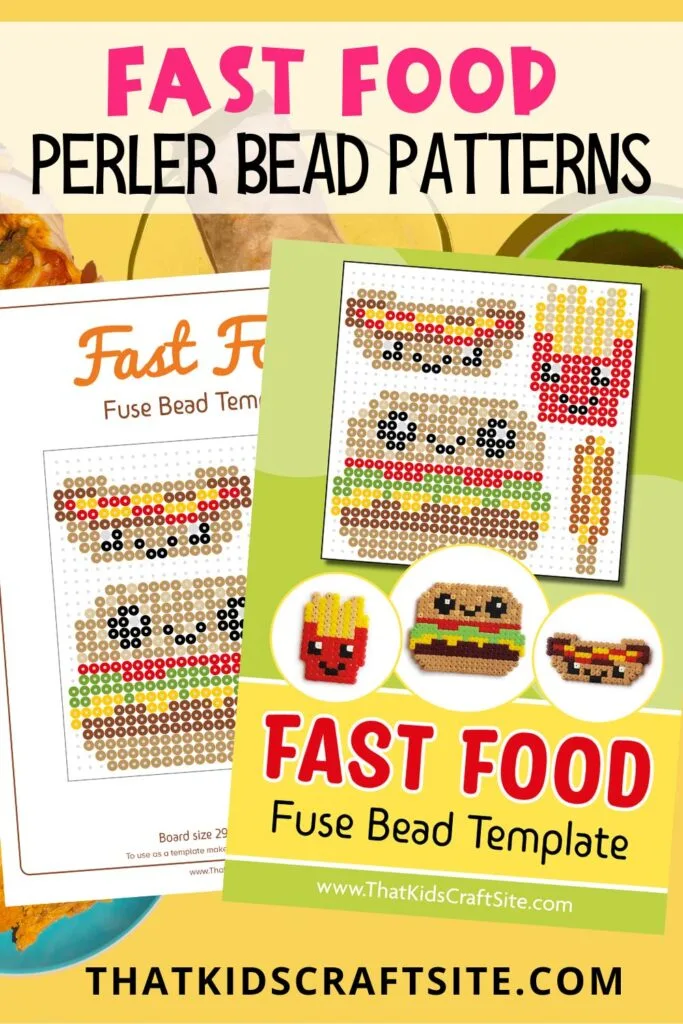 Materials:
Now that you have the supplies, follow the steps below to create fun food designs!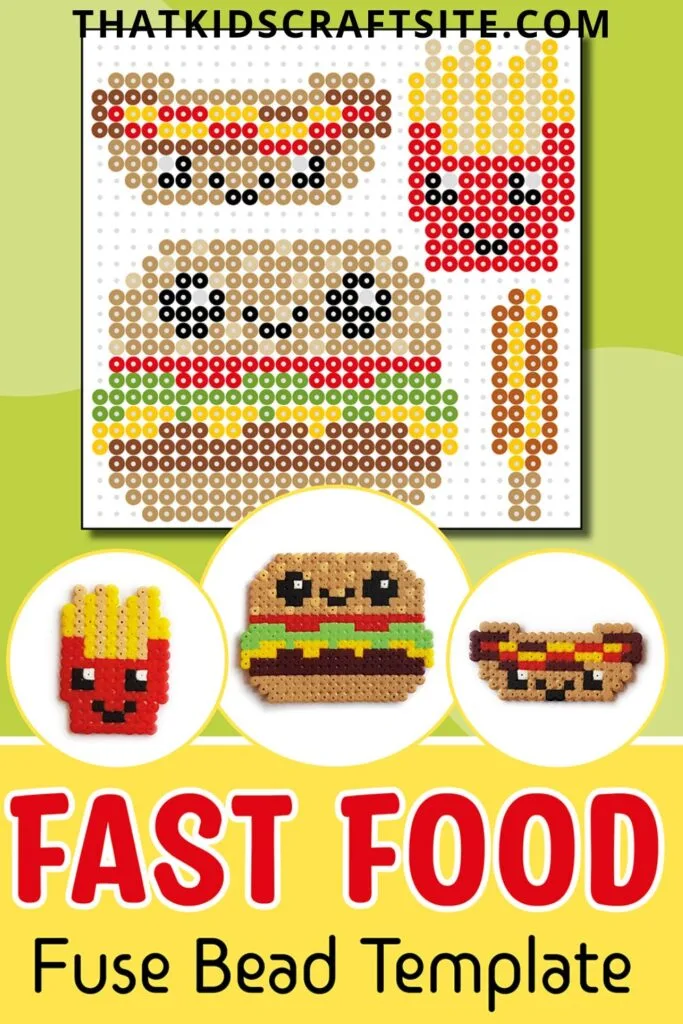 Instructions:
Print out the FREE fast food fuse bead templates on your printer.
On a flat surface, or using a Perler bead pegboard, place the beads to match one of the fast food patterns. Kids can use the optional Perler bead pen dispenser to help to place the beads in the correct pattern, if they would like.
Next, carefully place a piece of parchment paper over the design.
This next part is for the grown-ups (or monitored older children): Set the iron to the medium setting. When the iron is warm, slowly move the iron in a circular motion as you press down on the project to melt the beads together. Do this for about 10-15 seconds. If you want, you can flip the project over and melt the other side, too. That's totally up to you and your little maker.
The fast food Perler bead project is now complete! Use it as a decoration, a coaster, or turn it into a unique keychain to gift to one of your favorite food lovers!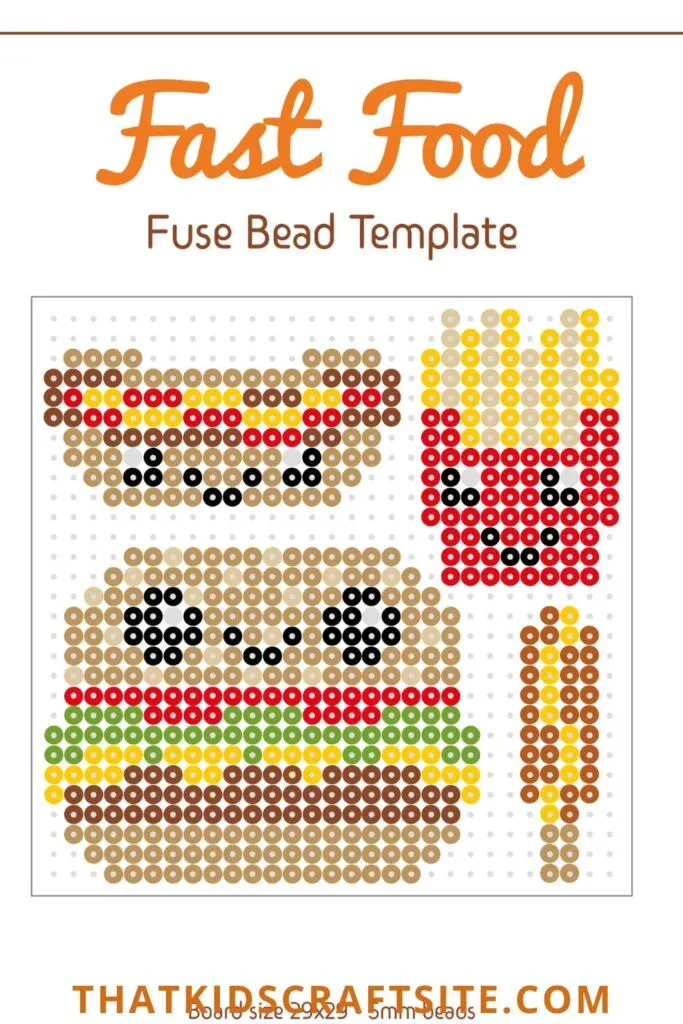 Making fast food fuse bead patterns is a lot of fun! If you and your littles are feeling creative, go for the hamburger or cheeseburger Perler bead pattern.
Don't forget to add the fries with the french fry Perler bead designs. Finally, kids can also create a fabulous frankfurter by using the hot dog bead pattern.
There are so many fun ways for kids to have fun with fast food Perler patterns. They are perfect for a pretend-play barbeque, an imaginative drive-through, or even a tea party.
Children can work in a restaurant or host a dinner party for friends. The options for food play are unlimited and totally up to your little one's imagination!
Some of our most loved Perler bead fast food patterns use a variety of colored beads.
Fast food melty beads are super cool to make using beads from a multicolor bead bucket, glow-in-the-dark bin, as well as colors from the 'sweet snack' bead kit to make delicious fast food fuse bead designs!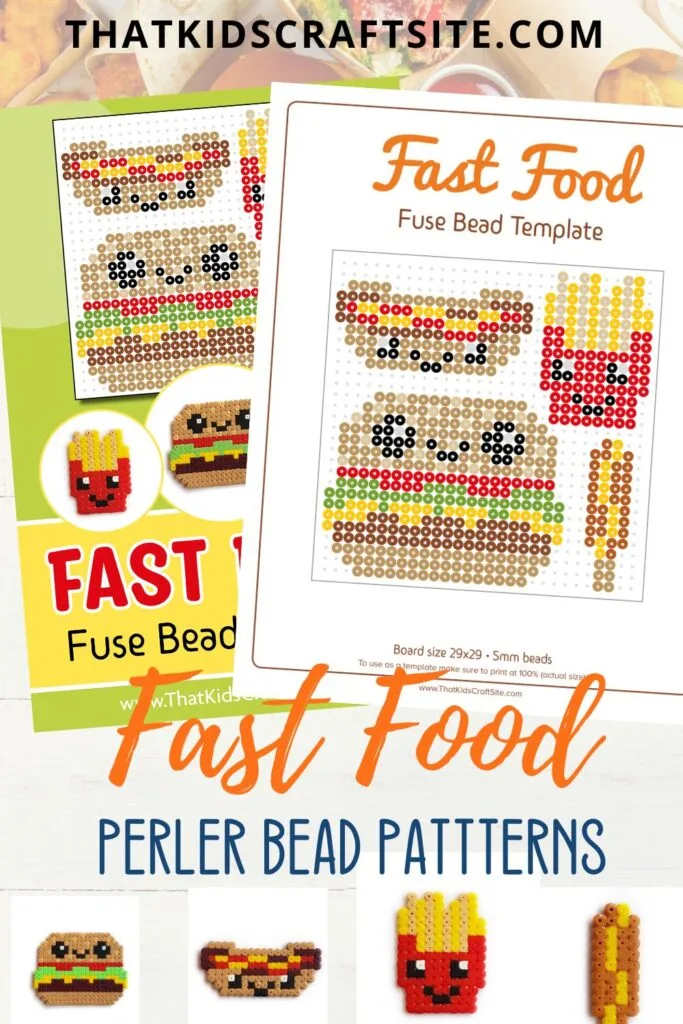 Children's Fast Food Perler Bead Patterns
Creating tasty treats is a really good time when there are a variety of melty Perler beads patterns to follow!
Head on over to our Freebies Library to find designs for burgers, fries, hot dogs, and more. Not a member of the Freebies Library yet? Sign up below!
These Perler projects are great for an afternoon of fun or even a rainy day project. The best part is that kids of all ages will love creating fast food Perler bead crafts.
Happy Bead Fusing!
You May Also Like…